It's no secret that Switchfoot is my favorite band. While playing music on my computer for some students recently, I realized that my "Christian Music" autoplaylist is really more like a "Switchfoot and a couple of other artists" playlist. I'm eager for Vice Verses to be finished soon, but in the meantime, I finally got around to ordering the Eastern Hymns for Western Shores EP.
It arrived very quickly. I was super excited to find, first, that the package fit in my teeny apartment mailbox, and second, the unique packaging that was designed for this EP. The outside was super cool: it's designed to look like an old-fashioned wrapped parcel from a souvenir shop.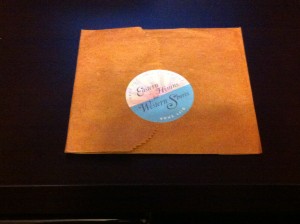 That's a real sticker, and it says, "Thank you for visiting the Eastern Hymns for Western Shores Gift Shop." I was so sad that I had to peel it off to get to the CD, but I just did it very carefully so it'd stay intact. It's not sticky anymore, though. Sad times. I would have appreciated a second of the same sticker inside the packet.
What was inside the packet were six old school kitschy postcards. I expected more than just handwritten song titles on them. Lyrics would be nice, like in Jon's seasonal EPs. The CD is in a separate slipcover with very lightly embossed stamps and a postmark, so that's pretty nifty.
As for the content of the CD, I was a little disappointed. I think I prefer the album version of "Dirty Second Hands" from Oh! Gravity. I also already had "Daylight to Break" from the pre-Oh! Gravity. email download, but the Eastern Hymns version sounds remastered. The lyrics aren't drowned by the instruments anymore, so that's a big plus. And the song titles show up on my car's CD player, which, although that is pretty much a standard now, is nice to have even on an EP.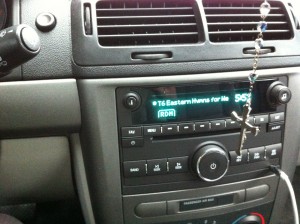 Overall, I'm not sure this album was completely worth it. I received a copy of the Oh! EP. in the outer packaging (not the Eastern Hymns brown baggie part), which would be a great surprise if I didn't already own it from my preorder of Oh. Gravity! The new songs are pretty standard fare: some that sound like the older stuff, some that sound like the newer stuff from Hello Hurricane. At the very least, it makes me very excited for Vice Verses. Bring on the full-length album!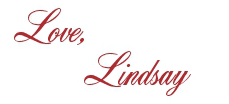 I bet you'll love these posts, too!