You may recall that I traveled to Nicaragua over spring break. I don't like to broadcast when I'll be out of town—that's like asking someone to rob me—but since I've been back for a few weeks and have had time to process, I'm ready to share.
You may also recall that on last year's trip, I held a chicken for the first time. This, too, was a trip with a special, awkward "first."
Setting Out
My Sunday began very early. I had been out for most of Saturday afternoon and evening shopping for clothes. I work inside all day, and I'm not an outdoorsy person, so I don't really own appropriate clothing for eight straight days in 90-degree weather. I also had to accomplish the difficult task of finding modest, work-appropriate swimwear. After all the shopping, I still needed to pack. Having slept in that morning, I soon realized that it wouldn't be worth going to bed since I expected SuperShuttle at 4 a.m. I packed, I showered, and I went out in the cold, rainy, dark dark morning for the ride to the airport.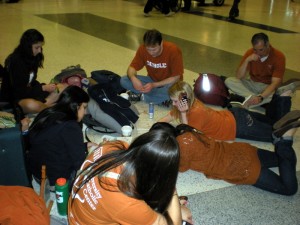 I arrived just before 5 a.m. at the United desk to find a distressingly long line of people. Austin to Houston, the first leg of our flight, is a common puddle-jumper for Continental (which had merged into United one week before our flight, causing me no little alarm since I hadn't seen the final merger coming at all). The line grew and grew as the missionaries trickled in. One busted suitcase zipper and a frantic transfer to a spare later, we made our way to the front of the check-in line. The United representative who helped check us in was surprisingly cheerful for that time of day. I don't know if I'd be in a good mood facing a group of twelve with such a complicated reservation on a Sunday morning with bad weather, but maybe that's why I don't work in customer service. After a short delay, we had Zach on board his first plane ever and hopped over to Houston as the sun rose.
In Houston, the delay was already enough for breakfast, so we camped out on the floor in front of our gate and waited. A twenty-minute delay turned into a forty-five minute delay, which turned into a two-hour delay. Candace had brought a coloring book and crayons, which she happily shared, and we took naps on and off. Three hours after our initial departure time, we shifted to another gate to await the plane that had been grounded in New Orleans due to the persistent rain. We finally boarded, and four hours late, we took off for Managua, the capital of Nicaragua.
Arrival and Day One
We arrived in Managua and successfully navigated customs on the way to meet Ed Dunsworth, one of the program coordinators for Hand in Hand Ministries (HHM) in Nicaragua along with his wife Barbara. Emerging into the bright, sunny afternoon, we piled aboard a small bus and got our first glimpse of Central America. We saw the U.S. embassy, a statue constructed by Sandinista rebels, and traffic that rivals any major U.S. metropolitan area. As Ed explained, pedestrians are an afterthought expected to move out of the way of an approaching vehicle, so crosswalks are actually quite dangerous. The Dunsworths hire drivers. After we settled into La Casa Grande, the beautiful guest house in a gated neighborhood, we went to Mass (in Spanish, of course) at Iglesia San Antonio de Monte Tabor (St. Anthony of Mt. Tabor; an unusual pairing), ate a delicious meal, unpacked our soaking wet clothes (remember the rain?), and went to bed.
Monday began bright and early with morning prayer at 6:45 a.m. Barbara shared a reflection on allowing oneself to be served rather than just serving, which set a great tone for our week. We had breakfast featuring the freshest watermelon I've ever tasted, and we headed out to the work site. Although we were in one of the nicer neighborhoods where HHM works, the poverty was evident. The future homeowner, Iris, and her children, Nahomy and Jeremy (aged about 7 and 1), met us along with her parents, Berta and Miguel Angel. Other family members and crew members working with the "man of few words" foreman, Javier, joined us for introductions and an opening prayer. Four of our group members were bilingual, and three more (including me) spoke enough to communicate, so we managed pretty well for the week.
Each morning (and some afternoons) consisted of good old-fashioned manual labor. We started on the covered patio by tying long pieces of steel (rebar) into square frames to reinforce the corners and middles of the house's walls. Later, some of the group switched to mixing cement by hand and filling in the spaces between cinderblocks. Mixing cement involved moving seven 5-gallon buckets of sand from the street in front of the existing house to the back yard, where we were building the new house. Some batches also required four buckets of gravel, which was piled on the front porch. After adding in a 45-kg bag of cement mix, we blended the dry ingredients on what would be the floor of the new house. After a delicate process of adding in water without causing a flood, we lifted cement-filled buckets onto scaffolding and used trowels to smooth it into the gaps between blocks. This process continued in various stages throughout the week. I have to admit that I enjoyed mixing cement the best. It was tough but doable, and it kept me on the ground instead of on scaffolding. I also now have a new appreciation for cement mixing trucks.
For lunch each day, we went across town to the HHM Children's Center, where the students in the scholarship program meet before and after school for meals, tutoring, and English lessons taught by Barbara. Iris, several of her family members, and Javier joined us for lunch each day, which gave us an opportunity to practice our Spanish and get to know the Nicaraguans when we weren't simultaneously building.
Our story continues in Part Two.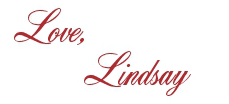 I bet you'll love these posts, too!