To read the beginning of the journey on my work mission trip to Nicaragua, check out Part One.
After-Work Excursions
On Monday afternoon, we visited the homes of three families in HHM's programs. HHM requires that parents support their children's education by meeting weekly with facilitators as well as supervising attendance and homework. All the families were genuinely excited to have us visit and share their lives with us. We were greeted with hugs, smiles, and so much pride. It was challenging to see clotheslines made of barbed wire, rooms smaller than my office in which entire families lived, and stray dogs wandering the streets, but it helped make the experience real. Although the people didn't have what we do in the U.S., they were happy. We had a leisurely evening at La Casa Grande with another delicious meal and an evening reflection on the patio.
Tuesday was a little tougher. We were starting to adjust to only drinking filtered water, never having to cook or drive, and spending almost all of our time outside. (Open doors and windows make every place the same temperature, so it didn't feel quite as hot as it was.) We went straight to work mixing cement, filling in bricks, and watching as the outside became inside. Mixing cement by hand on what will become someone's living room floor is an interesting job. Doing it while live chickens, little kids, and rapidly tanning gringos ("Americans," in a neutral context there) wander through is even more interesting. We spent the early evening at the Dunsworths' house sharing the highs and lows of our week and sampling some local drinks: orange-carrot juice, hibiscus tea (te de Jamaica), and corn-wheat milk.
I personally had a tough start to Wednesday because I realized that I had gotten a sunburn on the tops of my ears. Guys: that was my first sunburn ever. Now I understand how awful they are. First my having allergies, then east coast earthquakes, now my getting a sunburn: what's next on my list of impossible things that become possible? I begrudgingly spent the morning working on the patio so my ears could heal. Right after lunch, we left for a visit to Masaya, about an hour outside Managua. It sprinkled very lightly on the way: the only "bad" weather we would see during this week of the dry season. We visited a family of potters who use techniques that have been passed down through the family for generations. They demonstrated how to use the clay wheel and oven and how the potter's wife decorates each piece by hand. A few of our missionaries took a try at the foot-powered wheel. Excited by the high quality and low prices (by U.S. standards), we excitedly bought souvenir jars, teacups, vases, and figurines to bring home. After a trip to another home-based potter, we entered the Masaya market. A popular tourist spot, the market takes up the space of a city block and has almost any souvenir you could want: jewelry, paintings on bird feathers, handmade shoes and bracelets, and even baskets made of whole chickens! It was a little disconcerting to be considering a hand-painted cross and find myself staring at a beak on a basket.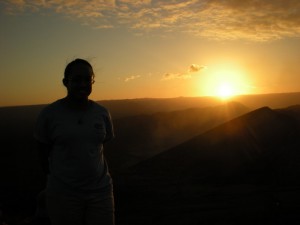 After the market and a brief photo stop at Lake Managua, we continued on to Masaya National Volcano Park. We climbed 177 steps to the edge of an active crater, with the billowing white sulfuric gases to prove it. We climbed the steepest hill on the planet to the top of another crater in time to catch the beautiful sunset. I thought I might collapse on the way up, but I prevailed, and grace got me to the top. Our fearless guide, Carlos, had to help me down. If he hadn't my students might have had to make their way back to Austin sans head chaperone. In the darkness, we headed down into a bat cave, armed with helmets and flashlights (but no handrails or path lights, because there are no ADA accessibility laws in Nicaragua). A few of the missionaries bravely ventured in to crouch down as hundreds of bats flew right over their heads. What Congress bridge? We walked through a long, winding cave that was constructed entirely by lava flow during the last full eruption (centuries ago), and we grabbed the opportunity for a silly photo and a round of "Texas Fight!" A long, nap-filled journey later, we returned home for dinner.
The Real Mission
On the way to the work site on Thursday, we stopped at a typical public school. One room was empty: since the teacher was sick, the students had been sent home for the day. The other rooms were packed: one had over sixty students, some of whom didn't have desks. The noise of students and teachers talking at once was clearly noticeable. The students were excited to see us, though, posing for pictures and practicing their English. The reality of the situation in the country was clear. Education is the best way to break out of poverty, but since the public schools are required to promote students from grade to grade each year, only private school students can ever pass the university entrance exams. Private school is expensive everywhere, though, so HHM provides the money and family support to help get promising students into private schools early enough to succeed as adults. We were just a small part of a bigger mission.
After work, we visited an American blacksmith (from Ohio) who teaches Nicaraguans how to become blacksmiths. Crime is such an issue in the city that workers can make a good wage installing and repairing iron bars over windows and doors. It was odd to be able to speak English, but it was a reminder that our journey was nearing its end. A group of women working for the Jesuit Volunteer Corps in Nicaragua joined us for dinner and told us about their lives in the country and why they decided to move down. That was one of my favorite parts of the trip. Mission work tends to stir up students' hearts to want to make a difference or stay longer. JVC shows them that such a desire can become reality. As we reflected that night, we could hardly believe that the time to return to Texas had almost arrived!
The morning work shift on Friday was bittersweet, because we knew it was our last shift working on the house. We'd watched the walls rise over the course of just a few days. We almost didn't want to leave for lunch. After lunch, though, we went swimming at a hotel pool with about a dozen students from the Children's Center. Babysitting non-English-speakers at a pool may have been among our greater challenges that week, but you don't need to speak the same language to toss a ball around and play sea monster in the kiddie pool. "Rrrrrrarrgh!" is the same in every language. We returned to the house to offer Iris a housewarming gift of rice and red beans (for the Nicaraguan staple gallo pinto, "painted rooster"), cooking oil, a large pot, and powdered milk for the baby. As we expressed our joy getting to know the family and working alongside them, they shared their gratefulness at our giving up vacation time to come visit and work with them. We'd spent so long bonding over Phineas y Ferb, listening to bachata music on the radio, shooing chickens out of our workspace, playing with the kids, and sharing our lives that it was very hard to say goodbye.
We saw the stark contrast between public and private schools that afternoon. The Catholic school was not only distinctly quieter and more spacious, but they wouldn't let us in to disrupt classes. They clearly knew that educating their students was vastly more important than entertaining tourists. We visited a Nicaraguan restaurant that night. After eating the incredible food (the freshest pico de gallo I've ever had!) and drinking Coke with real sugar, we created a dance floor and did the Wobble to the music of the live band. They weren't playing that song, of course, but why let that ruin a good time? Even the ordinary diners loved it!
Heading Home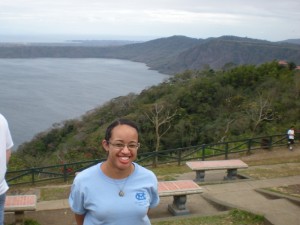 On Saturday, we spent a relaxing day at a Pacific beach eating fresh seafood and playing in the surf and sand. Our bus driver brought his son, and one of the Jesuit Volunteers came as well. We laid in hammocks, wrangled some boogie boards along the waves, collected shells and sand dollars, and buried one of the boys in the sand. After a pizza dinner overlooking an incredible view, we returned to La Casa Grande one last time to pack and prepare for our trip home.
On Sunday, we slept in (until 7:15!), attended Mass in Spanish once again, had one last breakfast with gallo pinto and fresh-squeezed juice, and headed for the airport. We made it back to Austin with very few delays, and from all appearances, we returned to our ordinary lives. Underneath, though, we are changed. We built relationships with people we may never see face-to-face again but who will remain in our hearts and prayers. Twelve individual people may not be able to change the infrastructure of an entire country, but these twelve pairs of hands with the hands of those we met can do much, much more.
---
This, dear readers, has been my one thousandth post here at Lindsay Loves (formerly Contrariwise, formerly Calliope Calls, formerly Musings). It has been an incredible journey, and I hope you'll continue along on the ride with me.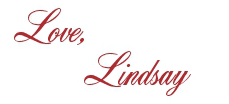 I bet you'll love these posts, too!