As far as memes, this week has been made of fail. I have had something exciting to do every single night this week (including tonight, tomorrow night, and all the way through Monday), so blogging has been a low priority versus, say, sleep.
This lack of blogging did not, however, keep the actual Jennifer Fulwiler from following me on Instagram.
In other Instagram news, Shabby Apple (@shabbyappleclothing) published this photo last week of new dresses they're adding to their collection. Everything is still out of my price range for all but the fanciest of occasions, but aren't these amazing?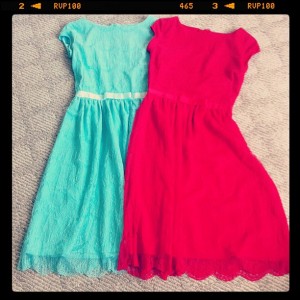 I am so excited for Once Upon a Time to come back. If you didn't get into it in the first season, this video is a nice summary of the whimsy and cleverness behind the series.
It also helps that it's on ABC and created in partnership with Disney, so they can use names and characters that belong to Disney (like Grumpy; the Grimm dwarves don't have names).
So far, the most fun event of the week has been going to see "The Sound of Music" at Zilker Park last night. You may remember my rave review of Love's Labours Lost last summer. In addition to the annual Shakespeare-with-twist at the beginning of the summer, Zilker also hosts a family-friendly musical in the middle of the summer.
Last summer's musical was Footloose, which was a delightful night of 80s hits (from the film, but that counts), bright colors, and big hair. This summer, I organized a group of friends to see The Sound of Music. I had a plan to carpool and get to he hillside super early, and despite a few small derailments, we made it there early enough to get a decent spot. Food, friends, a light breeze, singing nuns, and (pretend) Nazis make for a good night.
The play itself was delightful. From my high-quality research on Wikipedia, I knew to expect a few songs I hadn't heard ("How Can Love Survive?"), to miss one or two ("Something Good"), and to hear some at different points in the story ("Edelweiss"). I was even expecting the set design to be very creative. (There's only so much space on that theater stage.) I was definitely surprised by the entrances of the sisters and Maria, the moving set piece for Maria's bedroom, and the fantastic dancers during "The Lonely Goatherd." I almost wished I had more eyes so I could see everything at once!
All the actors were delightful, especially the littlest children, who were up way past their bedtime for the 3-hour show (including an intermission that never lasts as long as many spectators expect). Captain Von Trapp, Frau Schrader, and Uncle Max stood out against the expected talent of Maria and Mother Superior.
The live orchestra was lovely, and the costumes were magnificent. I always pity the actors for having to wear so many layers in such heat, though it was far hotter last summer. And those poor baking violins! Despite atmospheric oppression, the whole crew put on a great show.
I also enjoyed my first trip to Hut's Hamburgers this week for our staff birthday lunch. I was more focused on talking than eating, but I was satisfied. The fries had a definite homemade taste, but I found the guacamole on my #8 to be either too little a portion or too runny for a burger. I passed on the shake to help stave off an afternoon coma, but I'll put that on my to-eat (to-drink?) list for next time.
Thank God for a week where I'm so busy because I have so many non-work things to do and such fantastic, social friends! This feels like summer.
For more Quick Takes, visit Conversion Diary!