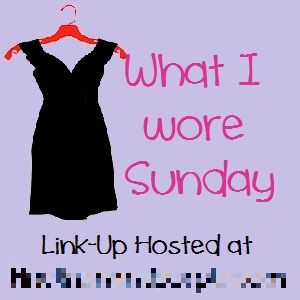 If you follow me on Instagram (@whatlindsayloves (or through Statigram), you may have noticed that I promised details about yesterday's outfit "on the blog soon." Somehow I knew that I wouldn't get around to posting immediately like I usually do. And I was right.
I remembered to take the photo, though, when I only had one shoe off. I'm making progress!
You may notice the different background. It's still a bathroom, but it's one at my parents' house instead of the one in my apartment. It has a fish theme.
This dress is one of my first repeats ever since I've been doing What I Wore Sunday. I wore the same dress back in Austin last month, so I decided to add my trusty white bolero jacket to switch up the look a little bit.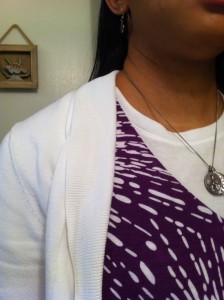 I initially chose this dress to go with my white sandals (the same ones I wore last week), since I think this is the end of this aqua pedicure. I also remembered to take some detail shots of the shoes.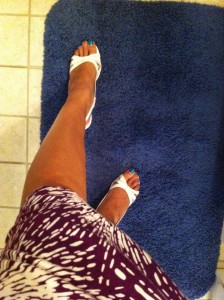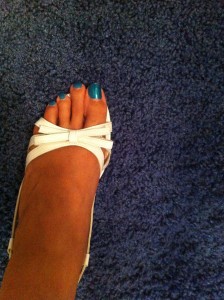 I went to the parish I normally attend when I'm in Maryland. Their Gloria sounds a bit too much like a carnival ride for me, but as I commented on an Austin CNM post last week, I don't go to church for music, or even good preaching; I go for Jesus. I found it comforting that the priest spoke a lot about Jesus' power to raise the dead, particularly since we had just entrusted my grandfather to him with finality. His body might be in the tomb for now, but I trust Jesus to raise it on the last day.
That particular parish's bulletin always has one page in Spanish, written by the priest who does Spanish-language and Hispanic ministry. It is always more direct and informative than almost anything I read in English besides the Catechism; maybe it's a language thing. The Spanish notes on the readings focused more on Jesus' raising the widow of Nain's son for its social significance, since she was doomed without any means of support. I was put off by that conclusion at first, thinking that the ability to raise someone from the dead and thereby control death and life was the point. Then I remembered the Gospel from my grandfather's funeral Mass: the raising of Lazarus. Lazarus had been dead longer than the widow's son. His sisters seemed to be okay socially and financially without him. I suppose the story of Lazarus is the one that's more about Christ's power over life and death, then. It's definitely more sensational—Jesus cried over Lazarus's death!
Church bulletins should be so educational more often.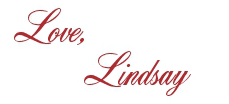 I bet you'll love these posts, too!