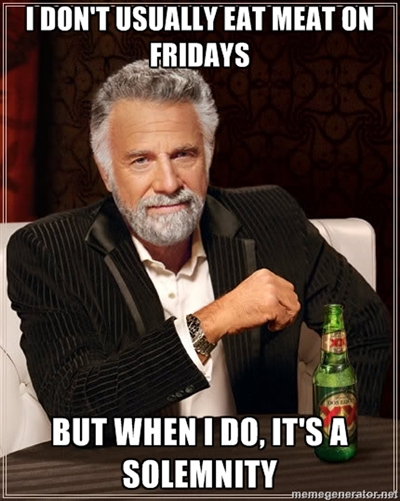 A Lindsay original. I considered it my moral obligation to have a delicious bacon cheeseburger from Checkers for dinner.
Most unfortunately, I was only able to get a burger from Checkers because I had to make an emergency trip home for my grandfather's funeral. His name was (is?) Bronsmore. He had colon cancer, but it was worse than he let on for a long time. He died peacefully. We would appreciate your prayers and good wishes, especially as my grandmother transitions into this new phase of her life.
It's been a while since I've joined in 7QT. I was in the first of my many weddings this year. It was a very long drive to northeast Indiana, but I got to see my fantastic friend Sarah in the Chicago suburbs on the way, and I slept in king-size beds many times, which is always delightful. I also have my first Catholic wedding as a bridesmaid under my belt.
The bride, the groom, and most of the rest of the wedding party were competitive ballroom dancers, which made dancing time especially interesting. The men were valiantly attempting to lead their partners around the floor while the rest of us were just dancing crazy. I didn't watch much of it (I tend to tear up dance floors all the time, especially at weddings), but it was an unusual twist.
In preparation for the wedding, I had my nails done for the first time ever.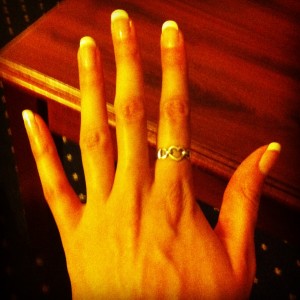 Those are my real nails, by the way. No acrylic for me! I got French tips, which was an adventure. I also got a pedicure, which felt marvelous. I even managed not to laugh too much when the scrubber-thing tickled my foot. In a different kind of misfortune entirely, I got a little tired of the Celtic Woman DVD that was on loop.
I also got my hair done. It's hard to see from the photo, but it started as two ponytails (vertical), which were then curled, looped around, and pinned down.
At some point, the stylist must have cut out the ponytail elastics, because I remember feeling them go in, but there were none when I took my hair down. I slept carefully so that it lasted through church the next day, and I was delighted to find that the curls were still bouncy by nightfall.
Some of my church friends meet to play volleyball every week through the summer. I don't play (any sports, ever), but I sit on a blanket to watch, and one time I brought a healthy snack (some grapes I thought might spoil before I finished them). This makes me the unofficial Team Mom. I think I am pleased.
When I was booking my last-minute flight home (God bless my parents for helping me out), I researched bereavement fares. I can attest that Delta really does require you to join their frequent flier program to even get a quote for bereavement fares. Needless to say, I did not fly Delta, and I was highly offended. Consider that the next time you fly.
For more Quick Takes, visit Conversion Diary!