Yikes. I drafted a 7QT three weeks ago and never actually posted it! That might be a new record. In the meantime, I have attended another wedding and also moved to a different part of Austin. I live in a house with two delightful roommates now. No more awkwardly laid-out, tiny, expensive apartment for me!
In preparation for the move, I went through the donation bag that was living in a corner of my closet. I rescued one t-shirt and one dress, but all the rest went to the local St. Vincent de Paul Society store. I love a good clothing purge!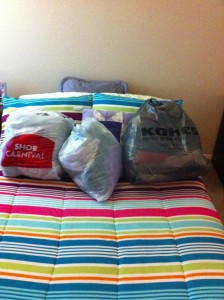 The bags in the photo contain approximately the following items:
3 paperback books (I don't buy many these days, so I usually buy ones I know I'll want to keep)
2 pairs of shoes
2 dresses
3 skirts
3 t-shirts (I think I've bought two t-shirts total since I finished undergrad)
3 pairs of pants
1 pair of jeans
12 blouses (I estimated low)
5 sweaters
2 sweatshirts
That's not including the six shirts in my rag bag, four other long-sleeved shirts with sleeves that are too short, a handful of jewelry, and one pair of slippers that are being sent to DonateStuff.com. I also threw out three pairs of really battered shoes.
Is it just me, or does filling up bags with clothing to be donated just make you wonder why you ever had so much stuff?
Wedding #3 was two Saturdays ago. I wore a dress I'd worn before, but with different accessories so I could feel like it was a new outfit. I forgot to take any photos, though! I was running behind, having done my errands in the morning more slowly than anticipated. Since my roommmate and I were just barely late for the ceremony, I feel vindicated for my lack of pre-wedding action shots of my outfit.
Wedding #4 will also require a remixed outfit. I have a candidate in an old bridesmaid dress with new accessories, but I haven't committed yet. I have just about three days; that's enough time, right?
Also related to my move in #1, I now feel even more like a grown-up. I rented a U-Haul, enlisted a few friends, and packed up my stuff to prepare. I have always had to move mostly by myself before, and I've never had to move furniture, so it was an adventure. We finished in great time, though, and I was declared "an easy move." Hooray! I was especially pleased to find that all of my stuff fits in my new room (and the rest of the house, plus a little storage in the garage). Once I decorate and get some storage bins, I'll be all set.
In other moving news, I was supposed to help one friend/former coworker move on Saturday morning and then return to help her (now former) roommate move on Sunday morning. About fifteen people showed up on Saturday, though, so we got the first move completed in record time. We were so jazzed that we went back to do the second move right away! After that (which was much tougher because it had almost all the furniture), we did a no-furniture move of my friend's new roommate, and then the remnant rejoiced in pizza.
I forgot I was supposed to go to Confession that evening, but it was just a scheduled thing and not a specific need, and I had a wonderful time watching Finding Nemo with my roommates during that time slot anyway. "Just keep swimming; just keep swimming; just keep swimming, swimming, swimming…."
Or, in my case, "Keep not sinning; keep not sinning…."
Life without cable is interesting, to say the least. I have been working my way through Degrassi Junior High to help compensate for having to view the current Degrassi exclusively online. I've been so inspired by the authentic 80's fashion and appalled by the extreme drama. Dawson's Creek had nothing on those Canadians (except ridiculous vocab)!
There is also some nostalgia. I had to screencap this moment: Wheels calls his birth father on a rotary payphone.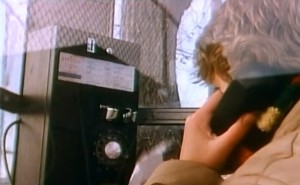 Watching DJH is also great inspiration for the 80's/90's birthday party my roommates and I are throwing in a few weeks. I'm so excited! I've been trying to throw this party for a year, but I didn't have a location or occasion until now. Any tips on teasing long hair?
For more Quick Takes, visit Conversion Diary!