It's late and I should probably go to bed, but I have officially fallen off the NaBloPoMo wagon and am determined to get back on it!
I wanted to post Booking Through Thursday yesterday, but it wasn't up. Then I tried to post it today. Still nothin'. So I thought, "Ooh! The Friday Five has been back for a few weeks! I should do that. It's the correct day and everything!"
But there are no new questions today.
Therefore, I'm posting last week's questions, and I am pleased.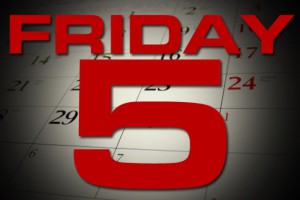 A Trip Down Memory Lane
If you could do one thing every day that makes you happy, what would that be? Reading! I don't read nearly enough, and knowing that makes me sad. I mean real reading, not blogs. E-books are okay, but I at least want to read a book every day.
What is the one memory that stands out above all others (good/bad/weird/whatever)? Just one? Not a category? I have lots of good memories, some memories I can't believe are real (good and bad), and some horrible ones. My 80s/90s birthday party this year was pretty epic, though. That's a good memory.
What is your ultimate comfort food? Some of my friends were discussing "eating their feelings" a few weeks ago. I don't think I do that. I never get the urge to eat something when I'm sad and want to feel better. Usually, if I'm looking for food at a time of great emotion, it's because I feel super hungry and also like a fool for waiting so long to eat!
Do you still have a possession(s) from your childhood that you keep for comfort and/or sentimental reasons? If so, what reason or memory is that? I don't think so! I've moved so many times that I don't hold onto things like I used to. There are some stuffed animals at my parents' house for my future children, but there's nothing I'm aware of that was mine when I was younger than high school-age. The mementos I keep are mostly from more recent times. I lost a few critical ones in the move to Austin (such as my undergrad graduation red tassel), but I still have my memories of them.
Do you or your family have heirlooms or special 'hand-me-downs'? My siblings and I are spaced pretty far apart, so not much was handed down. Styles changed, and we moved too often to hold on to very much for very long. I have some jewelry from female relatives who have died, though. I hope I can pass down some of mine someday.