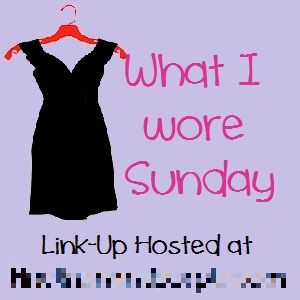 Welcome back to WIWS, where this week features another two-fer. Last weekend got away from me due to the all-day Saturday move. I also lacked wi-fi, and posting a WIWS from my phone seemed just too insurmountable a challenge.
Let's start with last week.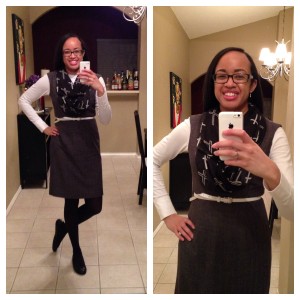 I had to lector, so I wanted to wear my cross-patterned scarf again. I don't quite feel comfortable wearing it to my secular workplace, so it's getting a lot of mileage on Sundays.
It was also remarkably cold and windy, so I layered up with a long-sleeved undershirt and this great gray herringbone dress from Target. I originally got it to wear to a wedding, but since it's so heavy and pretty fancy, I don't wear it often. The herringbone reminds me of a man's suit. I love a man in a suit. The white skinny belt helped pull together the black and gray with a little more white.
I felt strange not wearing anything colorful, but monochromatic is a color scheme, too. I could have used some gray shoes here, I think. I wear black shoes with my gray pants and gray skirt, but can I use that same color combo with gray shoes and black bottoms? Hmm.
Today was a bit warmer, but not much, so I layered up again.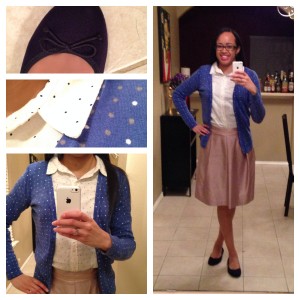 Sorry about the blurry full-length! Mirror selfies are tricky.
I've worn bits of this to work before, but this is a brand-new combo. I love this Target skirt so much. I initially chose it today to go with chocolate brown tights, but I decided to skip the tights and just go with the skirt. I added this great navy blue polka-dot button-down from Old Navy and my blue polka-dot sweater, also from Target.
I wasn't quite sure about the convergence of dots, but I like how it turned out. Also, my neutral brown sweater is still air-drying from laundry day yesterday. I had a killer time getting that sweater on over my button-down's long sleeves, though! I guess I've only worn it with short sleeves before. It's so fitted that I was pulling and tugging like crazy. And of course I was looking in a mirror at the same time, so I had to watch my own comedy routine. Thank goodness my roommate didn't pick that moment to come out of her room.
The shoes were a challenge. I have only worn this skirt with brown shoes before, so I have that color combo burned into my brain. Today, though, I wore my navy blue ballet flats. I'm still not sure how much I liked the look. Any ideas? Should I have gone with chocolate brown, or is the navy okay?
We had a guest presider at Mass tonight, one I know from my old job. He mentioned the three leading interpretations of what the original sin was, specifically: disobedience, gluttony (which was news to me), or a sexual sin. I don't think he actually said the part my mind wandered to next (sorry, Father!), which was that Jesus is tempted with gluttony, disobedience, and power in today's Gospel. Having fasted for forty days, he knows he lives on more than bread. Having great trust in the Father, he knows that his life is not to be toyed with. Having humbled himself despite his own power, he respects the authoritative power of his Creator. As St. Paul says, although the first Adam brought sin into the world, the second Adam kicked it out.
I love the readings for special seasons and feasts. The takeaway message is so much more invigorating when it's staring you right in the face in every reading.
I think this is going to be a good Lent.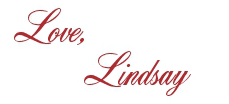 I bet you'll love these posts, too!