I would like to think that my 7 Quick Takes Friday posts give a decent update on my life, but those are pretty long for you all to read. We don't all have that kind of time. Enter the tl;dr post.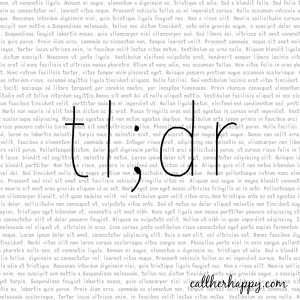 "tl;dr" is a lowercase acronym for "too long; didn't read." It started as a snarky way to reply to someone's message board post by saying it wasn't worth your time to read the whole thing, so you didn't bother. These days, I only ever see it used ironically. Someone will write a long, detailed post and then add a summary labeled "tl;dr."
When I was wandering around the Internet last week, I came across a post at Call Her Happy literally titled "tl;dr." It's a "Cliff's Notes version" of the life of a blogger. You might not always have time to read whole posts, so it's a gift to you and your limited time. Hooray, presents!
Here's my tl;dr as of late:
I used to be a teacher, and then I was a campus minister. Now I'm in construction administration, and I was recently promoted!
I switched to an alternating content schedule of book reviews and article responses at Austin CNM. Best idea I've had in ages!
One of my roommates got married, so we found another, who happens to work in youth ministry.
My little brother just graduated from high school back home in Maryland and is off to play D-II football at Gannon University in the fall.
I was invited onto the leadership team of my Catholic young adult group, which is an honor and takes more time than I anticipated.
After giving up on my last budget ages ago, I am back on the budgeting bandwagon thanks to You Need a Budget.
I am single and available, if you happen to know any good men in Austin who love Jesus, don't smoke cigarettes, are tall, and appreciate education. ;)
I'm linking up with Jenna and other time-pressed bloggers. Check it out and post your own!