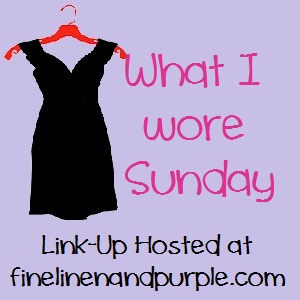 It seems that I get slammed on Sunday evening about every two weeks. You'd think I'd have balanced this out by, I don't know, making a template in advance or something. You would be wrong. So here are two outfits for the price of one post (which I will attempt to keep short…ish).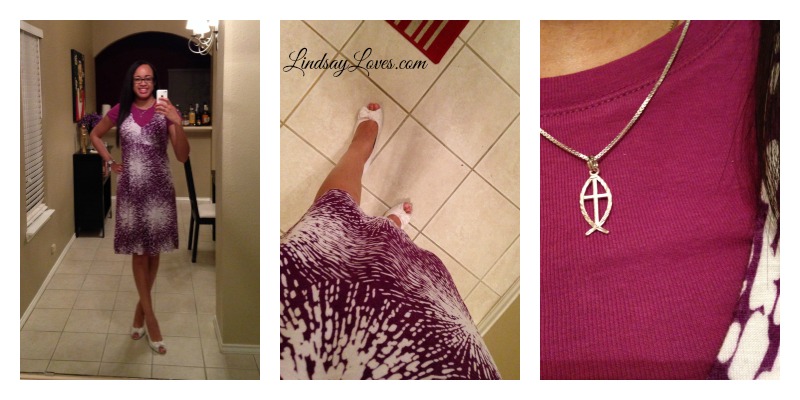 Dress: Old Navy
Shirt: Old Navy
Shoes: Payless
Necklace: gift
I love the abstract pattern of this dress. I also love that it's purple, so I could wear it with a purple undershirt instead of the white I usually throw on. Still no painted toenails last week. It just was not a priority. I do love that this neckline allows me to wear a necklace. My mom gave me this one as a Confirmation sponsor gift (for my sister). She doesn't quite understand my religious involvement level, but she definitely supports it. I own a number of random non-Catholic Christian books due to her. I think she just goes into a LifeWay Christian Store and finds something she thinks I'd like. I love the jewelry; the books, not so muchThere are many Catholics back home, but there are not a lot of Catholic bookstores. Sad times.
For the second week in a row, we had Fr. Associate Pastor. He's fine (as much as my opinion matters), but I missed seeing our new pastor. I also missed hearing the long form of the Gospel. Due to my long delay in posting, I have no particular thoughts about the homily. Perhaps that is better for both the Internet and my ego.
See, that was so concise. On to this week!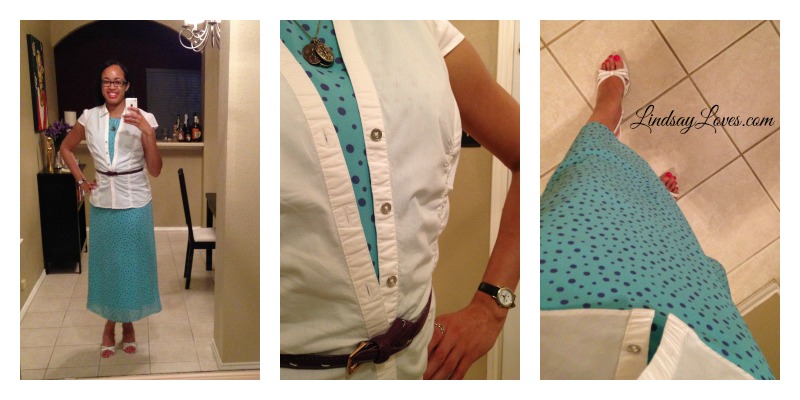 Dress: super old; I don't even remember!
Blouse: Kohl's, I think
Belt: Target
Shoes: Payless
Necklace: holy medals
Watch: Charming Charlie
Ring: handmade (not by me!)
Nails: New York Color, Promenade Pink Creme
I wore this dress on Easter Sunday, and I wore this exact outfit to my roommate's wedding rehearsal. Throwback: I also wore this dress when I was Confirmed, back in high school! It was kind of big and shapeless then. I wore it with a too-big tie-front blouse back then. I think it looks much better like this.
I did my toenails this week! As I was getting ready for Mass, I realized that I had about fifteen minutes of wiggle room, twenty if I really stretched. After about thirty seconds of deliberation, I decided that I could not wear the same white lace flats I've been wearing for most of the summer, and I whipped out my nail kit. If you don't look too closely (which is most of the time, because no one is ever that close to my feet), it's not bad for a rush job.
When I arrived at the church, I was a little late, but not much. I zipped around my usual getting-settled routine for the days I lector. Then I realized that the scheduled first lector was not showing up. At my particular parish, the first lector reads announcements before Mass and then is seated. The second lector carries the Book of the Gospels in the absence of a deacon and reads the Universal Prayer ("Prayers of the Faithful" got rebranded). When there's only one lector, he or she usually has to read the announcements, beeline to the narthex to join the procession, do both readings, and come back for the Universal Prayer.
So today, that was me. Whew! At least Fr. New Pastor didn't make me carry the Book of the Gospels. He did ask me to carry the lectionary, though, which was weird. I had to go all the way to the ambo with it instead of just to the altar, and I had to place and open the book, which is always awkward because processional books are enormous. If memory serves, the lectionary is not supposed to be carried in procession, but I'm a big fan of the "comply, then appeal" method. I have a feeling I will be doing that with Fr. New Pastor, and that he will carry on as he likes. He's brand-new, though. I'll give him some time.
I was heartbroken by getting the short form of the Gospel yet again. That's three weeks in a row. I never want to hear a priest talk about how the only Bible some Catholics ever hear is on Sundays. You had the chance to give them some extra Bible, and you didn't take it. No complaining!
Fr. New Pastor's homily was centered around joy, though, which is the reason I remain Catholic (for the joy, not for the homilies on it). He spoke about the farmer and gem merchant as being so overcome by the joy of uncovering a great treasure that they were willing to give all they had to get it. I was hoping he would compare that to the joy of discovering Jesus and doing anything to be with him eternally, but not so much. He did speak about how older Catholics often engage with religion out of a sense of obligation and how that is not helpful. I wanted him to address those of us that got the obligation-free, all-opportunity version, but I guess he hasn't been that kind of priest, so he hasn't seen it as much. Maybe. I don't know. St. Augustine got a shout-out, which made my Augustinian heart happy.
I left Mass thinking about joy. What more could I ask for?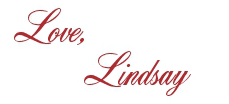 I bet you'll love these posts, too!