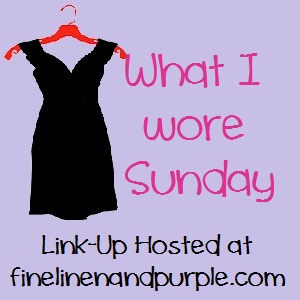 Last night got a little crazy since I threw a party Saturday night and had not quite recovered. We had money-counting, which took only two hours (up from the previous month's two and a half), and then I had Chipotle, so I was too busy being full and tired to post. I'm making up for it tonight!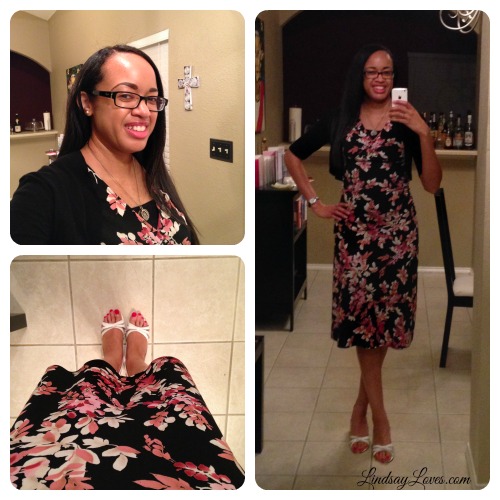 Dress: hand-me-down
Bolero jacket: Target
Shoes: Payless
Toenails: Wet 'n Wild in Red Red
Earrings: high school graduation pearls
Necklace: holy medals
Maybe this dress is a hand-me-down; maybe it's vintage. I wore it for Fancy Pants Sunday back in March, but this seemed like a good day to wear it again. I was having a thin day, and this is a very fitted dress. You should see me get into it (in a non-scandalous way)! I look like a hermit crab fighting to get into a small shell. I made it into the dress, though, and I even managed to climb in and out of my friend's Jeep modestly and mostly gracefully in this outfit.
Since the dress was the focal point, I kept everything else simple. I wanted to show off my nail polish, and I don't own black sandals (just flip-flops), so I tied into the off-white flowers with pure white wedges. To help balance the color, I wore my black bolero jacket instead of the white one, and I went minimal with jewelry, too. I was very satisfied with this outfit, and I got a few compliments on it to boot.
We had one of our deacons preach the homily at Mass. (Still no sign of our pastor, who now clearly doesn't celebrate Mass in the evening. I feel like our church dad doesn't want to spend time with us.) Deacon Former Doctor spoke about our responsibility to call others to repentance and the mercy of God, despite their sins and ours. He started his homily with a schmaltzy "surprise, the homeless man was Jesus!" type story, but then he reminded us of the evils of abortion—by name. That perked me up. He told a story of his medical appointment, when he was a doctor, with a young woman who told him she wanted to end her pregnancy. He spent four times as much time with her as usual, and she left with much to think about, but she told him she eventually went through with him. That still weighs on him. Deacon Former Doctor's homily made me think about the missed opportunities I've had, the times when I should have identified myself as a Christian, the times when I've given bad advice. Like that young woman, I have much to think about.
What did Sunday's readings make you think about? Check out other reflections and outfits at Fine Linen and Purple.