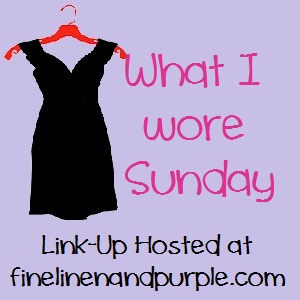 This was an unusual weekend. Yesterday afternoon was so cool that I considered wearing a sweater in midafternoon. Since March, 2 p.m. has meant blistering heat. Yesterday, it was in the 60's! (Stop it; that's cold in Austin, Texas.) The temperature drop at night was so big that I actually did wear that sweater while I was sitting outside, and I wished I'd worn a heavier one! On top of a day full of chores, that made for a strange Saturday.
Today was much more normal. At my fashion volunteer event last week, I got a bunch of hair product samples. Being black, I have to use specific products in my hair. The L'Oreal heat protectant straightening creme seemed pretty harmless, though, so I gave it a try. I usually blow-dry and flat iron with nothing special in my hair. It gave my hair a strange, weighed-down feeling at first, but the entire straightening process seemed a bit less arduous than usual. We'll see what happens when I put my hair up later in the week. That usually exposes the frizzies. I'll try it the regular way next week and compare.
I wore more than straight hair this Sunday, though! On to the outfit!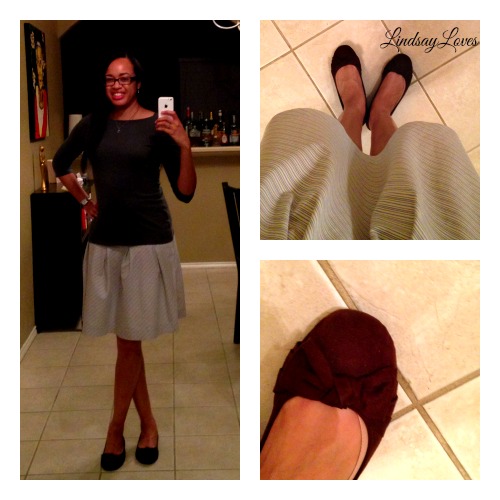 Top: Target
Skirt: Old Navy
Shoes: Payless
When I was picking out clothes, I hoped it would still be a little cool in the evening for Mass. In my case, "cool" turned out to be in the high 70's. That's better than the 90's!
This top is olive colored, but I treat it like a green shirt most of the time. I have trouble with neutrals. I used the greenish hue to bring out the faded green in the stripes on my skirt. You can see the stripes in the upper-right detail shot, and the bows on my shoes in the lower-right. I tried navy blue ballet flats, too, but there wasn't enough of the blue left in my skirt! I've had this one since undergrad and it is well loved. It might be retirement time, but I'm reluctant to let it go. It's definitely a summer skirt, though, so it will be retired by Halloween (which is usually the start of real fall weather in Austin), and it might not come back in the spring. We shall see.
A side note on body types: I am pear-shaped, and I have come to accept that and learn to dress for it. This hip-length top with a drop-waist skirt makes my waist look so tiny! That's not usually what I'm aiming for in a well-fitting outfit, but it's a nice side effect.
When I did my pre-reading before Mass, today's theme seemed to be justice and making good use of what is given to you. As I heard at Mass (with our pastor, hooray!), that extends to basic things such as the Earth and our lives. We have been given the Earth to live on and sustain us, but it doesn't belong to us. Similarly, our lives are a gift. Respect Life Sunday is as good a time as any to remember that one of the reasons we should treasure each person's life is that life is a gift.
The second reading also has a pretty good description of a good Christian woman in the list of things we ought to think about! Did you get that impression? (I would also say it outlines a good Christian man except that the word lovely is rarely used to describe men.) I would be doing well if you could use all those words to describe me.
Check out other Sunday outfits and reflections at Fine Linen and Purple.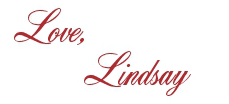 I bet you'll love these posts, too!