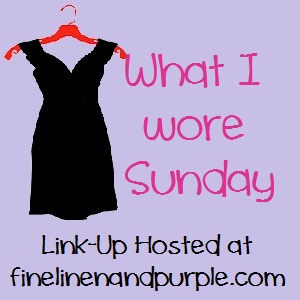 Today was this month's session of Pure Fashion [auto-playing music at that link]. I enjoy the program and being a volunteer, but it happens at the worst possible time of day.
I know that I just wrote last night about how (relatively) productive I was. My Saturdays have been coming along nicely. Sunday is still a struggle, though. I get up, I read and eat breakfast, I realize how late it's getting and that I need to shower if I'm going to be finished with my hair in time for church, and I go to Mass. I ought to be more mindful about that time between "Wake Up" and "Leave for Mass." I'm always on time (which, for me, is fifteen minutes before Mass starts), so there hasn't been much motivation to change.
Pure Fashion is a solid motivator, although it only comes along once a month. I spent a considerable chunk of time last night planning today's schedule, and then I ruined it by getting a late start. Despite succumbing to the snooze button and several other distractions, I managed to leave only ten minutes late, dressed for our mall window-shopping session and with church-appropriate clothes in tow.
The session was pretty great, and I even managed to make it out only a little later than I would have liked. I hit the road, planning to change clothes at the church when I got there.
That plan failed. I got to the church parking lot at 4:52 for Mass at 5 p.m. Not good. I got turned around because I try not to use my GPS when it's daylight and I'm in town, and then a traffic signal on the freeway was flashing red, so I fell behind. I decided that I would rather be on time than dressed to my usual standards, so this is what I wore today: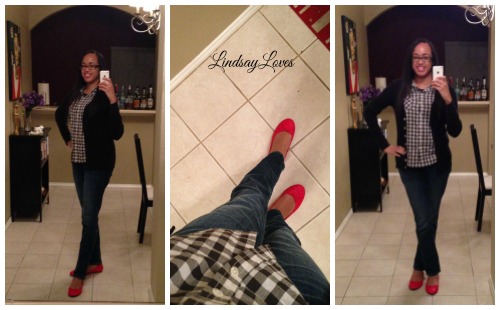 Button-down: Target
Sweater: Old Navy
Skinny jeans: Old Navy
Ballet flats: Old Navy
I have not worn pants to Sunday Mass in years, retreats excepted. (I think I actually did pack a skirt for Sunday Mass on a retreat once, though.) I remember the last time I wore pants. It was my first year of graduate school, and I had been sick until a few hours before Mass, so being there at all was a victory. Even then, I did not wear jeans.
It was a very humbling experience to be put together but underdressed. I say this not to be "holier than thou" but to acknowledge my personal rules. I wear a dress or a skirt to Mass every single week. You can see that in all of my What I Wore Sunday posts… until now. But as I said, I am taking this as an opportunity to be humble. In the future, I will plan better.
Aside from my modest attire that did not fit the definition of "modest" I usually work with, I was also uncomfortable because I hadn't eaten since breakfast. In addition to ending right before Mass, Pure Fashion sessions also require me to leave my house before lunch. The stress of trying be on time and properly dressed plus the frustration of having only managed one of those things added up to a distressed Lindsay. At first, I felt lightheaded. Then I got a brief headache. My stomach was growling. I was upset. It was a low blood sugar fiesta.
To add insult to injury, our pastor came to give the homily again, and it was a whopper. Mass started just after 5 p.m. and ended at 6:15-ish. It was a good homily, but this was a week when my body really needed a normal-length homily. I was with him, but I wished he would stop so I could go get some food!
He spoke about the gospel primarily. I can't blame him for that. There were so many topics today that even I struggled to find a common thread in the readings. With two special solemnities on the last two Sudnays, we haven't been getting the doomsday-themed readings we would usually hear at this time of year.
Focusing on the Parable of the Talents as a call for Christian stewardship, our pastor elaborated on last week's excellent Scripture-based diocesan appeal by pointing out that our parish doesn't provide very well financially for itself. It's in a wealthy neighborhood with more than a few wealthy parishioners, but our collection is half that of parishes with similar size and income. I was a quasi-parish employee, so I understand exactly how much money it takes to run a Catholic church. I give 5% to my parish. I just don't make a very big 100%. So I didn't feel convicted. I just felt hungry.
Then I got Chipotle and ate half of my burrito bowl before I took those photos. The "fitted on one half, loose on the other" principle definitely worked in my favor.
How was your Sunday? I hope it was better than mine!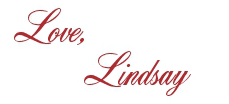 I bet you'll love these posts, too!