I hereby forbid myself to ever promise a specific post on a specific day ever again. I was so optimistic about my ability to get this post up two Fridays ago for 7 Quick Takes over at Conversion Diary. I even had a whole day off from work (although I did have to start getting ready at 4:30 p.m. for a wedding at 6:30). I'm not a quitter, though, so I bring you the first part of the promised post now.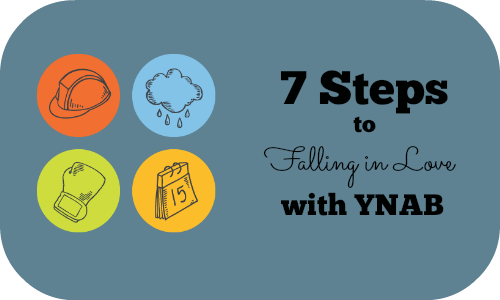 Seven Critical Moments
In my previous YNAB post, I talked about how I met and began to fall in love with the You Need a Budget philosophy and the accompanying software. Think of this series as my personal finance love story. I can break my buy-in to YNAB into seven steps, seven times when I realized that YNAB was changing my financial life.
Step One: Increased Awareness
The first moment that helped me see my bright future with YNAB was awareness. A zero-sum budget like YNAB requires you to be aware of the specific "job" of each dollar and how far your income will actually go. Organizing only the cash I had in my wallet and in the bank (not money "available" on credit cards) kept me aware of the plan I was creating for my money. The necessity of entering each transaction and balancing/reconciling one or more times every week brought me to a new level of knowledge.
I didn't have a new savings strategy. I still don't have increased income. Nevertheless, I effectively got a raise. My checking account balance was already higher (i.e. I had more money) simply because I stayed aware of my plan and my actions. The power of that awareness cannot be overstated.
Step Two: Predicting Rainy Days
My second YNAB epiphany was discovering that I could save for rainy days. In my very first YNAB budget, I was able to start funds for Christmas, hair salon visits, my domain name registration, and my car registration. Those were not going to sneak up on me anymore. (I'm delighted to say that I was right, and they didn't.) Saving for so-called predictable rainy days left me with a cushion in my checking account. That's not extra money for spending on drinks and clothes, though. That money has a job. It stays in my account until the job starts.
I can't quite describe the encouragement that came just from seeing my account balance positively affected by my rainy day funds. For the first time ever, I realized I didn't have to be caught off guard. By putting away a little at a time (well, I had to put away a lot more at first because I started so close to "time for work"), I could just pay those less-than-monthly bills in cash when they came. That kind of freedom is so sweet.
---
I'll have the remaining steps soon. It's a long story, and I think it's best told over time instead of in one huge onslaught. In the meantime, I encourage you to start a free trial of YNAB so we can both earn a free month! What have you got to lose?