I started writing this post on Wednesday, but the latter half was so difficult that I didn't post it right away. I've done my best to be charitable and clear. Let me know in the comments if you think I managed it.
---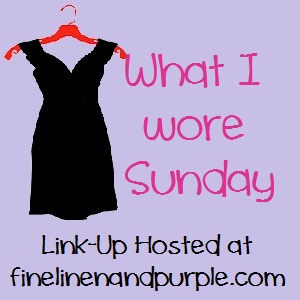 It is days like today that remind me why I've been trying so hard to post this on Sundays, right after I get in from church. My memory does not hold onto a homily very long. My friend Seth told me just last night that his pastor typically gives a second mini-homily after Communion, repeating the first homily. At least I don't get that (although it might make remembering easier).
Here's what I wore: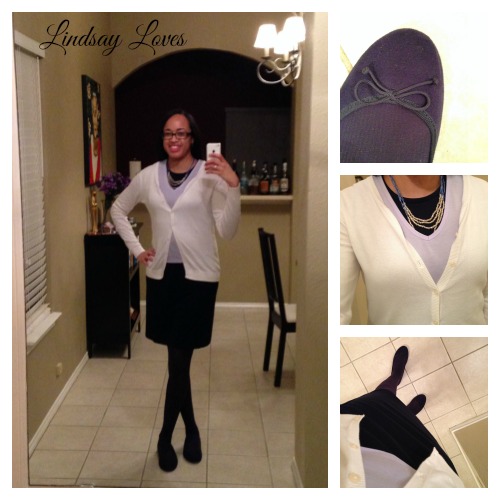 Dress worn as a skirt: Old Navy
Top: The Limited (super old)
Sweater: Old Navy
Necklace: gift
Tights: Target
Shoes: Old Navy
We finally had another cold Sunday, so I was determined to break out these navy blue tights. I basically built the outfit around the tights. That's okay, right?
The last time I wore this dress + top combo, it was much too hot for a ponte knit dress and I thought I might sweat to death. The church was warm yesterday, but not so warm that I was uncomfortable. I forgot all about my lifelong plan to dress liturgically because I was so excited about the tights.
I really like these tights.
It's been more than a day and I went to another Mass in the meantime, so I honestly can't remember what our pastor said in his homily! From my pre-reading, the theme was the hope of salvation even when sin and despair threaten to overwhelm us.
I do, however, remember exactly how the announcements went on Sunday.
Of the six* non-Sunday holy days of obligation in the U.S., three of them (Mary, Mother of God; the Assumption of Mary; and All Saints) are not obligatory when they fall on a Saturday or Monday. We saw that with All Saints last month. Attending Mass two days in a row is a hardship; lifting the obligation eliminates that hardship.
The Immaculate Conception does not work like that. Our Lady of the Immaculate Conception is the patroness of the United States, so her feast is always a holy day of obligation. She's the exception. Two years ago, the solemnity fell on a Saturday. This year, it fell on a Monday. Both times, many people were confused about when or whether to go to Mass. The confusion and arguments over this situation rival all others except the Annual Lent Fight.
In my honest attempt to be helpful, I got caught up in the Immaculate Conception Fight this year.
My parish provided only a brief reminder note in the middle of the worship section of the bulletin last Sunday (November 30). In contrast, we got a long pulpit announcement about the parish Advent/Christmas production, and even longer one two weeks ago about the Christmas gift outreach. That doesn't seem right.
Since fully half of our holy days of obligation are sometimes not obligatory, and especially since the last one (All Saints 2014) was in fact not obligatory, I knew there would be confusion again this year. I tried to help by posting a PSA on Facebook. In retrospect, that was a bad call.
After I caused confusion with my Facebook post, I emailed my pastor for an authoritative answer. I kept my email to three sentences: the first expressing my disappointment in the lack of pulpit announcement before December 7, and the second two to ask about the possibility of a "two-fer." But he didn't seem to agree that the announcement should have already been made, and he didn't answer my question.
My "two-fer" question was this: I was considering, for the first time ever, attempting to go to Mass just one time (Sunday evening, as usual) for both holy days of obligation (the Second Sunday of Advent and the Immaculate Conception). The evening preceding a solemnity "counts" as the solemnity for Mass-attendance purposes, no matter what readings and prayers are used. The problem is that you can't fulfill two Mass-attendance obligations by attending just one Mass. As Ed Peters rationally pointed out, if that were possible, the bishops probably would have proposed it already. They're in favor of reducing Mass-attendance hardships, after all. Thus, the (past) options are this diagram: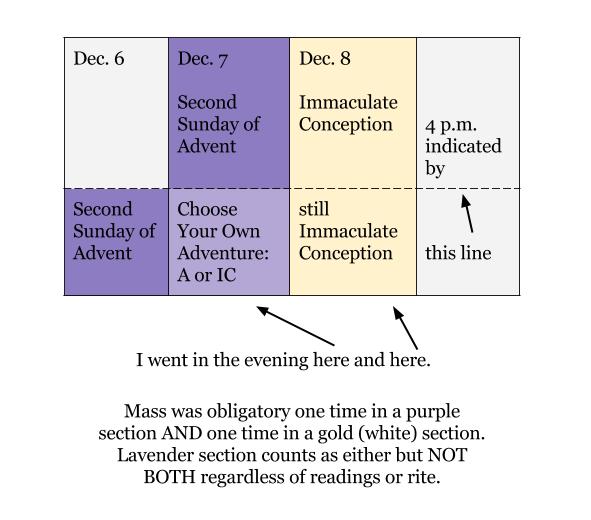 On December 7, our pastor finally reminded everyone about the Immaculate Conception in a pulpit announcement after Communion. That would have been great if it had happened just one week earlier! People need more than one evening's notice to get to church the next day. In contrast, Mass times for the entire Christmas octave were publicized via the parish email newsletter before Thanksgiving.
After much discussion (and some regret that I'd even tried), I went to Mass on Sunday evening and again Monday evening. Because I went straight to Mass at 6:30 p.m. from work and stayed through Spirit & Truth, I had to pack my dinner and eat it at work at 4:30. I'm too young for the early bird special. This is what loving Jesus does to me.
I'm upset that my pastor didn't answer my question about the two-fer possibility, but I'm ridiculously glad that this situation won't turn up again for several more years. And I got to see my old, retired pastor for the Immaculate Conception last night. He recounted the story of Our Lady of Lourdes quite nicely and exhorted us to be still (in prayer with God) during Advent. By then, I was calm and happy again. Hooray!
---
*Canonically, there are ten holy days of obligation. In Hawaii, there are only two.
Check out more Mass fashion and commentary at Fine Linen and Purple.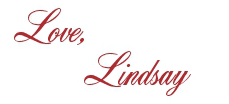 I bet you'll love these posts, too!