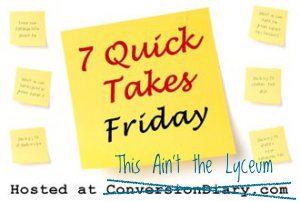 See? I swore I wasn't blogging every day of December, and I upheld that commitment.
Truthfully, although I knew I was going to have a busy week, I underestimated my ability to prepare for this week last week. Between Pure Fashion, the Immaculate Conception, a parish speaker, my company party, and preparations for my trip home, blogging was not a priority. And after I struggled so much to get my What I Wore Sunday post for last week just right, I was burned out. Even my simplest link-up, Booking Through Thursday, hasn't been posted since Thanksgiving.
You're welcome for the break?
Many of my local friends are married, so I see them less often than I did before their weddings. I knew that would happen; it always does. I have a special relationship with one couple. I see them at church almost every week, and even though our parish's young adult group is no more, they still sit with me. They invited me and a few other friends over for dinner on Saturday night. I got to try out my garlic parmesan green beans recipe on a subject other than myself, and the husband's sausage risotto was delicious.
My favorite thing about this couple, though, is that they never make me feel like a third wheel. It's no secret that I'm in a season where I am unhappy about being single, and they know that, but they always make me feel appreciated for exactly who I am.
I'm going to write that on their Christmas card.
Speaking of Christmas cards, I found a design I love on Minted. It's like Threadless for paper goods, and it comes recommended by the lovely Kathryn Whitaker. I'm not interested in sending photos of myself (which would basically be one wedding and all my What I Wore Sunday selfies), so I send cards with pictures of baby Jesus, peace doves, etc. I even saved so aggressively with YNAB that I can afford to order fancy printed cards rather than just hand-writing in the cheap ones from Target.
The problem is that I only got around to shopping for cards this past weekend. I don't really want to mail them from my Maryland home, so I've decided to wait until I get back. (Hopefully, I can catch an after-Christmas sale, too!) That means they won't go out earlier than December 29. For the Christians on my list, I will be celebrating the real Christmas season. For the secular people, I sending authentic greetings from Austin. That works, right?
Further speaking of Christmas cards, I found the perfect way to display mine. All of mine so far have been flat cards, photo paper cards, and landscape fold. None of those will show well on top of my bookshelf. Saggy cards do not spread Christmas cheer.
I turned to Pinterest, thinking, "There's got to be a better way!" I am not about to sand anything or buy a bunch of ribbon, but I have office supplies! Pinterest win!
In other "dinner with friends" news, I was able to invite one of my other (single) friends over for dinner a few Fridays ago. I don't see her often, especially since the young adult group we met through is no more, but she lives nearby. I cooked, so there was no potluck pressure (you know that's a thing). We talked, ate, and had a fantastic evening.
I don't take advantage of that often enough: living in a house, I have space to invite people over. I don't have to wait for a large-party occasion to be a joyful hostess.
Let's just make it five takes this week, shall we?
Until next time!
For more Quick Takes, visit This Ain't the Lyceum.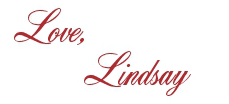 I bet you'll love these posts, too!