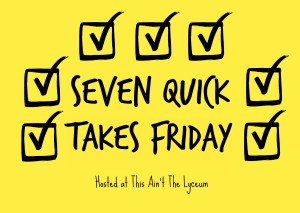 I have been trying to post this for so long that three weeks have gone by since my last installment! You may have noticed the delightful new logo. These takes won't be so quick, though. I have much to share.
I love Christmas cards. I wasn't able to send them in 2013 because I had only just started working full-time again. This time around, I went big: not only did I send cards, but I also had them professionally printed. Saving with YNAB helped me pay for them in cash, and I ordered on December 26 because they were on clearance (and because I waited too late before Christmas). Best decision ever. I topped off my intense life improvement in 2014 with a bang!
Since I ordered on December 26, they arrived in Austin on the 31st, and I didn't get them in the outgoing mail until after the last pickup on January 3. All that addressing and signing by hand took time!
They made it to recipients last week. I was down to the wire of the Christmas season. Then again, my cards this year had a nativity scene including magi, so technically, they're Epiphany cards. Thus, I sent them at the most appropriate time. (Procrastination, budgets, and liturgical seasons, unite!)
In case you didn't get yours, here's a digital version:
When I wrote my annual "year in review" post, I was so pleased. I had to draft it early in order to choose the highlights for my Christmas Epiphany cards. Going through my calendar, my blog posts, and my (very few) Instagram photos from this year was a happy experience. After 2013, almost anything would have been an improvement, but I'm proud of the progress I've made toward adulthood, financial stability, regular blogging, and holiness.
Yet somehow I forgot to actually publish the post on New Year's Eve, so I popped it up last Sunday. If you're an email subscriber, you might not have noticed the discrepancy. On the other hand, I back-dated it after publishing to fall correctly in my archives, so if you're reading via RSS or on the site, you might have missed it.
You can read my 2014 year in review here, pick up the RSS feed here, or subscribe by email below or in the sidebar on my home page.
Subscribe to Blog via Email
Speaking of mail (QT #3), my Christmas Epiphany cards were my first piece of correspondence to many of the people on my list since 2012. The rest of my mail is rent checks, the Catholic Services Appeal, and birthday cards.
For years, my custom has been to send a birthday card with a letter to my closest friends. Unlike my Christmas card list, though, I've taken names off my birthday card list over the years because our relationship has changed. For my extra-close friends, I still write a birthday letter.
I've stopped expecting replies. I have one longtime friendship that was maintained largely by real, handwritten letters. The rest of the letters I write are mostly for me. My letters are like prayer in that sense: I know they will reach the recipient, but I might never receive (or recognize) the reply.
In news that does not have anything to do with writing, Christmas was good. I hadn't seen my family since the previous Christmas, so it was nice to reconnect with them.
My brother came home from his first semester of college with both ears pierced and a dragon tattoo on his shoulder. It could have been worse; he's a football player. My sister finished her environmental science degree and is looking for a job. If you know of anything in the D.C. area, drop me a line. My grandma is doing well. She prefers to drive during the day now, as all grandmas eventually do. My parents will probably retire to Austin. They have several years to go, but I guess that gives me incentive to get married and stay here. One of my cousins is moving in with my parents, so my childhood (teenage? We moved in when I was 15) room is being handed down to my brother. It's the end of an era. I only live in it for about one week a year, but it's hard to wrap my heart around the feeling that a part of my life is over.
My family doesn't have many Christmas traditions. We are Christmas Day people. This involves eating a lot of home-cooked food and exchanging gifts.
One tradition I'm trying to evolve since we're all grown-ups (cf. my newly tattooed little brother) is the Christmas game. My mom organizes a game and insists we all play together. We are not a games family. We are a TV family. Anyone who wants to can watch The Santa Clause and White Christmas with me, and I even half-watched some Judge Judy with my mom while I was on my computer. But we only ever play games at Christmas.
We are also not a team game family. Pictionary was abolished some time ago. This year, Mom made a valiant attempt at a Jeopardy!-style trivia game. I enjoyed exercising my Harry Potter trivia muscles, and we all complained loudly and relentlessly. It's tradition.
On Christmas Eve and late Christmas Day, though, we played regular grown-up games. I taught my family how to play Nertz (my absolute favorite game despite my not being very good at it), and my sister and I played Phase 10 with my mom. My brother shouted "Hertz" instead of "Nertz," as though he wanted to rent a car, and my mom had some trouble remembering how solitaire (the backbone of Nertz) goes, but we had fun. And no one complained.
For the rest of my vacation, I got to see two of my good friends from college (one who lives in the area and one who was visiting her own family and her boyfriend's), go to one of my favorite places on Earth, and spend New Year's Eve with friends in Austin who had their baby days later. It was a good run.
I'll save my report of 2015 activities for Friday.
For more Quick Takes, visit This Ain't the Lyceum.