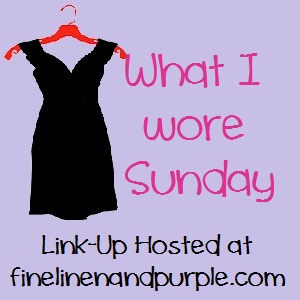 Well, I'm still working on my Sunday schedule. I can't really say that's a surprise! I was scheduled to lector this evening, though, so I knew I couldn't be too late. And I wasn't! My outfit left something to be desired, though.
Blouse: Mossimo for Target
Skirt: random designer from T.J. Maxx
Sweater: Old Navy
Tights: Target
Shoes: Payless wedges
Earrings: pearls (high school graduation present)
I started this outfit with the skirt once again. I got this one from T.J. Maxx when I was home for Christmas. When my mom took me shopping for my boots, we walked past a T.J. Maxx and she asked if I was in the market for any clothes. I have a pear-shaped body, so I think I look better in A-line skirts than pencil skirts. I have "A-line skirts" on my long-term shopping list, and I had time, so we went in. Stores like T.J. Maxx can be good when you have an idea of a category (like A-line skirts) but no real requirements. You also need a lot of time. Sifting through those racks is not for the faint of heart! This was the only skirt I liked, and it fit, so I bought it.
It wasn't until I got my Christmas present package from home that I realized I had no clue how to wear this thing. The top layer has beautiful lace insets, but the lining is not substantial. I forgot about the lining until today, when I saw a note on my to-do list reminding me to wear this one before it's out of season. Austin has great weather, but I miss four seasons! Sure, 60 degrees in February is nice, but I was promised winter! (That's one of the two. We have summer from March through October.) Thus, in my limited time, I went with black tights.
The look is okay, but I should have dressed more strategically to go almost-bare legged. I tried it without the tights really quickly when I got home, and I like this version better.
But I also like not worrying about whether my skirt is too see-through as I, you know, approach the ambo to proclaim the word of God. That's good, too. I'll give it a few weeks and then try repeating the outfit with a different top. Any suggestions wearing for tricky pieces like this?
Speaking of the word of God, Fr. Associate Pastor told another homily joke this week, but it was relevant! It was about the difference between having power and having authority. You can have the authority (in law, by making a purchase, etc.) to do something but not the power (the law isn't enforced, you can't physically overpower a guard, you don't have your ticket with you, etc.) In today's Gospel, Jesus has both. This is not like when he was tempted by Satan and had the power to make bread, rule nations, and end his life, but not the authority (or at least, none he was willing to use to contradict his Father). It's using power and authority together that catches the attention of the people in the synagogue and gets them to start believing Jesus might be important.
I got nothing about the unmarried versus married people speech from St. Paul or the importance of prophets, though. You win some, you lose some.
---
For more Mass fashion and commentary, visit Fine Linen and Purple.