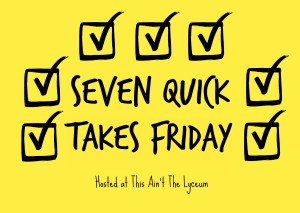 Wow! This makes six posts in six days, and it was actually one per day. That might be a new record. This reminds me of when I used to aim for streaks of consecutive days going to Mass back in college. (I think I managed 13 once when Fr. Kyle celebrated a one-off Mass on a Saturday at 10 a.m. in the Catholic Student Center chapel.) Booking Through Thursday gave me a boost toward 7 in 7 yesterday, but so did making a public, shared commitment.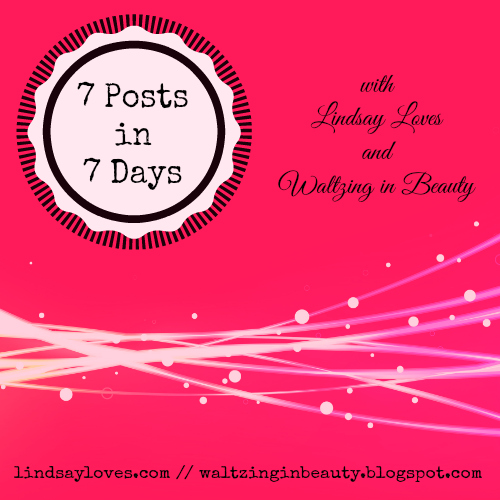 I have been loving Christina's posts this week. Her writing style is so different from mine that I can't quite describe it. It's lyrical. It's full of emotion. It's peaceful. Just read her post about the qualities she loves most in her fiancé, and you'll see what I mean.
Would any of you, dear readers with blog, like do a 7 in 7 challenge with me? I already have a nibble on the line from my delightful hostess, Anna. I haven't mentioned her much because she hasn't been blogging much, but she just did a whole overhaul with a great redesign, and I think a good challenge will encourage her to keep going. Look how well it's worked for me these past few months!
I think this is one of my favorite priest tweets ever.
Where are the sinners…#boredinconfessional pic.twitter.com/tGBv5p1axM

— Kyle T. Ingels (@frkti) January 31, 2015
Now I have even more motivation to finally finish my YNAB love story. In addition to getting Buffered last week, my friend Gabby used my referral/discount link to purchase her own copy! YNAB evangelization is the best (after the regular Jesus-focused kind).
If you're on the fence, I encourage you to at least download the trial version from YouNeedABudget.com. It's full-featured and free for 34 days. Have you ever heard of a free trial that long? I hadn't, either, and that's one of the reasons I decided to try it. I purchased it on Day 32, after saving in YNAB to buy YNAB.
A little birdie told me that if you need a longer trial, you can just ask YNAB Support to extend yours. And if you decide to buy it, you can use my link above to save $6 (full disclosure: also getting $6 for me in the process).
I started writing a blog post about my experience with Getting Things Done and Wunderlist. I thought it would be a relatively short one, but it turned into a monster. It's strange not to talk about it here, though, especially as hard as I've been pushing YNAB, but it just takes time to explain fully. Stay posted; that is coming in at least two parts (maybe three).
In the meantime, here's a TEDx talk of David Allen, creator of GTD, explaining the philosophy. I've been GTD-ing for about six months, and I still learned a lot by watching it.
It was a quiet week, so that's all I have for this round. I will just say that if you haven't been reading Super Swell Times, you should be. Elizabeth has been blogging almost daily for a whole year now, and her sense of humor will absolutely brighten your day.
For more Quick Takes, visit This Ain't the Lyceum.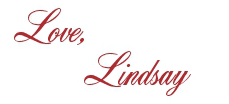 I bet you'll love these posts, too!