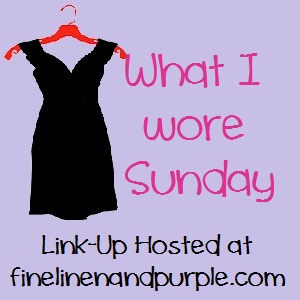 Well, that was a long run of no posting! It took me so long to get to this one that the link-up has closed! I will hopefully be able to recap my crazy week in my next 7 Quick Takes Friday, but the short version is that I had much to do and not enough sleep. For future Sundays, any "challenges" I experience that keep me from getting to Mass on time and appropriately dressed are definitely excuses. Despite running on fumes, I put this Lent-themed look together: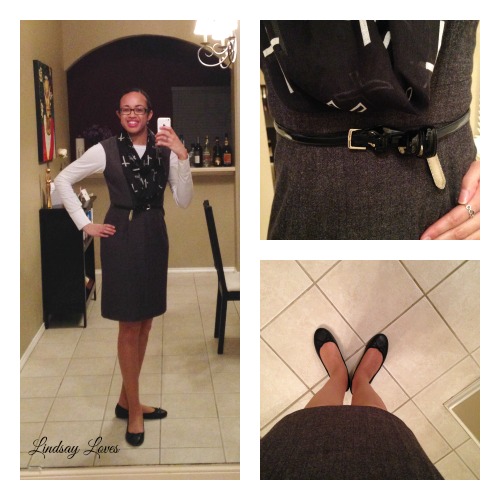 Dress: Target
Shirt: Target
Scarf: gift
Belt: Target
Shoes: Old Navy
I think this is my first WIWS with my hair up. As I mentioned, I was in a crunch headed to Mass on Sunday. I wound up with not enough time to finish straightening my hair, so I tossed it into a low side rope-braided bun. (No photo.) I didn't use hairspray like I usually do for rope braids, so it was flyaway city but good enough for Mass and a Target run.
I originally bought this dress for a friend's winter wedding. It's a heavy herringbone fabric, so I save it for dressier Mass days. In Austin, we have been having winter days rather than a consistent season, so I jumped on the opportunity to wear this one since it wasn't 70 degrees outside. I even needed my winter coat again!
I learned the belt tie from the pin below. It's almost the Double Classic. This belt is actually too big for me to buckle, but it ties wonderfully. The dress wouldn't be complete without it.
It's been so long since Sunday that I can't remember Fr. Associate Pastor's main point in his homily! Yikes. Bad Lindsay. I do remember that he ended it by speaking about the Eucharistic fast. He gave a useful reminder that we, you know, have to do it. He also emphasized that you shouldn't chew gum during Mass for two reasons: (1) it breaks the fast, (2) if you get pieces of the Eucharist stuck in your gum and then throw out the gum, you're desecrating the Eucharist.
I remember the last piece of gum I chewed. It was about five years ago, at a school assembly. Before that, it had probably been seven or eight years. I forget that gum-chewing is a thing, honestly. But that second point made me shudder a little. I knew gum breaks the fast, but I had never considered that people would chew gum and Jesus at the same time!
Maybe next week he will make a similar point about coffee.
---
For more Mass fashion and commentary, visit Fine Linen and Purple.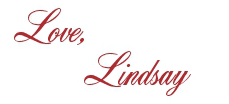 I bet you'll love these posts, too!