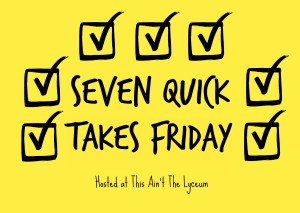 That intense cold I mentioned last week is still hanging on. It has now taken the form of a super-attractive persistent cough. I've sworn up and down that I have not taken up smoking for Lent, but I sure sound like it. Cough medicine isn't working, and I can't exactly work on cough drops all day. I'm about at the point of pursuing home remedies. I would love to hear yours in the comments.
I think I just had my third viral post. The first was an ancient one back in the days when my blog was called Contrariwise, Switchfoot's website had a fan-run blog, and fewer than 50 visits in one day was a big deal. The second was my post on my five favorite love songs. I hit Hallie's link-up at just the right time to snag one of the first few spots, and my traffic was accordingly gigantic.
This time, it was my post on joining the Apostleship of Prayer. I've already mentioned that the national director and children's ministry director, Fr. James Kubicki and Grace Urbanski, had read and enjoyed my post. They said they wanted to share it (although you can't really demand permission for anything that isn't behind a login wall), and I was totally cool with that.
I did not expect them to share it in the monthly e-newsletter. I opened mine shortly after it arrived and was bewildered to find a giant photo of myself. My bank includes my name in its emails so I know they're real, but none of the previous AOP e-newsletters have had a picture of me. Then I realized it was about me. This month's universal intention is for women (in accordance with International Women's Month), so I guess they went with me since I am one!
I can't quite express how flattered I am. I even sent a link to my mom, and, as mentioned, my site traffic was ridiculous. It was my best single day (traffic-wise) ever.
The other highlight of my week was getting to visit my former roommate and her new baby. The little cutie pie was several weeks early, so we showered New Mom with gifts after her daughter was born. It was pretty delightful to get to hold the baby at the shower.
I showed up empty-handed that day, though, because I had only been invited a few days before. I was left off the Evite list at first. New Mom was super chill and completely understood. I was able to get in some shopping and wrapping over the weekend, so I went over to see the new little family after work yesterday.
https://instagram.com/p/ztPC-AIhwd/
Among our conversation topics was the completely casual way infants spit up. They seem totally unfazed by food going back out of their mouths. I guess it's pretty new that food is going in, though, so out isn't as much of a surprise.
Matt Maher is releasing a new album! It will be all new songs, not mostly live ones like the previous album. I was rather disappointed by that last one, although I understood that his life changed a bit after getting married and having two kids.
I received the happy news of this new material through the email newsletter. (I've been signed up for years.) In addition to advertising, he has been sending out a series of daily reflections based on the lyrics from his song "Because He Lives." The reflections are, of course, awesome.
The campaign worked. I pre-ordered the deluxe version, getting me "Because He Lives" immediately, and I'm listening to a free-in-exchange-for-your-email stream of a few other songs. I am pleased.
We have a new bishop! I've lived in Austin for almost five years now, and I said Bishop Joe needed an auxiliary the whole time. Back home, they have three auxiliaries. My friend Michael Raia, whose writing on his employer's blog I have recommended here before, was able to attend the Mass for Bishop Garcia's ordination. His summary of the background info and the Mass itself is fantastic, and you should go read it.
March 4th is #nationalgrammarday. pic.twitter.com/opinxuAC23

— Sandra Boynton (@SandyBoynton) March 4, 2015
March 4th was National Grammar Day! I do love grammar, and I was delighted to have several friends share happy greetings on my Facebook wall. The best press I saw was this interview by Grammarly with Martha Brockenbrough, who started the whole holiday. I may or not be a card-carrying member of her other brainchild, the Society for the Promotion of Good Grammar (SPOGG).
I had takes about Jesus (via Bishop Garcia) and grammar, but I don't have any Harry Potter takes today. Sad day. Next time?
For more Quick Takes, visit This Ain't the Lyceum.