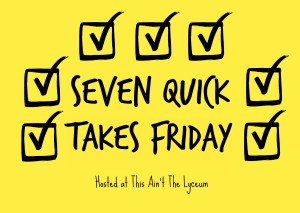 I think I might owe you an apology. You may have been seeing weird ads or pop-ups here at Lindsay Loves. I promise you that I did not install those on purpose. I do not accept advertising (with the exception of products for review). I am sorry for any ads you saw on my blog.
The story is enough for a separate post, so I wrote one, and I just posted it. It gets into the technical business of running a self-hosted website (which Lindsay Loves is), so if you're just here to read about my life and opinions, you can safely skip it.
Those (possible) ads were due to bad links. I also got some good links recently, the most surprising of which was to my last review for Austin CNM—from Big Pulpit!
Big Pulpit is a Catholic blog/news aggregator. I don't usually read Big Pulpit unless someone I follow on Twitter recommends a particular post. One of my Twitterati (Dawn Eden, maybe) alerted me to the post at Big Pulpit, and I was stunned to see it there. I'm glad so many people were referred to my review. The Thrill of the Chaste really is good in its revised form (in both forms, really).
This might be the encouragement I need to finally review and purge my archives, fix the formatting in the comment section, and treat this like the modern-day blog it is. I've been at this since 2002, which is ancient in blog terms. I need an upgrade. (I mean a figurative upgrade; I do the technical ones all the time).
On a related note, my archives page is currently broken. Search still works, though, if you're looking for something specific. I use it a lot myself!
On another related note, if you are interested in Catholic news aggregation, I recommend the Catholic Education Resource Center. It pulls together articles from a variety of topics, but it has a touch more of a focus on the actual field of education, so the teacher in me likes it a lot.
I haven't been getting email notifications of comments and general feedback like I used to. This week, I finally saw a few messages from people who read my viral Apostleship of Prayer post and expressed concern that I love both Jesus and Harry Potter, as declared in my tagline.
First, rest assured that their concern is unfounded. Like Kendra, I see no problem being authentically Catholic and also a huge Harry Potter fan. I'm an adult. Second, "Harry Potter" is a shorthand for my general love of stories. "Stories" isn't even as quippy as "books", so that's not what I say when I introduce myself. I say "Harry Potter.
What is a tagline but a tiny introduction, after all? Third, I have thought about revising that tagline, but I've never thought about de-emphasizing my love of Harry Potter. I stopped doing Top Ten Tuesday partly because I just wrote about Harry Potter every week.
In summary, I'm glad they were concerned, but I'm fine.
For those of you who are on my pro-Harry Potter side, here is a fantastic "Uptown Funk" parody, Voldemort style. I love all the visual cues, and the lyrics are so clever!
Finally, my friend and fellow blogger Geoffrey asked me write a guest post for him on the Apostleship of Prayer. I didn't just want to rehash my story about joining (see take #5), so instead I broke down why the Morning Offering is a great prayer and you should all be praying it. Lent may be ending soon (!), but it's always a good time to enrich your spiritual life.
For more Quick Takes, visit This Ain't the Lyceum.