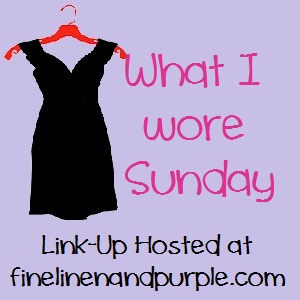 Well, that was an interesting Triduum! This was my second year attending the Big Three liturgies (Holy Thursday, Good Friday, and Easter Vigil) at my parish, but the first year with Fr. New Pastor. In retrospect, I probably should have asked my friends who still attend Fr. New Pastor's old parish (he was there for a long time) what to expect, but learning on the job works, too.
I'll take my recap one day at a time. Long post ahead.
Holy Thursday
Blouse: Target
Skirt: Mossimo for Target
Shoes: Old Navy
This is my Holy Thursday skirt. The liturgical color of the day is white; gold is liturgically white, so it fits. I usually wear this with a white cap-sleeve blouse, but that was ruined in the wash several months ago, so I had to adjust for this year. I only remembered that on about Tuesday, though, so I had to improvise. This blouse is blue and has tiny flowers on it. Yes, the sleeves are too short. #tallgirlproblems The shoes are navy blue.
Last year, I had such a tough time eating before Mass, going home after work to change, and getting back to mid-town for Mass that I tried a new tactic this year. I wore this whole outfit to work; this generated many (positive) comments because I have never worn it to work before in over a year. It's a bit fancy for my construction office. I had a large snack as my workday winded down, and then I got to the church early enough to make a few phone calls while I sat in the parking lot.
Fr. New Pastor threw me for a loop. He decided to have everyone in the church wash one another's feet. I have seen that done exactly one place before: where I used to work here in Austin. I tried it the first time and then politely declined to participate all the other years. I dislike it for 3 reasons:
It takes forever. Mass ended fifteen minutes shy of the two-hour mark, throwing off my plans to meet up with the group for the Holy Thursday Pilgrimage with Spirit and Truth. There was nothing for me to do but sit and wait. (The choir sang some songs about "washing each other's feet. I chose not to sing along, clearly.)
The priest is supposed to be washing the feet of his followers. That is literally what Jesus does in the Gospel reading for that day. If everyone washes everyone else's feet, the priest actually does a lot of sitting around, and the institution of the priesthood is clearly not being celebrated.
The logistics are a nightmare. If the water is cold, people will complain, so you have to find a way to keep it hot for the 30 minutes of the Liturgy of the Word—more if you have a solemn reception of the Holy Oils, which we did. You also need extra places for people to sit and towels for wiping all those feet. (Jesus in the Gospel ties his around his waist, if we're going for maximum literalism.)
In his homily before the foot-washing melee, Fr. New Pastor said he didn't know why the Eucharist became a sacrament when foot-washing didn't. He suggested that the twelve men (note: I have never actually seen just men, and all twelve apostles were men besides) selected in most parishes to have one foot washed (because it's a symbolic washing, like he was soon to do with his own hands) are chosen for their financial contributions (maybe that's how worked in his old parish; I've always seen ministry leaders up there, or been one of them). I don't know exactly why the sacraments are what they are, but since all three synoptic Gospels include the institution of the Eucharist, yet none of those evangelists mention foot-washing at all, that seems like solid evidence for one being a sacrament and the other being just a symbol.
As you might conclude, I was not happy after that Mass. I might need to attend Holy Thursday Mass at another parish in the future.
Good Friday
After the surprise of Holy Thursday, I was more prepared for Good Friday. I remembered to wear comfy shoes!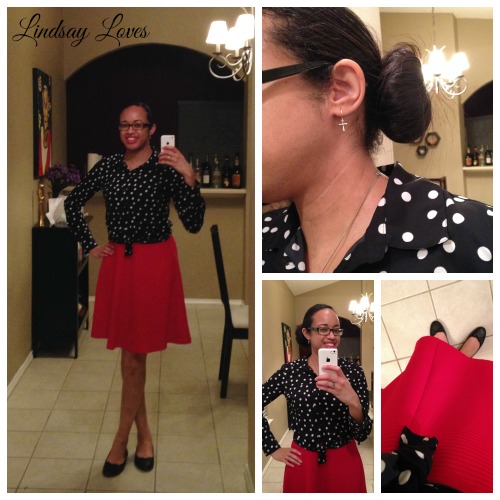 Blouse: Target
Dress (worn as a skirt): Express
Shoes: Old Navy
Earrings: gift
Hair: sock bun
I don't have a standard Good Friday outfit. I tend to aim for red and black: red for the liturgical color and black for the funeral-like character of the liturgy. I got the dress for my former roommate's wedding. It is strapless. I have been looking for good opportunities to (a) wear this dress again, (b) wear a dress as a skirt, and (c) knot a top, so this seemed ideal. I love the look and hope to try it again with other pieces.
Fr. New Pastor's Good Friday liturgy also lasted an hour and forty-five minutes. I didn't have anywhere to go after, so that was less upsetting. He composed a chanted Passion Gospel that was actually quite lovely (although very long). I noticed that we did not kneel at any point. Maybe he forgot to write that in.
His homily again sounded more like the airing of his own grievances than advice for our spiritual edification. Why, he asked, did "God kill Jesus" when he didn't let Abraham kill Isaac? First of all, God didn't kill anybody. He doesn't kill people. He never wanted us to die. Death was/is the consequence of our freely-chosen sin. I suppose atonement for original sin could have come about another way, but since the consequence for sin was/is death, it seems logical to me that the only way to satisfy that would be through the perfect obedience and undeserved death of the one without sin. None of that really belongs in a homily immediately after you've been meditating on the actual atonement that actually did win our salvation, though. I found it kind of offensive.
Easter Vigil
Nothing was going to ruin my vigil. I never look at my watch during Mass; I am always in it for the long haul. As it was, Fr. New Pastor only tied the longest Mass I have ever attended (three hours). My outfit held up nicely.
Dress: Loft
Bolero jacket: Target
Shell: Old Navy
Shoes: Old Navy
I had a lot to do on Saturday. Unlike the apostles, I do not rest on Saturdays. I had to do my laundry, go grocery shopping, eat so I wouldn't be ravenous through Mass and could recover from fasting on Friday, and get to church early for parking and a temporary seat. I just brought this dress in from winter storage. It didn't need much ironing, and it seemed festive and fancy enough, so I ran with it.
Mass was full of surprises: some I liked, and some I didn't like.
Fr. New Pastor had some scouts build our Easter fire, so it was nice and big. He carved the year and inserted the incense grains by hand, which I appreciated.
Our liturgy director persisted in using his four-part setting of the Exsultet with cantors wandering through the church. I find that extremely distracting (Mass is not a performance), so I kept my eyes on the Easter candle.
At the call to prayer after the first psalm, I stood up to find that only about three other people were standing with me. Confused, I looked at the altar servers. They were sitting, so I sat. (Pro tip: if you don't know when to sit, stand, or kneel, you can usually imitate the servers.) Fr. New Pastor had to ask us to stand; I had been right. That is part of the difficulty of putting the new Catholics and their families up front; most have never been to the Easter Vigil before, so you can't follow their lead.
One of the psalms was sung accompanied only by a tambourine. Best church tambourine ever. Seriously! You could tell the person playing it was an actual percussionist and had actual skill.
The homily didn't frustrate me at all. Fr. New Pastor spoke about how we Christians look at the world full of suffering and problems and dare to see it differently. Because of the Resurrection, we have hope. We spread the good news.
All the baptisms took place at the baptismal fount. (Last year, they were in the courtyard fountain, which had not been blessed, while we watched on closed-circuit cameras projected on the church walls. I was horrified.) We had a few children, poor little troopers through such a long Mass. There was some "turn to the west to reject sin" strangeness, but I was still moved to tears. Confirmations of the already-baptized took place at the sanctuary doors, right behind the baptismal fount.
The thurible was not our usual one. The regular thurible would fit in a four-inch cube. This one was at least eight inches across. That incense spread like perfume, and it was glorious.
Every time I was tempted to uncharitable thoughts about the woman next to me clearly texting and looking up Google Maps info or the random parts of the liturgy that seem more like "the pastor's reasons" than "pastoral reasons," I reminded myself that I don't go to Mass for anything except Jesus. I can't find the Eucharist anywhere else. For him, I will keep going, and in him and his universal church, I will keep faith.
Happy Easter!
---
For more Mass fashion and commentary, visit Fine Linen and Purple.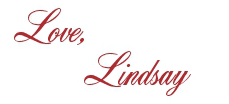 I bet you'll love these posts, too!