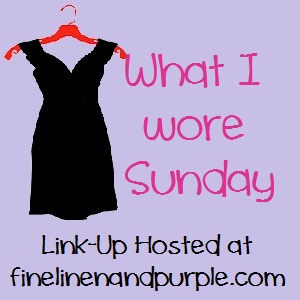 Oh, hello, Wednesday. You come way after Sunday, but you will contain my post about what I wore way back then.
I was out of town over the weekend, so, although I remembered to take outfit photos, there was no way I was going to get this post up on Sunday. I didn't even get my hair straightened until Monday night, and that is a priority displaced only by work, sleep, and Jesus. Blogging is much lower on the list. Here's what I wore, with a guest-starring background:
Dress: Marshall's
Shirt: Target
Shoes: Payless
Earrings: high school graduation gift
Necklace: holy medals
Watch: Timex
I went to the wedding of one of my best friends from college on Saturday. It was lovely. I knew Boston would be much cooler than Austin, but I underestimated how much. Saturday's high was 91 in Austin and 58 in Boston. I remembered not to pack shorts, but I could have used some tights!
The dress pictured above was my pick for Sunday. It's one of my absolute favorites, and it sort of travels well. It's cotton; hotel rooms have irons. The real problem was the weather. Not even thinking to pack tights was a mistake, because I forgot that mid-morning weather is more like 40-something when the high for the day is 50-something. My coping strategy was to think warm thoughts and pretend as though I was dressed in a meteorologically appropriate manner.
Since I was out of town, I planned my Mass attendance based solely on start time and distance from my hotel. (Thanks, MassTimes!) I greatly enjoyed the homily. The priest focused less on the "Jesus as shepherd, leading us sheep" imagery and more on the "shepherd is the gate" image.
On previous Good Shepherd Sundays, I have learned that sheepfolds in biblical times didn't have physical gates; the shepherd would lie down in the gap to keep the sheep inside and safe at night. I usually hear this explained as Jesus' sacrificing for our sake. This priest challenged us to take a closer look at Jesus as the gate. The only way for the sheep to get into or out of the pen is through the shepherd. There are a million ways to die. There is only one way to live. The way is Jesus. The sheepfold only has one gate, so it's not a question of which gate we will be going through. The only question is when. When will you go through the gate?
I appreciated hearing a new spin on a familiar Gospel reading. How are you doing, halfway through this week and Easter season?
---
For more Mass fashion and commentary, visit Fine Linen and Purple.