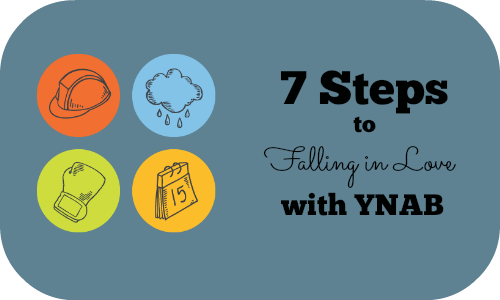 Almost a full six months after the last installment, my series about how I fell in love with YNAB has finally come to an end. It was a year ago that I finally downloaded the 34-day free trial version and took all the live classes I could. It was a year ago that I finally got control of my money. I sit here now, with literal thousands of dollars more to my name and with a positive net worth in sight. I couldn't have done it without YNAB, but there's one more step to my journey.
Step Seven: Following All the Rules
YNAB has four rules. The final rule was the most difficult for me and took the most time for me to be able to follow: live on last month's income. There is such wisdom in that rule. If I suddenly lost my income or faced a gigantic bill, I would have a whole month to make a new plan, find the money, and avoid going into debt (or at least not borrow one more penny than necessary). It makes sense.
I couldn't do that right away, though. YNAB taught me to look ahead for rainy days. I go home to visit my family every Christmas, and since YNAB requires me to account for all my spending as I do it, that meant saving up enough cash to purchase my plane ticket. I saved aggressively in September and October, and I actually found the cash. I can't quite explain my surprise after years of putting on my credit cards and bracing myself for bill payment in January. I saved for YNAB (which I got for $6 off using a referral link), and I budgeted for my CrashPlan subscription, but I never thought I would be able to save cash for Christmas.
Yet I did. I bought my plane ticket in the middle of November, and although I paid for it using my credit card, I had the cash to cover it sitting in the bank that same day. I saved so aggressively that I even had enough cash left for all my gifts and Christmas cards. (I wound up sending Epiphany cards, but that's not the point.)
Two years ago, I had to skip sending Christmas cards because I was so broke. This past Christmas, I had hundreds of dollars available just for gifts and cards. In the meantime, I socked away the extra money I found by saving aggressively toward my Rule Four Buffer.
It was hard to watch that Buffer grow when I really wanted new clothes, play tickets, and more dinners out, but I held onto my lifelong sense of discipline. In January 2015, I got Buffered. My annual bonus from work was the tipping point, and since then, I have been living on last month's income. It feels glorious.
My bonus hit the bank, so now I am fully buffered after 8 months! @ynab leads to freedom. #gratefultweet

— Lindsay Wilcox (@lndsyloves) January 28, 2015
Conclusion
My lowest daily balance in my checking account for the month of November was 5 times greater than the lowest in May.
I paid off my car loan and saved enough cash to put 4 new tires on my car without blinking.
I budgeted the entire month of June in under 30 minutes on Friday night.
My only regret is that I didn't start budgeting sooner, the very first time I heard of YNAB. Please don't make my mistake. At least give it a try. Read the four rules. Ask me questions in the comments or via my contact form. There is freedom in having a budget!
Additional Resources
Holly Johnson at Get Rich Slowly describes how to build a zero-sum budget without YNAB. I'm not just in it for the referrals, I promise. It is entirely possible to build and maintain a YNAB-style budget without YNAB. But are you actually going to do it? Why not let YNAB do it for you?
In addition to writing for Get Rich Slowly, Kristin Wong also curates the Two Cents sub-blog at Lifehacker. Like the rest of Lifehacker, Two Cents curates other articles online, but it focuses specifically on personal finance advice from experts and readers. I've found it indispensable for following PF topics without needing to follow each source separately.