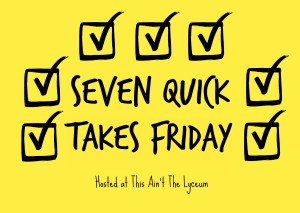 I wrote last week's takes long before I published them, so I wasn't able to include my most recent dance intro because it hadn't happened yet. I took a friend to Newcomer Night several months ago to learn a sprinkling of Foxtrot and Jitterbug. Last week, I took a different friend to refresh my Salsa and learn a sprinkling of Bachata.
She got there a little late, so I had to leap right into the Bachata lesson. By listening, I was able to pick up that all I'd missed were discussions of walking steps versus triple steps. NBD. It was relatively easy to reprogram my brain for Bachata since that started by moving side-to-side (whereas West Coast Swing and Two-Step move mainly backwards and forwards).
I also learned that I should stop taking beginning Salsa lessons. I think that was my fourth overall. I have a total of three moves, but I am a pro at those three moves! If I get some extra cash, I might dip into Salsa 1 at my studio. It meets right before my regular West Coast Swing class. Maybe that's not a coincidence.
My company has a quarterly, off-site, all-hands meeting. They are scheduled at the beginning of the company year in February, but our COO usually sends a reminder email about two weeks in advance. You know the kind: "Be there. If you think you can talk your way out of it, you have one week to do so."
This time, we did not get that reminder. If I hadn't overheard one of my project managers talking to my old boss about it in the hallway, I would have forgotten completely—and I don't think I would have been the only one. It worked out in the end, but I have little doubt that if I hadn't been cubicle eavesdropping, I would have been sitting at my desk, happily typing away, when people started leaving for the meeting.
The moral of the story: always look ahead on your calendar.
I've been learning to dance West Coast Swing for a few months now, but (of course) I can only dance it with someone who can lead it. In the course of my Internet research (you are not surprised that I do research), I found a video showing probably the easiest dance on planet Earth that is not the middle school sway.
See? Even if you think you can't dance, you can probably learn to do that, especially to something with a strong, thumping bass. DJ Snake songs are some of my favorites to dance WCS to, actually. The beat drops, and all is well.
The creator/author of the previous video, James Joseph, also has one on how to find and count sets of 8. I used to play instruments, so that's second nature for me. I have actually physically stumbled when someone starts on 2 or 6 because I can feel in my body how unnatural that is.
James Joseph makes a point I have yet to see anywhere else: all dance teachers expect you to know how to find and count beats of music, but none of them teach you how to find and count beats of music. In their defense, they're not music teachers. Yet you must know how to find 1 if you're ever going to learn to lead a dance to music. When your teacher kicks you out of the nest and says, "Here's some music; start on your own," you must fly!
If you know me in real life, I can help you learn this. I have rhythm and a teaching degree (in English, but it's more broadly applicable than that).
Dennis, Nell, Edna, Leon, Nedra, Anita, Rolf, Nora, Alice, Carol, Leo, Jane, Reed, Dena, Dale, Basil, Rae, Penny, Lana, Dave, Denny, Lena, Ida, Bernadette, Ben, Ray, Lila, Nina, Jo, Ira, Mara, Sara, Mario, Jan, Ina, Lily, Arne, Bette, Dan, Reba, Diane, Lynn, Ed, Eva, Dana, Lynne, Pearl, Isabel, Ada, Ned, Dee, Rena, Joel, Lora, Cecil, Aaron, Flora, Tina, Arden, Noel, and Ellen sinned.
That is a palindrome. Mind. Blown. Courtesy of Grammarly.
I was so excited about this last week that I forgot to blog it: the relics of St. Maria Goretti are coming to the U.S. this fall. She is my absolute favorite saint. I pray her novena every summer. Her relics have never been brought to the U.S. before, and one of the cities she will visit is just a few hours away from me: Houston.
I don't really believe in coincidences, but I do believe in small miracles. I just happened to be living in the perfect region to fairly easily see Pope Benedict when he visited the U.S. I won't be able to see Pope Francis in Philly, but not taking the time and money to do that will enable me to take the time and money to do this.
Really, what more could I ask for?
---
For more Quick Takes, visit This Ain't the Lyceum.