I had a really tough time at Mass last Sunday. Since the readings were so clearly about marriage, I expected to hear a homily on that—and I did. I heard a great homily, actually; I'm thankful for that. Yet as someone who is openly celibate and may well remain so until death, I wasn't hearing much for myself. That's not the first time I've felt kind of left out by a homily, but it hit me really hard last week for some reason only God knows.
One point of consolation I have, in my life of being single and wishing I weren't, is this: There is a place for celibacy in the Catholic Church. It's an honored place, actually. Inconveniently for me, it is a place rarely occupied by people who haven't taken some sort of vow, but at least our church doesn't treat celibates like freaks. If it was good enough for Jesus, Mother Theresa, and (eventually) St. Augustine, it can be good enough for me. It was in this frame of mind that I came across Patricia Snow's beautiful and well-developed essay in First Things, "Dismantling the Cross." Her central message might not speak directly to me, and I don't necessarily agree with every word, but it provides rich food for thought.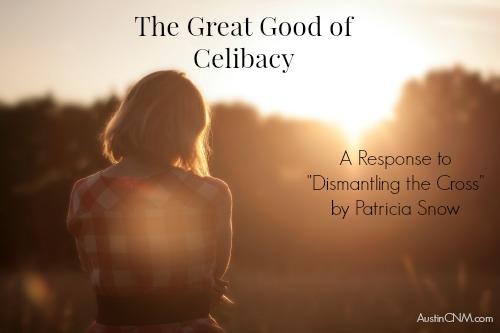 My own commentary pales in comparison to the original; I encourage you to read the whole thing. Here are some of my favorite quotations from the essay and my thoughts on Snow's argument.