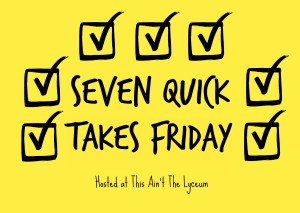 Well, hello there, 7QT! I haven't done one of these in so long that I almost forgot about it. I have been trying to ignore the backlog of items I set aside to share here, but that could only happen for so long. So now I'm back. If you're coming through from Kelly's and would like to know more about me, I suggest my tl;dr post from yesterday to catch you up quickly.
I also recommend posting a monthly tl;dr if you're a blogger. It was a great idea with an even greater name, and I'm sad it didn't catch on. I'm grateful to Jenna for starting it!
I was gone for so long, in fact, that I missed Kelly's special Link-toberfest questions for the anniversary of 7QT. Although I managed to link-up my takes to the post in which she announced the questions, I then failed to post at all the week after that. And the week after that. And so on, until today. Yikes.
I still want to answer them, though, because they were delightful. I can't win any of the prizes at this point, but I've won plenty of prizes in my life. And I'm a book reviewer, which means I get free* books all year long.
*Technically, I'm supposed to write a review in exchange for the book. I occasionally have to send a decline note to the publisher after I've read the book because I prefer not to publish negative reviews of ARCs (advance reading copies). Library books are fair game. Happy, FTC?
When did you post your first Seven Quick Takes?
Memories! Also, archives! My first 7QT post was on May 16, 2009. Back then, I was nearing the finish line of my first year of teaching. That was a tough year. I am just as glad then as I am now that I never have to do that first year again.
Of course, I went back to ND for summer classes very shortly after I wrote that post, so my next 7QT was the following January. And then I started posting them regularly two years after that.
How many Seven Quick Takes posts have you written?
This is a toughie. I was glad when Jen stopped numbering them. The numbering seemed to have gotten off already, and I also noticed that some bloggers were numbering each of their posts (as opposed to using the numbers Jen did), so I was living in the land of confusion. The template I use for these posts is one Jen created herself, so that made finding them all a little bit easier.
Thus, my current count, including this post is 98. Whoa. Maybe I should do something special for my one hundredth.
Who is your favorite blogger that you discovered through Seven Quick Takes?
That is like asking me to pick a favorite child.
I love Kendra, like everyone does. She's one of my Catholic mom role models. I commented on one of her Pentecost posts, which might have been the first time I visited her blog, and I still get referral traffic here every time she links to that post.
I also love dear Elizabeth, even though she stopped posting and tweeting when she started her master's program. She's still on Insta, though, so I know she's alive.
And I'm pretty sure I found the Not Alone Series through 7QT. That's not a blogger, so I have both answered and not answered the question.
What was your favorite, or most popular, Seven Quick Takes post?
That's two different questions. I do like my most popular posts, but my favorites are usually my essay-style posts. You can check out the popular posts in the sidebar. My favorite essay-style post in recent memory is "Single Life Is Not a Vocation."
I used SiteMeter from way back in the Calliope Calls days until it started wrecking my site. If I were willing to log in there, I might be able to see my complete stats. I've been using WordPress statistics for several years, though, and I generally like them better anyway. According to WP, my most popular 7QT post is volume 160. Upon review, that is, in fact, a spectacular set of takes.
There were only four questions for the four Fridays of Link-toberfest, so here is a regular, timely take, for something completely different.
I often refer to myself as a "stealth techie," and I had a serious techie moment of joy yesterday.
This blog has run on WordPress self-hosted since 2006. This year, I began writing almost all my posts in Markdown, which is a way to add in-line formatting that is readable by humans in plain text but can be converted to HTML automatically by a computer.
At some point, I realized that when I used Quick Edit to change a post's tags (because I chronically forget to add tags), WP changed the Markdown to HTML and saved it that way. I wanted it to leave the post in Markdown and only convert it for display (which is what it usually does).
So I got frustrated. And then I hit Google. I wound up at a Github page that showed (a) I was not the only person having this problem, and (b) it was a bug in WP, so I'd have to wait for a fix. I get more tech than people expect me to, but I'm no developer.
Fast-forward to yesterday. I also use Jetpack, a powerful and wide-reaching WP plugin. It had an update, so I clicked through to see the details. I like details. Lo and behold, the bug was fixed! Hooray for bug fixes and for smart friends!
---
For more Quick Takes, visit This Ain't the Lyceum.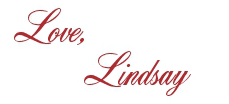 I bet you'll love these posts, too!