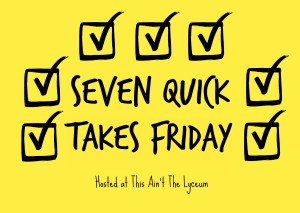 I thought about waiting to post this until Friday, but my blog goal for the month is to do every 7QT. I'll just have to read and do some interesting things over the next few days to compensate. I will say that I've been personally pleased with my posting frequency this year. There have been a few dry spells, but I haven't completely quit on it like I used to. Not being in school anymore helps.
I changed my tagline. If you're not reading this on lindsayloves.com, you might not have noticed. The previous one was "Jesus, grammar, and Harry Potter: a life lived contrariwise." That was a throwback to my blog's previous name, Contrariwise. (I rebranded in 2011.) I still love Jesus, grammar, and Harry Potter, but my life isn't about being contrary anymore. So, on the advice of Tico & Tina about brainstorming taglines, and with a bit of soul-searching, I picked a new one.
My new tagline is "Live joyfully." I was inspired by Hallie Lord's recent foray into encouraging women to live fearlessly. Her husband wrote a book I haven't read about choosing joy, though, so I know she likes joy, too. And so do I. I sign all my emails (and regular mail) "with joy." It's not the same thing as happiness, and it's the shortest version of why I remain a Catholic. It's neutral enough for every message and religious enough to satisfy me.
So my blog and my life has always been about joy. Now I've made it official. Thank you for joining me on the journey.
Doing GTD means living out of your calendar and your task manager. For months, since the lovely Miss Beth Anne recommended it, I've been using Sunrise. The developers created it because they couldn't find a calendar as useful or elegant as they wanted. I tried it and loved it immediately.
Then Microsoft acquired them and shut down development of the apps. Perfect. I thought I would still be able to use it for a while, but the notifications weren't working right. How am I supposed to remember to pray the Angelus without a bell? So I had to switch to the official Google Calendar app. The colors are too intense, and I don't like the custom alarm sound (which can't be changed; fail), but it'll do for now.
Microsoft has also acquired Wunderlist, but that iOS app just got an update, so I'm hoping they're not planning to shutter it, too. I really don't want to have to develop a whole new GTD workflow, and GTD is nothing without a good workflow.
On Thursday, I volunteered with my company at Special Olympics Texas. We're in construction, so I represented the women of the company, for better or for worse. I did data entry, and some of the others sorted t-shirts and banners for the upcoming Winter Games. Then we got to play bocce ball with some of the athletes. We picked up a few pointers from them, and despite all odds, I actually managed to get the hang of it and start improving. I swear, I'm only good at the most basic of sports.
A dear friend threw herself a birthday party this weekend. I was not expecting it to be a big party, but there were so many people we barely fit in the house! She continues to credit me with introducing her to our young adult Catholic community. After she read my review of The Catholic Girl's Survival Guide for the Single Years at Austin CNM, she reached out to me to ask if I had any connections. I invited her to Spirit & Truth, and she met some other people there, and the rest is history.
For the record, I do not take credit for all her new friends. That's the community's doing. Even as we come and go geographically and vocationally, there's always room for newcomers and for building real relationships. That's the work of God.
And you never know who you might meet through your blog.
In case you missed it, I published updates to my Catholic calendar. If you're subscribed, you're all set for 2016. If you aren't subscribed, instructions can be found in this year's Catholic calendar post.
I am not ready for Christmas at all. I barely remembered to get my Advent wreath out before the Second Sunday, Mary and Joseph still need some superglue surgery before they can arrive in my Nativity scene, and I have no idea what to give my sister. Is it just me, or did time pass much more quickly than usual these last three weeks?
---
For more Quick Takes, visit Written by the Finger of God this week!