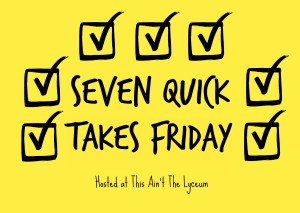 Wunderlist continues to improve, making me much more confident using it than I was when Sunrise had its sunset. They published a neat annual overview a few weeks ago. My Wunderlist year in review makes me look both more and less productive than I'd hoped. I don't like the use of the singular "they," but I do like that doing my Weekly Review on Tuesdays makes it my most productive day.
The killer (which I mean in a good way) was my discovery of a new right-click context menu. Although it's not part of GTD, I do a daily review. I reschedule the things I didn't get done today to tomorrow. If I don't think I can do them tomorrow, I just remove the date altogether and reassess during my Weekly Review. If I don't do my daily review at night, then, first thing in the morning, I reschedule "due yesterday" tasks to be due "today." This review/rescheduling process used to take forever because I had to double-click each task to open it, open the due date selector, pick the new due date, and save it. The only other option was to carefully drag items from day to day in the Week smart list.
Now, I can right-click the item (or a whole bunch at once!) and select "due today" or "due tomorrow" or "remove due date." It saves so much time! I even took to Twitter to gush about it.
Love, love, LOVE the new right-click context menu in @Wunderlist for web!

— Lindsay Wilcox (@lndsyloves) January 7, 2016
I'm back in Bible study. My parish is doing "Prophets: Messengers of God's Mercy" because it's the Year of Mercy and because all Bible study is awesome. We've been doing Great Adventure studies for a while, and I love them, but last fall was the first time we could get online access through Ascension Press's sister site, Evangelization.com. (Great domain name grab, by the way.)
Evangelization.com improved my experience of small group Bible study in two distinct ways. First, I could order my materials whenever I was ready and have them shipped directly to my house. It was only a few dollars more than jumping in on my parish's bulk order, and I didn't have to worry about remembering to take my check to our study leader. Second, when I missed one session because I was sick, I streamed the video from home. I don't get sick very often, but I was so glad to have put that contingency plan in place.
Last week, when we started our new study, I found another perk. Shipping is a gamble around Christmastime, so I ordered my "Prophets" materials in early December. They showed up very quickly, so I was all set. Our study leader, however, had submitted the bulk order in a reasonable timeframe, but Ascension closed for Christmas right after she ordered. Her order wasn't even processed until last week. Thus, I was literally the only person who had my materials on time. It was fine because that was the intro session, but I felt like an awkward eager beaver.
The rationale Ascension gave for starting Evangelization.com was to give study leaders a chance to do what they do best—inviting people to join, preparing for and leading discussions, and so on—instead of ordering and storing workbooks and DVDs. Fantastic idea. Now we just need to get more of my overwhelmingly senior-citizen Bible study group on board.
I had a panic moment this weekend getting self-reflective about the way I spend my time. The gap between my actual life now, what I wish it were right now, and what I want it to be in the future started giving me that feeling of something pressing on my chest. It was kind of scary. I decided to just think about something else.
That feeling almost returned when I read a WashPo article about the reality of "more free time." It seems logical that we just need more time away from work to be happier, but the author posits that what we need is more time off work when other people are also off work. When I was most recently between jobs, I experienced that firsthand. I had all the daytime hours I wanted, but when evenings and weekends came, I was just as "busy" as everyone else because they were finally available to spend time with me. It's an interesting way to think about the time we have, the way we spend it, and how that's linked to happiness.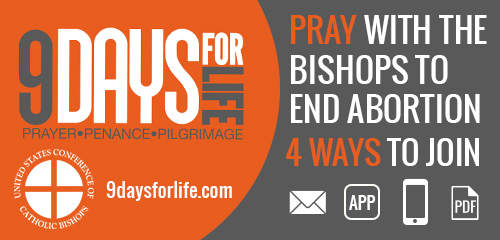 January is slipping away… so it's time for 9 Days for Life again! Don't worry if you're reading this after Saturday; all prayer is good prayer, even if it's "late." I was stunned by last year's campaign because it was so excellent, and I'm hoping this year will be even better.
To participate:
So simple, so powerful, and so social.
I especially recommend the email list because, if you stay subscribed at the end of 9 Days for Life, you'll get the People of Life newsletter every month. It shares a very short reflection (one paragraph); invites you to pray an Our Father, 3 Hail Marys, and a Glory Be for a particular intention; and offers several possible acts of reparation for sins against life. I believe in being pro-life all the time, not just for one day in January; and I believe that "pro-life" is more than just "pro-baby" and "anti-abortion." People of Life helps me encourage those beliefs.
I finally mailed the last of my Epiphany cards, so I can reveal them online now. If I missed you in the mail, here's yours: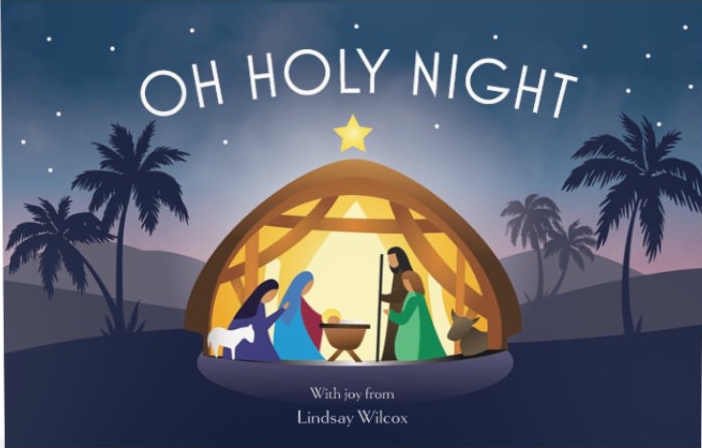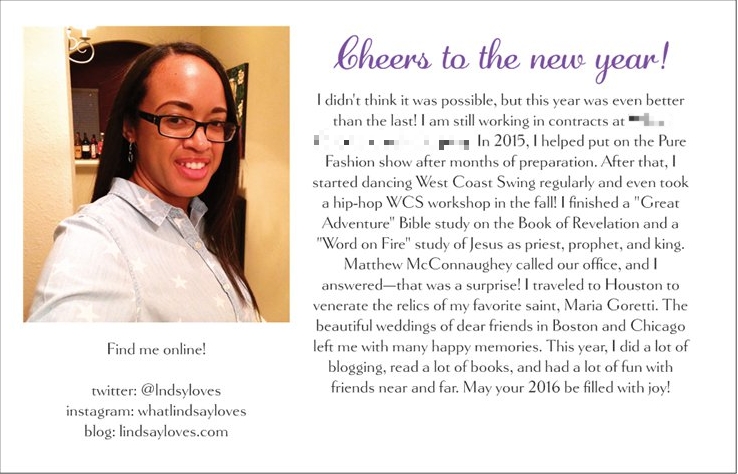 I've been warming up to Mike Vardy and the writers at Productivityist. Late last year, in a series of what were technically sales-pitch emails, he offered this sobering observation:
Here's a typical day for most people:

Wake up
Get ready for work
Go to work
Work
Get ready to go home
Go home
Do "home" work
Have some leisure time
Go to bed

That may be simplifying things, but those are the basics. Sure, some of these things may be placed in a different order, but they do happen at some point in the day.
That is my life. When I have an event away from home that fills up the "leisure time" timeslot, I still have "home" work to do. Maybe that's why I feel so crushed by my day-to-day lately… but I'm not sure I know any other way to live.
Let's end on a light note. Grammar Girl posted recently about formatting URLs in text, and I'm not sure I agree with her on long URLs. I say always break at a slash, even if that makes one "line" of the URL unusually short. I also highly recommend using Markdown, which isolates URLs inside parentheses. It's transformed my typing so thoroughly that I use Markdown everywhere now: Facebook, blog comment boxes, text messages. No one seems to think I'm any weirder than usual, so I'll call that a win.
---
For more Quick Takes, visit This Ain't the Lyceum.