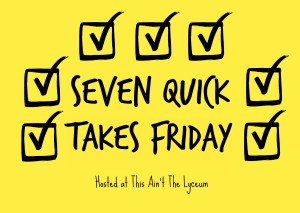 I had a teensy bit of time, finally, to wrap up my 2015 year in review post. It was just too ridiculous to be publishing that in February! I've even already scheduled it for tomorrow, so I know it's actually happening. #winning
I survived 9 Days for Life, the Texas Rally for Life, and the Week of Prayer for Christian Unity. I don't think the convergence of those events hit me so hard last year. It was tough to add two additional sets of prayer and reflection per day—plus the act of reparation for 9 Days, which was usually more prayer—to the prayers and readings and such that I already do every day. I'm happy to do it, though, because prayer has an eternal effect, and because I can.
I'm at a place in my life where I can commit to extra prayer time, and I've discovered that I find great joy in things that have to happen on a regular basis. My daily reading from St. Augustine, Night Prayer, the Morning Offering for my membership in the Apostleship of the Prayer: they all help me grow in holiness. That's the goal. That's the one thing I know for sure that God wants me to do.
I also enjoyed the Texas Rally for Life because I got another sweet photo of the Capitol.
Most of the friends I marched with in years past have moved on to actually procreating and raising tiny little lives, but I found a few buddies this year anyway. And I loved this year's Texas Catholic Pro-Life Day t-shirt. There's hope yet for the full pro-life spectrum to make it to the March.
I'm behind on my Fr. Mike videos, but I did watch another one a little while ago that I wanted to share. In it, he discusses our contemporary tendency to bring heroes down to our level rather than aspiring to be like them. That's true for superheroes and regular human heroes. We've somehow created a world where Superman kills people and our "American Idol" is a briefly popular singer (exceptions: Kelly Clarkson and Carrie Underwood). A hero is no longer someone we want to be like. Most superheroes aren't even moral people (exception: my celebrity crush, Captain America). I think we all have a sense that popular culture and morality aren't meeting these days, but it's nice to hear a spade called a spade.
I have an ever-present awareness of my own death. It's not a weird goth thing; it's more like a classier memento mori thing.
Some parts of it are a little weird for other people, like my devotion to the Holy Souls in Purgatory. They can't pray themselves out! It's all burning! I usually offer that as my intention in contexts where we get to offer prayer intentions. It inspired my ACE classmates to form a musical supergroup called "[Founder's Name Redacted] and the Holy Souls of Purgatory." (Yes, with an "of.") Our professors were worried they'd offend me, but I found it charming. More publicity for them can only help, right?
Other parts are more fun, like when someone says "if I die" and I reply, "'If'? What do you know that I don't know?"
Still other parts are completely classy, like Wesley Smith's essay in this month's First Things online, "'Remembrance of Death' Can Overcome 'Death Obsession'." His angle is rather more anti-euthansia, pro-life than mine tends to be, but I enjoyed seeing someone else promote death as not only a natural part of life (so to speak), but also something that might be beneficial to keep in mind.
Because very little in my life is ever normal, when my car needed to stay in the shop over the weekend for a brake light repair, I got a Camaro as a loaner. I felt ridiculous driving that thing. As my car-loving coworker said, it was like sitting in a hole, except that I also had to drive safely while I was in that hole. I barely remembered to give my roommates a heads-up that I did not actually buy the ridiculous car parked in the driveway. I don't think I ever got the side mirrors adjusted properly. I couldn't park it without being way too far to the left. I couldn't even figure out how to release the front seat so I could put my bags in the backseat. It was the worst, and I am very happy to have my regular car back.
The moral of the story: Never get a sports car. I was much more comfortable in my mom's old minivan.
I took the Jeopardy! test again this week. I was surprised by how much to-the-minute pop culture was on it, but that's probably because I don't watch the show. I gave up cable years ago, it airs in my market at 4:30 p.m., and I never bothered with a converter. I guess I have to wait until à la carte online channels become a reality.
If you don't think that's coming, just think about how recently you had to be in front of a TV at a specific date and time to watch a show. If you didn't rearrange the entire rest of your life (or wrestle with VHS recording), you might never get to see that episode. Ever. That was life less than twenty years ago. This is a strange new television world, but I like it.
I haven't taken any kind of test besides an eye exam in a very long time, but I still have a heart for education. Thus, a Quartz article that seemed like it was about how to guess correctly on a multiple-choice test caught my eye. The gist of it is that you can't say "always trust your first instinct" and you can't say "never trust your first instinct." Sometimes, changing your mind results in choosing the correct answer. Sometimes, sticking with your first guess results in choosing the correct answer. They're about even in practice. The real takeaway from the study, though, is that we don't remember the truth about instincts versus revisions. Memories are not all that trustworthy. The best way to decide whether to stick with your instincts or change your mind is to record how confident you were about your guess.
The moral of the story: There's no good way to guess correctly on a multiple-choice test, and there's definitely no way you can trust your memory.
---
For more Quick Takes, visit This Ain't the Lyceum.