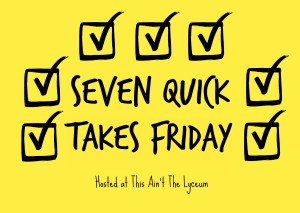 Oh, hi there, Lent. We meet again. It was eleven years ago this week that you were the reset button on my spiritual life. (I count liturgically. Feels more appropriate.) I'm lousy at fasting, but I'm so glad you were my gateway to the joy and peace I have now. So, thanks for coming around again.
Those of you who are not Lent may know that it was campus ministry at Maryland that enabled my personal conversion. I hopped over to the Catholic Terps website today and found this beautiful image of Ash Wednesday Mass and Confession times: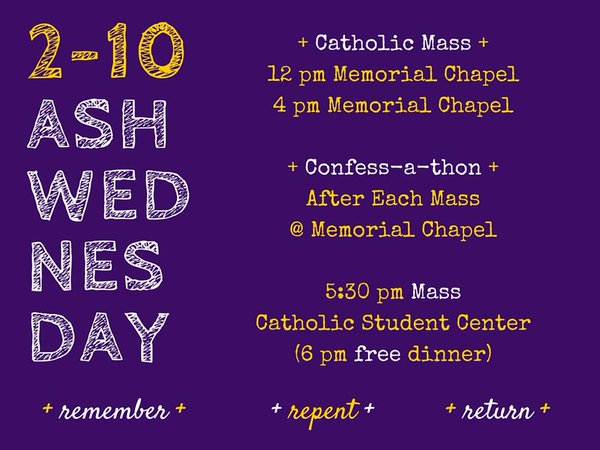 The text along the bottom caught my eye. "Remember. Repent. Return." If I could describe my experience of that first Ash Wednesday (my first ever, I think) in three words, that would do it. I remembered the joy I'd felt when I was a regular churchgoer. I repented at having been away for so long and all the sins I'd committed in the meantime. And I returned with a commitment to really give "living like a Catholic" a chance.
My past life has nothing on this one.
So what am I doing for Lent? Not failing, hopefully. I don't have six kids like Kathryn, but I will also be easing my way through Lent. As I've mentioned recently, my day-to-day spiritual life is actually pretty good right now, but my long-term, higher-level life is a hot mess.
I think I'm in the minority when I say that I like to take the slow and steady approach to Lent instead of the cold turkey approach. I used to go hard at it, and it was good. Some years were really good, like the year I took up vegetables. (You read that right. I don't know how I survived, either.) Some years, at least one of my Lenten sacrifices felt empty. I don't want that for this year.
Approaching each Lent anew takes a similar path of reasoning as the 3-year Sunday lectionary cycle. Each time the same readings come around again, you're in a different place than you were before: spiritually, emotionally, relationally, maybe even geographically. (I wore the same Halloween costume for 3 years—2 of them back-to-back—because I was in a different city each time.) So I'm taking a different approach than usual this year.
For Lent, I will be:
Reading Bishop Barron's Lent reflections each day by email
Reading my Henri Nouwen reflection booklet each day, just like every year since I first got it from my best friend's mom
Finishing the last post-session review for my Bible study on the Book of Revelation
Working on the same secret goal from last Lent (I fail, but I'm not a quitter)
Creating a life plan
When I mentioned #5 to Mr. Man, he said that if you want to make God laugh, you should tell him your plans. Mr. Man, I like. Woody Allen, to whom that quotation is generally attributed, not so much. I have experienced that when I make and carry out a plan, it works. Worked with God, worked with my budget, worked with GTD. So I'm giving it a try anyway.
I also usually give up alcohol for Lent, but I don't drink much these days anyway, so I don't think that would make a difference. I abstain from meat every Friday of the year (except solemnities), and I've decided not to add any additional penance on Fridays this Lent. I might change my mind. We'll see.
I do not like this new form of Lent bullying that tries to make people feel bad for giving up chocolate—or giving up anything at all! You have no idea what's going on in someone else's life and heart. Maybe giving up chocolate is actually going to be difficult for the people who do it. Maybe this is the first time this person will ever have a specific, daily reason to sacrifice. You don't know.
Yes, chocolate can be the lazy man's approach to Lent, but everyone starts somewhere. I gave up chocolate one Lent and soda another when I was in high school. I wasn't going to church at all, but I was praying and sacrificing, even if it was kind of a lame, teeny-tiny sacrifice. Sometimes the spirit of sacrifice begins to grow from a tiny seed.
I had a quiet week. I'm usually at church on Wednesdays for Bible study, so even Ash Wednesday wasn't super unusual. I liked it. I enjoyed the quiet. I liked the head space. I even took some significant time on Sunday evening for prayer. It was glorious, and it has me even further convinced that I need to dedicate some time to slowing down and thinking beyond the day-to-day.
It wouldn't be 7QT at Lindsay Loves without a productivity item. I get Mike Vardy's newsletter, The Productivityist Weekly and definitely recommend that, but I was reluctant to add any more blogs to my life, so I wasn't reading that. (I'm still working out my thoughts on the "blog versus email list" debate.) I went over to the Productivityist blog to look up something from the newsletter and wound up glancing at the most recent posts.
I was surprised to see Mike's post about why he stopped doing GTD. Even before I read it, I had an idea of what he might say. I was right. He welcomed comments on the blog, but the comments section isn't shown, so I am doing what any good blogger would do and posting it here instead.
I agree with his main point. GTD is complex. I disagree, however, with his summary of "the lists in GTD" and his reference to "GTD in its purest sense."
I follow as many GTD resources as I can (which is how I rediscovered Productivityist in the first place), so I hear David Allen speak about GTD a lot, and I eventually read The Book. Therefore, I am convinced that there is no single way to do GTD. There are required parts without which you can't really say that you're doing GTD, but everything else is flexible and adaptable. I think DA would agree with that.
I have enough ideas for a whole post about creating your own GTD implementation, but here's one example: I don't have a Next Actions list (which Mike calls "the Action Items list"). I use Wunderlist, which has the option of showing one giant list of every task/item I've entered. Yet I don't even let that be displayed because I can't imagine how I'd use it. Maybe if I wanted to shudder or run away screaming, as Mike notes that many people do. I'm still doing GTD, though, because I have a defined Next Action for each Project, and I have lists of one-off actions grouped by Areas of Focus. That works for me, and I think that's more important than a mythical "pure GTD."
I was initially very, very skeptical about the film adaptation of Fantastic Beasts and Where to Find Them. Then I read the Entertainment Weekly spread and saw the first teaser trailer, and I was totally converted. Now there's a brand new clip, and I'm getting goosebumps.
Count yourself very lucky indeed, because you're about to get a behind the scenes glimpse of @FantasticBeasts…https://t.co/FHTQNFrrBt

— Pottermore (@pottermore) January 31, 2016
Similarly, I was skeptical about the play Harry Potter and the Cursed Child. It's not really Harry Potter without the magic and the creatures. How do you do that on stage? I was satisfied with the epilogue. I didn't need any more. Then I found out that they'll be releasing the script as a book worldwide, and I got way more into it. I have a soft spot for reading play scripts. I have two English degrees. I prefer Shakespeare on the page versus on the stage. I was never going to go to London to see a two-part play, and I don't completely understand how that works, anyway. A script book will work.
My Harry Potter-loving heart is happy again.
---
For more Quick Takes, visit This Ain't the Lyceum.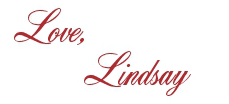 I bet you'll love these posts, too!