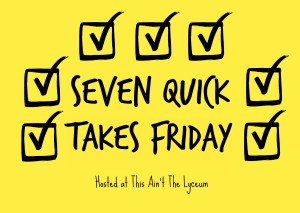 We have been working on getting higher-quality presentations for Spirit & Truth. Two Mondays ago, our speaker was Deacon Ron Walker, the chancellor for the diocese. He was talking mostly about the Year of Mercy, penance, and healing. Out of all the things he said, one struck me so much that I tossed it around in my mind to commit it to memory. Then I remembered the first step of GTD (Capture) and pulled out my phone to make sure I wouldn't forget (and I never take notes on my phone at church).
When someone has wronged you, and you decide to show mercy, absorb the evil, and let it die in you.
So beautiful. That simple turn of phrase helped me to see showing mercy (especially to those who seem not to deserve it) as an act of sacrifice rather than some triumphant gesture.
Deacon Ron's phrase there was especially helpful for me since I'm struggling with how to participate in the Year of Mercy. I managed to memorize the revised translation of the Nicene Creed for the Year of Faith (also because I'm an adult and I memorize things all the time), and I reviewed Light of Love during the Year for Consecrated Life. But I struggle with mercy. I can do forgiveness. It's not the Year of Forgiveness, though.
I'm warming up to Aleteia, and they threw me a bone with "56 Ways to Be Merciful During the Jubilee Year of Mercy". You might find that list helpful, too.
I've mostly got #1 and #17 going, and I need to get back into #5. I already do #26, #35, and #56. Praying one decade of the rosary (à la #39) recently was extremely difficult for me, so that one sounds like crazy talk. All sound suggestions otherwise, though.
I don't obsess over my blog stats, but I do check them. My post about the concept of a dating fast got a big traffic spike on Valentine's Day.
Verily basically always kills it with articles about how to improve your love life. I was genuinely comforted by "Four Things to Remember If You Feel Awkward Expressing Your Needs". Because I do feel awkward, and I do need to remember. This week, I love love loved "The One Skill Every Couple Needs to Learn Before Marriage". The "one thing" is "how to express your needs."
It's like they're reading my mind. I don't like having relationship needs in the first place, let alone expressing them. Out loud. With real words and my actual voice and stuff. It makes me feel extremely uncomfortable and unromantic. But, as Zach Brittle points out in "The One Thing," even if your partner is unable or unwilling to meet your needs, at least you know. Then, you can stop worrying and obsessing about the uncertainty. Not that I ever do such a thing; I hear other people do.
When I think "Mass" and "Dave Brubeck," I usually think of "Sing of the Lord's Goodness." I do not like that song. I will not sing it. I wait quietly for it to be over, and it's hard to sing anyway. I find it difficult because I can't figure out when to breathe, and there's a reason for that: the melody is exactly the same as the piano and saxophone lines of Dave Brubeck's "Take Five." That is not a song about Jesus!
Now I have another association to make: apparently, Dave Brubeck composed a Mass. Like he's Mozart! I find it amusing that he recorded it in Washington National Cathedral, which is an Episcopal church. (The Catholic cathedral is St. Matthew, and the giant one you're thinking of is the National Shrine.)
The concept of a "jazz Mass" sounds awful, but its existence is an interesting novelty. I do love fun facts.
I'm experimenting with the new recommendations feature in Pocket so that I can share excerpts without extensive commentary. When I have something substantial to say, I often post that in my 7QT. Sometimes, though, I just want to say I liked it, and I don't want that confined behind a login like it is on Facebook or quite as ephemeral as Twitter.
So I turned on my recommendations page. I hope there will eventually be a widget I can use here at Lindsay Loves like I do for my Instagrams. If you're curious about what I'm reading, check it out.
It was another quiet week. I got in a couple of baby steps toward creating a life plan. Otherwise, it was business as usual.
---
For more Quick Takes, visit This Ain't the Lyceum.