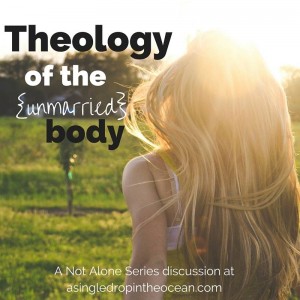 We hear a lot about the theology of the body (TOB) in Catholic circles, and it's awesome. But some people are disillusioned by it because it's usually talked about in relation to marriage. There's a lot we can draw from TOB: the concept of giving of ourselves, serving others, spousal meaning of the body, etc. How do you live that out as an unmarried person? Or, if you haven't thought about how to live it out before, how can we start? Have you read any books on it?
We're linking up with Laura of A Drop in the Ocean this week! She designed that featured image herself.
On to the topic. Agreed: TOB is awesome. I'm one of those people who said, "Why didn't anyone tell me about this before?" So far, my TOB studies have been heavily Christopher West-based (like most people), but I've also branched out a little:
the video series An Introduction to the Theology of the Body, by Christopher West, supplemented by some expert speakers from the Diocese of Austin
the audio series Naked without Shame, also by Christopher West
Theology of the Body for Beginners, also by Christopher West
Good News about Sex & Marriage, also by Christopher West
The Love That Satisfies, also by Christopher West
critiques of Christopher West's TOB presentation by Alice von Hildebrand and Dawn Eden
The Thrill of the Chaste: Catholic Edition, by Dawn Eden
a long article by Anastasia Northrop
theREVOLUTION's "Unveiling Reality" event and student leader training by TOBET (TOB Evangelization Team), founded by Monica Ashour
the "TOB for Tots" books, also by Monica Ashour
Chastity Is for Lovers, by Arleen Spenceley
the Theology of the Body for Teens leader's manual, by Jason Evert
the booklets "Pure Love" and "Pure Manhood" (for perspective!), also by Jason Evert, and "Pure Womanhood," by Crystalina Evert
the series The Pure Life on EWTN, hosted by Jason & Crystalina Evert
basically every video ever produced by Jason Evert and his team
Jason Evert was my gateway to TOB, but TOB for Tots is my newest love. I got them for a friend's sweet son for his first birthday, but I want a set for myself, too! I don't even need to have any kids of my own to read them to. I could barely flip through them without crying for joy. They're so precious! I firmly believe that TOB is the backbone of chastity education, which begins with preschoolers. It starts out as simply as "when someone feels sad, you can give them a hug to show them you love them" and "we don't run through the house naked after someone lifts us out of the bathtub." You can save the nuptial meaning of the body and the personalistic norm for later.
You will notice the glaring absence of anything actually written by St. John Paul II, the often imitated but never duplicated originator of TOB. I've read The Jeweler's Shop, but that seemed more poetic than theological. The omission of the actual TOB book is only somewhat intentional. I know it will take a lot of focus and effort to get through even Love and Responsibility, and I know I don't have that right now. I might not ever.
Further agreed: living out TOB is generally considered a thing that married people do. However, among the nice things about Catholicism is that there's a place for unmarried people. It's an honored place. When it's too highly honored, you wind up dabbling in clericalism, but when it's properly honored, you get an appropriate respect for celibacy. There's not really a category for people who don't take vows of celibacy, but that's part of a larger social problem, I think.
Living out TOB as a single person lies in the aspects of self-gift and sefless love. Yes, the gift of one's whole self to another who is giving the same back to you, fertility and all, is as close as you can get to the creative and infinitely self-sacrificing power of God without actually being God. We're on the same page there. However, the call of singles is to give to everyone, to love everyone with disinterest (as in "not selfishly," not as in "not interested"), and to promote the same.
I don't have a husband or kids. That leaves me with the freedom to figure out how I will make my life fruitful. How can I make the world better because I am here and because I can love? (It's right in the name of my blog!) The same is true for married couples without children. How can they become better together than apart? Vowed religious have the added challenge of being committed for life to a whole bunch of people they didn't choose who aren't going anywhere. How can they serve their communities, especially the community members they don't particularly like?
So yes, TOB is about marriage. But it's also about love and gift, and those are for everyone, even the unmarried.
---
Next week's topic: Avoiding Negative Self-Talk
We're linking up with one of our co-founders, Jen from Jumping in Puddles!
Being single can leave us feeling unworthy and unlovable sometimes, but we know that it's not true! How do you avoid negative self-talk? How do you lift yourself up instead allowing yourself be down? How can we continue to acknowledge our low-points, but encourage each other to something more?
View past and upcoming topics here or like our Facebook Page for regular alerts.
Link up with Laura at A Drop in the Ocean!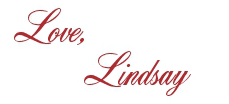 I bet you'll love these posts, too!