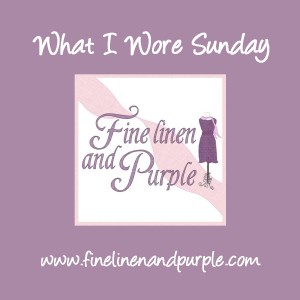 I usually look at what I wore previous weeks before choosing an outfit for Sunday. I clearly did not do that this week, because I had the same basic color scheme going on. It's good that I love it.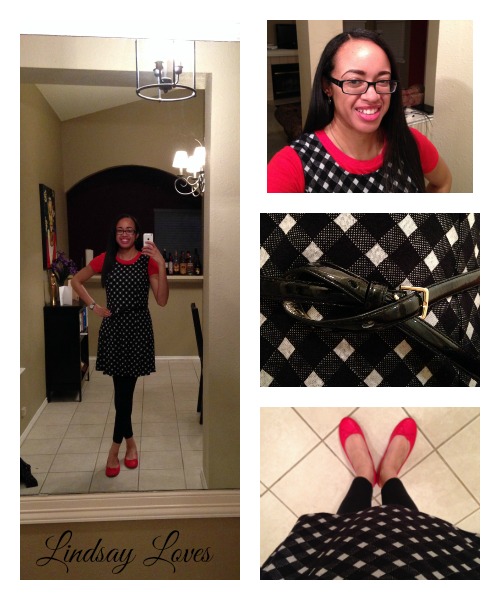 Dress, shirt, skinny belt, and leggings: Target
Shoes: Old Navy
Earrings: I think they're the tiny hearts, but it's been so long that I actually can't remember
I wanted to take advantage of the slightly cooler weather and guard against the on-and-off thunderstorms a little bit. I hate going bare-legged when it's raining. Wiping off your legs after you get to church is the worst. I also really like black, white, and red as a color combo (as evidenced by last week's outfit). I wore this to my friend Victor's son's baptism and party in the early afternoon. Victor commented that black, white, and red is a color scheme evocative of racecars, so it attracts men. I'm pretty sure my man likes everything I wear. He understands that I want compliments or complete failure to notice. Criticisms will be referred to the Department of Not Having It.
We had Fr. Pastor, which meant we got a long, long homily. I was tired after dancing all night and getting up early for the baptism, so I definitely spaced out at least once. He started with a long, long explanation of the significance of sheep and shepherds, including other places in scripture where pastorship is equated with shepherding (Jesus tells Peter to feed his sheep and tend his lambs; Peter himself exhorts pastors to watch over their flocks) and where God describes his people as sheep (the parable of the lost sheep). I got a little tired of sheep the way I got tired of fishermen last week.
There was one standout moment, though. He said, "You can reject being called a sheep, but you can't reject the shepherd." I thought that was pretty profound. It speaks to our participation in the work of salvation. We can choose not to follow the Lord, not to be numbered among his sheep. We can bristle at being equated with what is, unfortunately, not a smart animal. ("I know my dolphins, and my chimpanzees know me." Not so much.) We cannot, however, do anything that makes God less our shepherd. We can refuse to be herded, but he's still going to be shepherding. He'll be ready to count us among his sheep when we're ready to join the flock again.
---
For more Mass fashion and commentary, visit Fine Linen and Purple.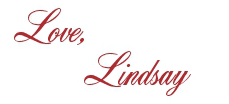 I bet you'll love these posts, too!