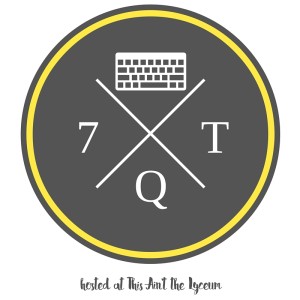 I had a modest conversion in college—that is to say, I started dressing modestly, not that I had a small conversion instead of a big one. (I had a big one, too.) My style habits weren't particularly awful, but I didn't do much to express my faith through my wardrobe. I remember, though, the way boys used to look at me when I wore clothes that were cut too low or too high. I didn't want that kind of attention anymore. So I stopped dressing like that.
I didn't get rid of all my clothes, though, and even now, I don't necessarily refuse to buy immodest clothes. I just figure out a way to make them work. If you flip through my What I Wore Sunday posts, you will notice the abundance of undershirts, tank tops, and sweaters. I don't just wear them for dimension and color.
Because of this, I especially appreciated a recent post from The Chastity Project about how to hack your wardrobe for modesty. I have a solid foot of closet rod space dedicated to cardigans and bolero jackets, plus a row of undershirts and camisoles in my t-shirt drawer, as evidence of my commitment. It's not an easy way to live, but I believe it helps me grow in holiness.
Yes, that was a row of shirts. I fold my t-shirts like this guy does:
And then I file them vertically in a drawer. I can see everything I have at once, and I can fit much more into a single drawer. I might not have kids, but I do have organizing tips galore. #notamomblog #stillawesome #thanksPinterest
I have been a cord-cutter for several years now. I watch everything on Hulu, but the episodes aren't available forever. (That would be a terrible business model.) Hulu helpfully emails me when episodes are set to expire in a week so I can watch while they're still free.
I took a break from Hulu while most of my shows were on winter hiatus. When they came back, though, the fall episodes started to expire. That was when I realized a side effect of cord-cutting: I have no idea when episodes actually air.
I had to unfollow everything on Facebook so I would stop seeing spoilers, although I am not sure they still count as spoilers after the original air date. I only know when a hiatus starts because episodes stop popping up in my Hulu queue. And I only see a preview of the next episode when I intentionally seek it out. It's a far cry from the days of split-screen credits showing clips from an "all-new" episode "in two weeks!" I can't decide whether that's a good thing or a bad thing. It sure makes cliffhangers more dramatic.
Also, is there such a thing as a partially-new TV episode? Would that be a clip show?
I'm still working on this whole Year of Mercy thing. If nothing else, the word "mercy" jumps out at me way more than it used to. I was listening to an episode of the Caritas podcast when I heard a particularly apt differentiation between mercy and justice. "I had to throw myself on the mercy of God," said Heather Renshaw, "because if I threw myself on the justice of God, I'd be gone."
It was a pretty quiet week life-wise. I attended the baptism of the first child of some good friends, so my Sunday church outfit did double-duty. It rained a lot. I didn't hear about any flood deaths this time, but there was flooding, as usual. It's strange to live in a town that was in a drought for years yet floods severely when it rains. Another pair of friends got engaged.
Mr. Man has asked why I don't write day-in-the-life posts. I assume he means the kind you'd find on mom blogs. The thing is, when you don't have kids, there is a lot less going on in your day-to-day. I do plenty; I have a life. I just don't have Constant Kid Hijinks to report on.
Having a boyfriend, especially a long-distance one, has introduced a challenge I forgot about. An article in Verily this week about how not to lead men on reminded me of that challenge.
I like meeting new people in general. Having friends makes singleness sting less, and you never know who'll introduce you to the love of your life. (As my friend Malarie says, one man leads to more.) Part of the reason I got a life in the first place was that I wanted to get married. I distinctly remember reading The Thrill of the Chaste (the original edition; my review is here) sitting alone in my apartment. Dawn Eden literally called out her readers for doing that exact thing and said, "Go to a coffee shop and read there. There are no single men in your apartment." I don't think that's a direct quotation, but that's the gist of it. So I started going out to where single men are, and where single women are, and married people, and really any other humans.
Since I've been taken, but at a distance, I still meet new people quite often, and some of them are single men who do not know I have a boyfriend. But I'm no less friendly than I was before. So now, I have to figure out how to balance my natural friendliness, my desire to build community, and my faithfulness to my boyfriend. When you've been flirting for a long time, it can be hard to find the line between flirting and friendliness again. A girl can only name-drop her boyfriend so much.
I'm trying time tracking this week. I first heard Laura Vanderkam describe her work on a podcast; I think it was an episode of The Productivity Show. She studied time journals and found that people generally have more time than they think and spend it in different ways than they think they do. She's written two books about it, and she has a regular column for Verily.
Thanks to GTD, I've got a handle on what I'm getting done and what I need to do. It still feels like I don't have enough time to do it all, though. The solution is to figure out where my time is actually going. I downloaded her template for a time tracking log, put it into Google Drive, and started filling it in. It is sobering to account for every fifteen minutes. (It's also a little tedious, but I am persnickety anyway.) I will let you know how it goes.
---
For more Quick Takes, visit This Ain't the Lyceum.