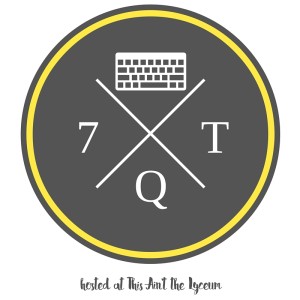 The Pentecost novena has begun! It is one of my favorite novenas, particularly because the nine days between Ascension Thursday and Pentecost are the reason novenas last for nine days in the first place. I also love the focus on the Holy Spirit, the beautiful language, and the opportunity to sing the Stabat Mater with different, happier words.
You can find the novena text I use over at EWTN. There are a few typos. Scroll down to get to the beginning of each day's prayers; the long prayers at the top of the page actually come at the end of each day. The italicized parts can be sung to the tune of the Stabat Mater. I couldn't find a good video of that melody that didn't have a vaguely disturbing slideshow, so you will have to search it yourself or ask a friend.
The timeframe for this novena applies even if your diocese observes Ascension Sunday. Mine has Sunday; most U.S. dioceses do.
Me + Twitter = Catholic celebrity interaction!
In the month of April, I got new brake pads, bought a new computer, paid my taxes, and bought a plane ticket. I haven't seen a credit card balance this high in a long time. Thanks to YNAB, though, I know I can afford all of that! The new version of YNAB (a.k.a. nYNAB for older users, or just "YNAB" to new users the way Chinese food is just "food" if you're in China) is not without its problems, but I'm slowly adapting. As I always say, make the machines work for you.
I have not yet read Amoris Laetitia, although I did read Karee Santos's series on it. I trusted her writing about marriage long before Synod14 was even announced, so I trust her now. I also believe she actually read the thing before she started talking about it; most commentators clearly did not read it first.
All of that is to say that I don't know what references the document actually makes to the annulment process, and I am still waiting for any news about how the "abbreviated process" has actually worked out in actual tribunals and actual people's lives. Nevertheless, I found a post from Aleteia by way of CERC that offered a perspective I don't usually hear. It's written by a man who was previously married, whose marriage was annulled, and who has not yet remarried. I have been privileged to hear personal testimonies of several people who remarried after annulments, but none who are in between, so to speak.
I didn't read the comments, but I heard from a friend who did that they are awful. On most sites, I treat comments the same I do on YouTube: just pretend they don't exist. Nothing good there. If you're interested in commentary, check out my series on Synod14.
I found another intriguing comment about my ongoing struggle to understand mercy versus justice. This one was from our buddy Pope Emeritus Benedict XVI!
Mercy is what moves us toward God, while justice makes us tremble in his sight.
I'm still working on understanding mercy versus forgiveness, but I think I'm starting to get a better grip on the justice part.
As a single woman with a long-distance boyfriend, I find myself alone a lot in a world where (a) spiritually, I was never meant to be alone, and (b) there aren't many structures for people flying solo. I mentioned in my review of Eve Tushnet's book, Gay & Catholic, that one novel point she makes is that there are no protections for people who are unmarried and plan to never marry (such as herself, since she doesn't support same-sex marriage). If she gets sick, no one can legally take time away from work (even unpaid) to care for her. I experienced that myself. There's no single-person version of FMLA.
In Verily this week, I became unhappily aware of a similar angle on maternity leave. A fiction writer argues that women who are not pregnant should be able to take leave, too. Don't get me wrong: I think that's stupid, too, and I agree with Regina Bethencourt at Verily that "MEternity leave" fails to recognize the reality of maternity leave and damages the fight for improvements in existing parental leave policies across the U.S. Totally on board there.
It's points 3 and 4 in the article that give me pause. I've been there. We don't have a workplace culture that accepts "I need to go pick up my friend from the airport" the way they do "I need to pick up my wife from the airport." We don't consider non-marital/familial communities to be as worthy of sacrifice and understanding as we do marriages and families. It just doesn't seem right that we can redefine "family" and "marriage" but not offer any material, practical help to people who don't have either.
I had a fairly quiet week otherwise, so let's just make it six takes and call it a day, shall we?
---
For more Quick Takes, visit This Ain't the Lyceum.