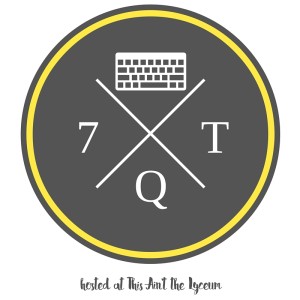 It's almost Pentecost. I had a lot on my mind going into this week, and I was hoping that my buddy the Holy Spirit would show up for me as I prayed my novena. Well. You get what you pray for, especially when it is a host of things that make you reflect. I'm looking forward to a quiet, normal weekend, during which I will hopefully have the opportunity to reflect on everything that's swirling around in my mind.
We discussed mercy throughout the ATX Catholic Retreat a few weeks ago. I was on a panel featuring fellow contributors (and people I know offline) Kraft and Trenton, and we talked about technology and mercy. It sounds like a strange topic at first, but I was pleased with the way the conversation went. I had to take some of my own advice, so I'm pretty sure that didn't come from my heart alone. (See the note about my pal in Quick Take #1.)
You can listen to a recording of the mercy and technology panel discussion over at ATX Catholic. The post also features a rare photo of me without my shoulders covered. (I took a sweater for the time we spent in the Shrine's chapel; I don't like being in churches with bare shoulders.)
It took several days for me to unbox my new computer, but I finally got around to it. I just didn't want to put in the time, and I struggle with change.
I had my first laptop, a Dell Inspiron 1150, for over five years (all the way through college and halfway through grad school) until it died. There was a manufacturing defect that made it overheat constantly, but I got Dell to replace the faulty part for free, out of warranty. (Yes, that's another throwback, can-you-find-my-comment post.) Then the operating system failed, so it wouldn't start. The Geek Squad at Best Buy removed the hard drive for me, I enclosed it, and I saved all my data!
This time around, when my HP Pavilion (currently just over eight years old) started to enter the throes of death, I started backing up my files. The computer actually still works… if I remove the battery completely, keep it plugged in, and hibernate it before unplugging. It's a tedious strategy that keeps me tethered to the wall, but the computer's been working okay despite limping along. I knew I needed a new one, though, so I saved up for it and finally pulled the trigger so I can devote that saving momentum elsewhere.
My new Pavilion has Windows 10, so I'm learning to use that. It feels like a flatter version of Windows 7, which was a shinier version of Windows XP, so I think I'll be okay. I've managed to avoid the versions that everyone hated (Vista and 8). Coincidentally, this computer is a shinier, flatter version of my old computer. I did have to solve a Skype–Windows 10-specific microphone problem. Skype is essential to my relational life; I am very grateful to Mr. Man for helping me find a solution.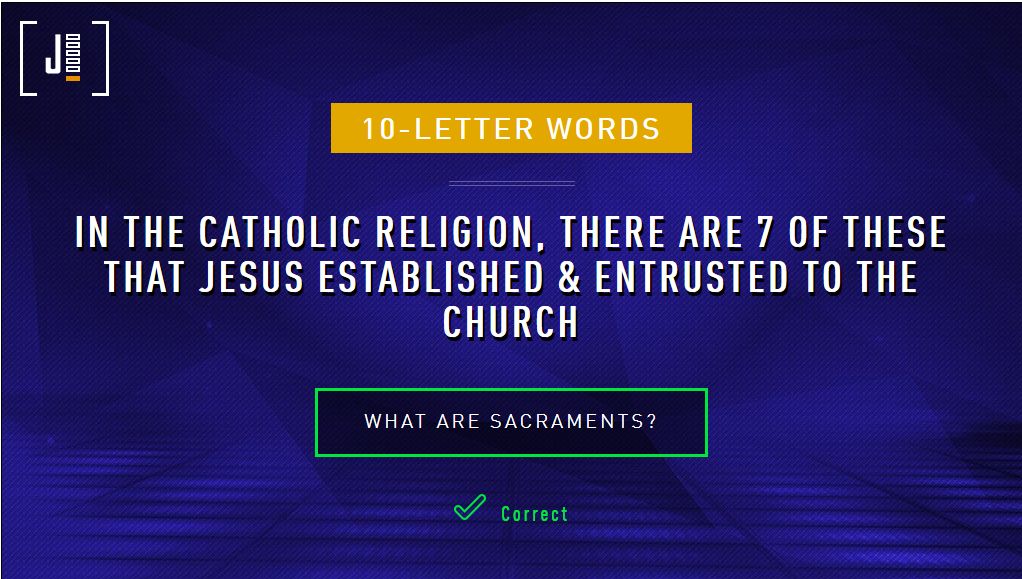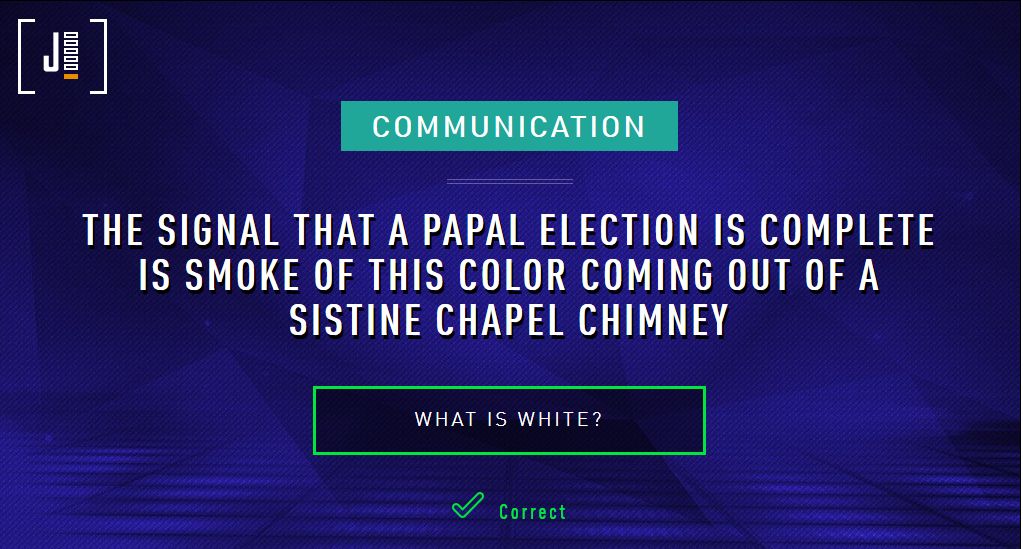 Whaaaaaaaaat? Jeopardy! has had some amazing categories during the Teachers Tournament. The sad part is that, because this is J!6, those questions were not actually asked on the show. I can only hope the actual aired questions are that awesome if I get on. I've got seventeen more months in the contestant pool; there's plenty of time for the awesomeness to swing back around.
The best short commentary on the presidential prayer of Jesus (John 17) is that they are the words of a dying man, so they are completely honest.
The best long commentary might be this by my other buddy, St. Augustine:
When he had said to his Father: "And now I will no longer be in the world…; I am coming to you" (Jn 17:11), our Lord recommended to his Father those who were about to be deprived of his physical presence: "Holy Father, keep them in your name that you have given to me." As man, Jesus prays to God for the disciples he has received from God. But note what follows: "So that they may be one just as we are." He does not say: That they may be one with us, or: So that they and we together may be one thing just as we are one, but he says: "That they may be one just as we are." That they may be one in their nature just as we are one in ours. The truth is that these words imply that Jesus spoke as having the same divine nature as his Father, as he says elsewhere: "The Father and I are one," (Jn 10,30). According to his human nature he had said: "My Father is greater than I, " (Jn 14,28), but since God and man form one and the same person in him, we understand that he is man because he prays and understand him to be God because he is one thing with the one to whom he prays.

"But now I am coming to you. I speak this in the world so that they may share my joy completely." As yet he has not left the world; he is still there; but since he is shortly going to leave it, he is no longer in it, so to speak. But what is that joy with which he wants his disciples to be filled? This he has already explained a little before, when he said: "That they may be one as we are." Concerning this joy, which belongs to him and which he has given to them, he foretells to them the perfect fulfillment and that is why he speaks about it "in the world". This joy is the peace and happiness of the world to come and, to gain it, we must live in the present world with self-restraint, justice and devotion.
I went to my friend Don's Derby party again. It was delightful, although I would have appreciated it starting on time. That is part of why I don't like football: you never know when the game is going to end. I have things other than spectating to do. Everyone else can go spectate without me; that's cool. Have fun.
It's raining today, which is not a common occurrence in Austin. We were in a drought so severe that several islands our big lake emerged. They're usually underwater. Now they've disappeared again, but I still can't get used to life with regular rainfall patterns.
That was either a very long thunderclap or a dinosaur. #atxweather

— Lindsay Wilcox (@lndsyloves) May 14, 2016
---
For more Quick Takes, visit This Ain't the Lyceum.