As mentioned in my last post, which was last week's Sunday Style, I let the week slip away from me. I prioritized other things ahead of publishing that post, to be honest. My highest priority for the week was getting ready for a trip to Chicago to see my BFF Sarah and… Mr. Man!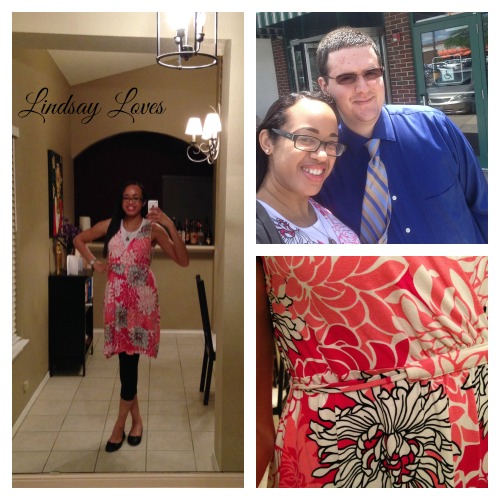 Dress: Ann Taylor Loft
Bolero jacket (barely visible in headshot) and leggings: Target
Shoes: Old Navy
Earrings: high school graduation pearls
Necklace: holy medals
Man: my boyfriend, who only dresses like this for church because I ask him to
Those are not my best photos, but I was not really focused on picture-taking either time. In the selfie, it was super windy (is "Windy City" really just a metaphor?), and in the full-length and detail, I had just arrived home from the airport and was rushing to get to bed ASAP.
I picked this dress partly because it travels well and partly because I was so happy to see it after tucking it away for the winter. It's hard to mix and match with this one, so I can really only wear it like this (or with white pieces instead of black), but it's great quality, so it lasts from year to year. I guess if I had a neutral button-down, I could try tying that over this and wearing the dress like a skirt. I'll keep that in mind as I do my summer shopping; I am currently tired of every top I own.
Sarah, Mr. Man, and I went to Mass with her family on Sunday. She and I stayed with her parents and an assortment of other people overnight, so we all went together. She has five younger brothers, so everyone rode in the giant family van and met up with Mr. Man at the family's parish. Her mom introduced us all to the priest as we arrived. In retrospect, that was probably a touch ridiculous:
"Good morning, Father! Let's see, today we have my son and his college roommate; he's staying with us this summer. And this is my niece and her boyfriend; and my daughter, Sarah; and her friend; and her boyfriend."
We took up a whole pew! Sarah's mom read aloud a reflection on the Gospel as we drove to church, which was absolutely the most adorable Catholic family thing I have ever experienced. And her dad dropped us all off at the door before he went to park the van, which was very helpful since I was running behind, making us all run behind. My family doesn't go to church, so I have no experience of Catholic family life or even family church attendance. I want that for my own family someday, God willing. Sharing in Sarah's family's experience this weekend confirmed that desire. It was beautiful.
The homily, however, got a little strange, which was interesting considering how awesome it was the last time I was at a different, random Chicago parish. The priest noted that many earthly phenomena have both positive and negative aspects: rain nourishes plants and humans but can also cause floods; earthquakes are a response to the natural movement of tectonic plates but cause structural and topographical damage. He also went on a weird tangent about how even diseases are just trying to fulfill their purpose of multiplication, although they harm and kill humans. I can't remember how any of it related to the readings, but I remember there being a connection somewhere. We stood during the consecration, so maybe that is just the spirit of that parish. I did enjoy getting to sing the Mass of Renewal, though; it's been a while.
My favorite point from the homily was that, in each reading, God's messenger (Elijah, then Jesus) brings him into new, closer contact with the Earth and with people on the Earth. Death is bad, but it leads us to encounter the living God. I also noticed that in both cases of raising the dead, the prophet returns the son to his mother. The son doesn't just go back; he is sent back. I'm not sure how that is significant, but no detail in the Bible is a mistake.
It was so good to see Mr. Man in person again. I'm very glad to have him in my life, and I'm even more glad to have him beside me in the pew.
---
For more Mass fashion and commentary, visit Rosie at A Blog for My Mom for My Sunday Best.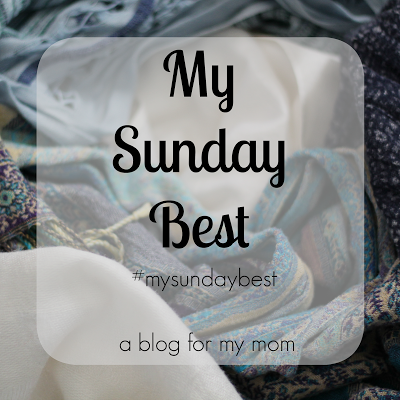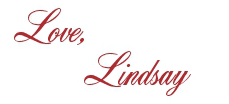 I bet you'll love these posts, too!