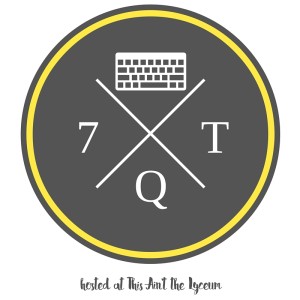 No Jeopardy! clues this week, but I am happy to say that I was on a hot streak this week. Since my audition in April, I've been practicing continuously. I go out for pub quiz, Mr. Man helps me with the J! Archive, and I play J!6 every day. This week, I managed so many 6/6 scores that I finally brought my overall accuracy up to 83%. I still need to work on my presidents and world leaders, though. There's just so many! #girlmeetsworld
Also, there was this little gem from the reigning Tournament of Champions winner, because Twitter makes the world seem so much smaller: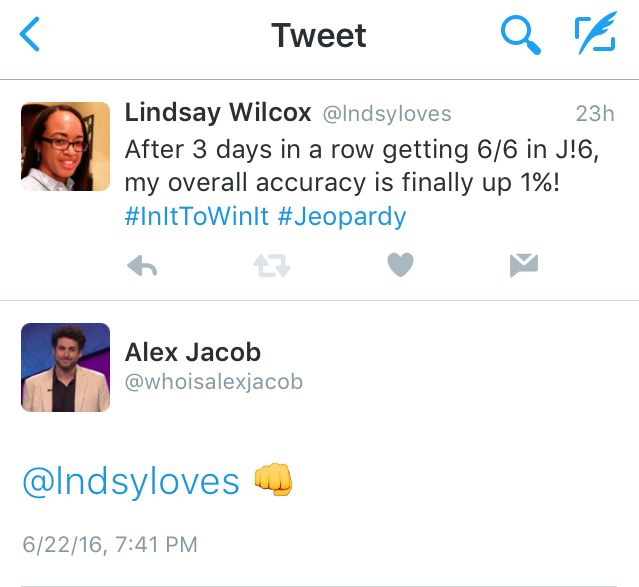 After almost six years in Texas, I have finally eaten at Taco Cabana. I don't know how I missed it for so long. The verdict: tasty, fast flautas; delicious tortillas; meh sides. I love flautas, so that was a big selling point for me. Overall, I was much happier than I've ever been eating Taco Bell.
We are blessed to have a variety of priests and deacons to offer Exposition of the Blessed Sacrament at Spirit & Truth three weeks a month. Sometimes they just bring Jesus out; sometimes they stay after to give a presentation or Bible study. One of my deacon friends came this week, but he was unable to stay for Bible study. To say sorry, he brought us Tiff's Treats! I was flabbergasted, and I kind of felt bad for all the people who rushed out the door right after benediction. They missed out on cookies! Granted, church does not usually have cookies, but they might have stuck around for a warm snickerdoodle; I don't know.
Our hot water heater is broken. I had to take a very long, very cold shower yesterday, and a shorter, still cold one this morning before work. Soon after I publish this post, I am using the spare key to my friend's condo to take a hot shower at her place. She initially gave it to me because (a) someone should have your spare key, especially when single-girl life hasn't left you without someone to keep it for you, and (b) our dryer broke a few weeks ago, so I have a backup now that is not a laundromat. I like living in this house, but this year has not been great for appliances.
I read and listen to a lot of productivity talk. Recently, I found myself getting very frustrated that all the productivity pros are married freelancers. I have seen exactly two places even mention the time and energy that goes into actually getting married—not planning a wedding or completing marriage prep, but finding someone to marry if you haven't already locked it down (a.k.a. the story of my life). One installment of the excellent GTD Refresh series at Lifehack mentioned that dating takes work, and there are various mentions in articles at Asian Efficiency. I could stand for a nod here or there to us unmarried people.
As far as freelancing, I encountered my first productivity speaker who has a regular job working for The Man, Jessica Turner, just last month. I would bet dollars to donuts that most of the customer base for these outlets consists of people with regular jobs. Why doesn't that get more acknowledgement? Maximizing your time and organizing your life looks different when you're at the mercy of one big boss versus dozens of tiny client bosses.
Despite my frustration from the last Quick Take, I do still read and listen to all those productivity pros. This week, I found cause to grumble at Asian Efficiency. They're on a promotional swing for the 12-Week Year, a concept from the book of the same name. In the most recent email, though, they came down really hard against GTD.
Many of the smaller e-newsletters I subscribe to invite replies. They actually work by just hitting "reply," which is a pretty sweet technological trick. I went through a similar "I think you're seeing GTD as more rigid and less useful than it is" debate with Mike Vardy of Productivityist. When I tweeted my comments, I wasn't expecting a reply from Mike himself, but I totally got one. Similarly, I received a reply to my 12WY-versus-GTD comments from Thanh Pham, co-founder of Asian Efficiency.
So I get frustrated, but I do my best to keep to the most direct, private channels I can find (which I consider the principle of subsidiarity in action), and I get real responses from actual humans. That is something I completely support.
My company sponsored a social event this week at TopGolf Austin. It was actually pretty fun. I managed to hit several balls, and I think I even made one straight into the target one time (as opposed to two or three others that just rolled in). It was nice to not have to give up my entire evening for an event like the Christmas party. It's also astounding to think that, not that long ago, the GPS trackers in every ball were classified military technology. Now, we use it for fun times.
Altogether, considering TopGolf and mini golf, I think I prefer bowling. My parents met bowling, so I am not awful, but also not great.
---
For more Quick Takes, visit This Ain't the Lyceum.