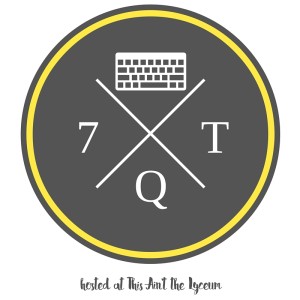 A scorpion came to get me last week. As I got to my desk at work, I saw something moving on the carpet right outside of my cube. It's standard office carpet, so it's hard to see things on it, but not when they are gross and terrible bugs. So instead of "good morning" (or my usual nothing at all), I said, "Who's going to kill this scorpion for me?" The nice intern in the next cube came to the rescue with his giant boots. Crisis averted.
I got a diagnosis for that health problem I mentioned last week. I am very glad to finally know what it is. It's not contagious, and I'm not dying (which I knew), but it's also not exactly good. I'll write more soon. I haven't quite had the time to find just the right words, and you all know how I love words.
I read some more about inbox zero at Asian Efficiency last week, which inspired me to post about it on Facebook. Curiously, I attracted comments mostly from my guy friends. The mysterious algorithm knows that men like tech, I guess. I was also inspired to finally press publish on my latest Wunderlist and GTD post. You might find it useful even if you're not a GTD-er or a Wunderlister.
This week was full of work and fajitas. We have a monthly billing cycle, so the last 2 weeks of the month are always a flurry of paperwork. This month felt distinctly heavier than usual. We half-jokingly call that "job security." On the bright side, it's bell pepper season, so I bought way more than strictly necessary and enjoyed every delicious bite. I might try my hand at freezing what I can't eat before they start to wilt. All the slicing takes forever, but that delectable crunch cannot be beat.
My blessing of the week was getting to have several catch-up conversations this weekend and not feel drained by them. I've become an extrovert since grad school, but I slip back into introversion pretty easily, so I still feel drained when I have to be "on" for too long. It helped that two of the conversations (BFF Sarah and my mom) were by phone, one (Mr. Man) was via Skype, and one (local lovely Britt) was in person. As the NYT article I recommended concludes, quality time can't be scheduled or manufactured, but when it happens, it is glorious and so, so necessary.
Our country and our world desperately need peace. If you weren't praying for peace already, now is the time to start. I have my qualms about the National Black Catholic Congress, but their suggestion to offer this prayer for peace is one I jumped on board with very quickly:
O God, who gave one origin to all peoples
and willed to gather from them one family for yourself,
fill all hearts, we pray, with the fire of your love
and kindle in them a desire
for the just advancement of their neighbor,
that, through the good things which you richly bestow upon all,
each human person may be brought to perfection,
every division may be removed,
and equity and justice may be established in human society.
Through our Lord Jesus Christ, your Son,
who lives and reigns with you in the unity of the Holy Spirit,
one God, for ever and ever.

—Collect, Votive Mass for the Progress of Peoples, from the Roman Missal
I got to visit Mr. Man again this weekend. It is always so good to see him in person. Details will follow in this week's Sunday Style.
---
For more Quick Takes, visit This Ain't the Lyceum.