Yikes, it's been a while! I did not mean to turn this into a three-fer. I will try to be brief, but brevity is the one aspect of writing I've never quite mastered. That and symbolism. I struggle with literary symbolism. I love Mass, though, so to the church I go, dressed as shown below.
September 18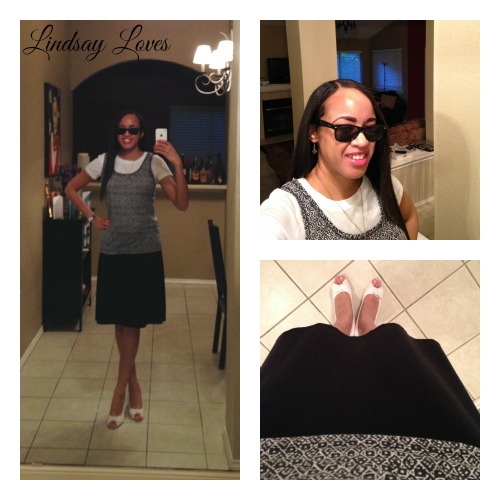 Shirt and tank top: Target
Skirt: Old Navy
Shoes: Payless
Earrings: Maryland Renaissance Festival
Necklace: holy medals
I don't remember much about putting this outfit together except that I was eager to wear this skirt again before the weather cools off. A lot of my favorite pieces can be made cold-friendly, but not this one. Same with the shoes. I miss these guys when it's not summer! In retrospect, I really like this one.
I liked this homily a lot because Fr. Associate Pastor referred to all three readings. I love it when they do that.
However, Fr. AP called Amos the "well-known prophet of social justice." I'm pretty sure there are plenty of Christians who couldn't tell you that there is a Book of Amos or that he was a prophet, so the "well-known" part is debatable. He wasn't even in [the prophets bible study I did at the beginning of the year]. I also don't like the historicism of calling his prophecy "social justice." He was definitely looking out for the poor, though.
The responsorial psalm was pretty obviously about the poor. My homily notes, taken on my phone as usual, even auto-corrected to "responsibility psalm." The hard thing about singing the word "poor" is that it is very difficult to make out if you don't already know what is being said/sung. That's a good plug for pre-reading all of the readings, including the psalm.
I don't remember anything in particular from the reading from St. Paul, but I know Fr. AP said something.
I have always been kind of confused by the Parable of the Dishonest Steward. I can never figure out who's honest, who's dishonest, and how any of it is just. Fr. AP gave a nice reading from St. Teresa of Calcutta about how she got started with her first house for the poor and dying. That didn't help me understand the gospel, but it fit his theme of the poor. Bishop Barron's homily did a better job of helping me understand that the steward is dishonest yet community-focused and spurred to action instead of mourning. It's still not my favorite parable.
September 25
Top: Target
Skirt: Old Navy
Shoes: Old Navy
Necklace: Kohl's
Earrings: same as last week; I like them a lot!
I also wanted to wear this skirt again before the end of summer. I don't think I've ever worn it with this top. The tag describes the top as "coastal green," and I hang it in the green part of my closet, but it seems relatively blue, too. I have been experimenting with non-black-and-khaki neutrals, so I wore my navy blue ballet flats. I think they work. At least they don't look terrible.
We had a guest priest this week. I think he is the pastor at one of the parishes near where I live. It was not such a great week for a sub due to the [end-of-Mass change] plus a new sanctuary arrangement.
The new arrangement is super awkward. Apparently Fr. Pastor explained it all at Mass in the morning, but we didn't even have our associate at 5 p.m., so we got nothing. The new altar is lower, which makes sense because the old one was pretty high. It's so far back in the sanctuary, though, that there are literally 10 feet of empty space between the altar and the steps. I can definitely see how that helps with a casket for funerals. But we don't build for funerals any more than we build for Christmas and Easter crowds. The altar is so far back that I can't see a lot of what happens there, because the ambo was also moved to the side of the altar where I usually sit. It's right in my line of sight toward the altar. That also meant the servers were kneeling on the sanctuary steps facing each other, whereas the altar used to be between them. It was not helpful to worship, to movement, or to help me grow in faith or discipleship.
Fr. Visitor's homily was nice, although instead of ending when it felt like he was done, he continued on into kind of a long batch of stories. He said that when he was young, he wondered if the gospel meant that rich people go to hell and poor people go to heaven. Later, he realized that Lazarus's poverty led to him rely on God alone, so he was rich in faith. The rich man was only concerned with having a good time, ignoring the opportunity for service and spiritual growth that was literally on his doorstep. We don't need to worry about how to solve worldwide crises. We just need to serve in the opportunities we are given.
He also told us about his mother who worked as a factory supervisor all day, cared for the home and kids in the evening, and took everyone to visit their hospitalized father every night. She helped her factory workers by giving them time to care for sick children without getting fired (good, I thought) and helping someone buy a house instead of needing a salary advance to pay rent. That one's not so great. Renting is not "throwing away money" (which he actually said) any more than a hotel is. If you need somewhere to live temporarily, you don't buy. Buying would be the foolish move.
October 2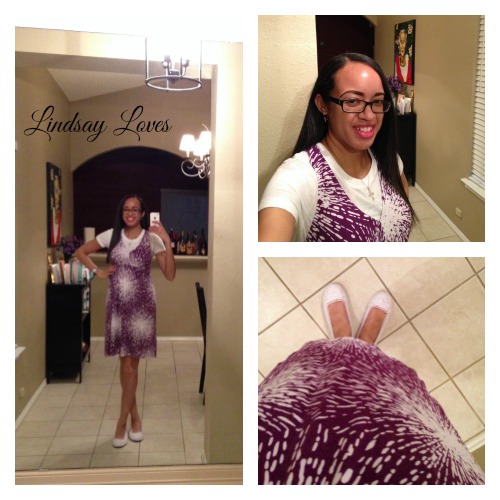 Dress: Old Navy
Shirt: Target
Shoes: same Fergie ones again
Necklace: gift
Earrings: also a gift (and not the same ones as the other two weeks!)
I'm pretty sure I wore this dress the exact same way earlier in the summer, but I don't care. The weather has gone so mild in recent years that I don't get as tired of my summer clothes. I am getting as much mileage out of the summer stuff as possible!
On a less cheerful note, I might need to find a new parish. I have never left Mass so sad and upset as I have these last few weeks since the Order of Mass changed. My parish has been working on a pastoral plan and claims to be making disciples. In me, they are definitely losing a disciple.
Fr. AP was back this week. He shared examples of faith throughout salvation history: Abraham even to the point of sacrificing his son (although he didn't actually have to do it, which is part of the point, I thought), Moses to lead the people against "King Pharaoh," and then a big time jump to Mary's fiat. His homily came to an obvious end, which I appreciated. Even in a short speech, you should never have to announce that you're done or surprise listeners when you stop talking. The listeners should always be able to feel it.
There was an additional long announcement about the pastoral plan between the regular announcements, the priest's welcome (why is he welcoming people when we've been there for 30 minutes already?), and the beginning of the offertory. It feels like a boring intermission, and since the end of Mass has changed, it doesn't feel like a unified Mass anymore. It goes: Liturgy of the Word, additional speeches, Liturgy of the Eucharist, allegedly unifying song, blessing.
My heart is broken.
---
For more Mass fashion and commentary, visit Rosie at A Blog for My Mom for My Sunday Best.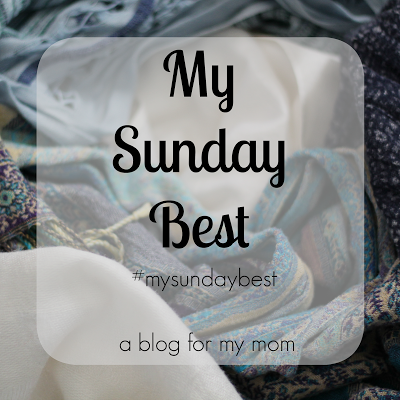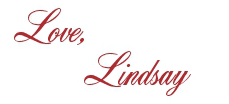 I bet you'll love these posts, too!