I have not posted a Mass recap in over a month, so if you are on a metered data connection, turn back now!
If you're sticking around, hi! Despite not posting any of these outfits and homily recaps for so very long, I did take all the right photos and notes. My recurring character makes an appearance towards the end. I'll share January tomorrow.
December 11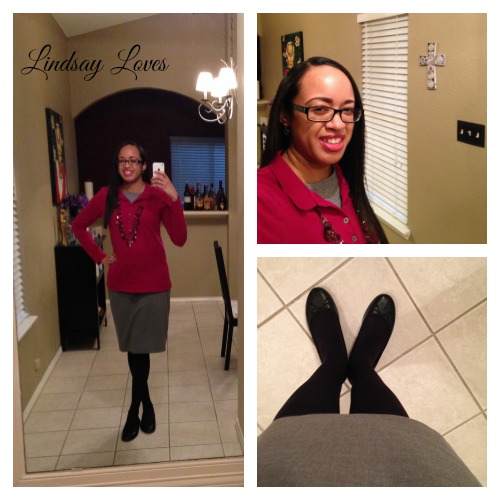 Polo, skirt, and shoes: Old Navy
Tights: Target
Necklace: gift
Earrings: super old, barely visible, and also a gift; so it works out
It was Gaudete Sunday, so pink was a necessity. Although I call this one "raspberry," it still worked. It was actually kind of cold (weather-wise, not outfit-wise).
One of our deacons preached this week. He proposed that John sent his messengers to ask if Jesus was the Messiah because their styles and messages were so different. All the talk of love and mercy apparently didn't make sense to John, who spoke more about repentance and conversion.
I call shenanigans. Both repentance and mercy are essential parts of our relationship with Christ. There's nothing to be merciful about if you didn't do anything wrong. There is no justice if nothing is unjust. There's no healing if you're never sick.
He did, however, highlight both advents: the coming of Christ in flesh at Christmas, and the Second Coming at the end of time. I appreciated that. But neither he nor Msgr. Old Pastor said anything about Gaudete Sunday getting its name from the liturgy's beginning with "rejoice." Yes, it's the halfway mark to Christmas, and that is a reason to rejoice, but that felt like a missed opportunity.
We did have the Communion antiphon, though, a cappella this time, which was hauntingly beautiful. And I learned to sing "O Come, Divine Messiah," which reminded me how much I enjoy French songs. This parish has excellent music.
December 18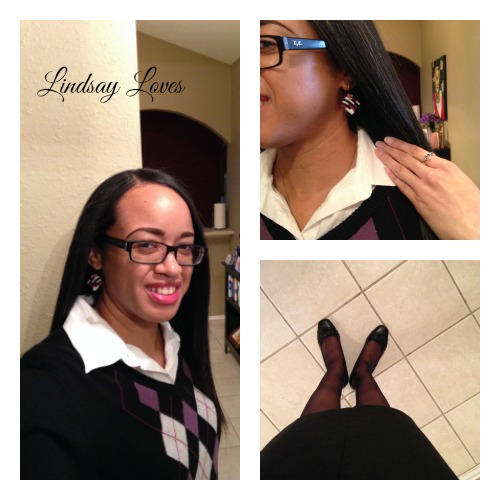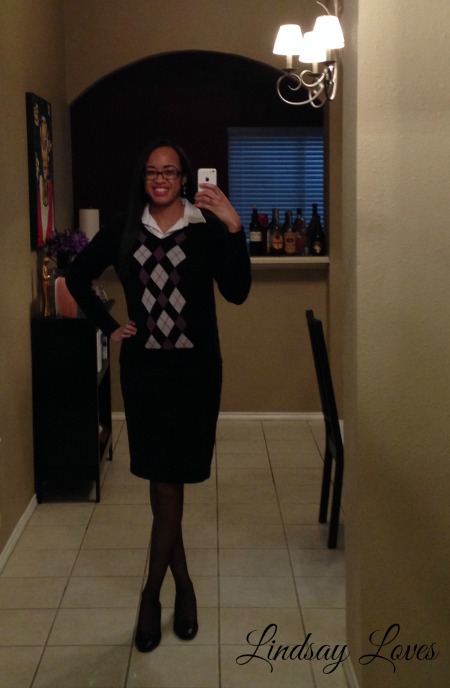 Sweater and… I think those are thigh highs: Target
Blouse: actually a work shirt, but I only ever wear it like this
Skirt: Old Navy
Shoes: Payless
Earrings: handmade, gift from Mr. Man
Ring: handmade, from a craft fair
Back to Advent; back to purple. I'm not sure I like these shoes. The heels are not staying on my foot properly, but I can't wear heel grips with any leg-covering hosiery (I've tried), so they might get donated. I got them as the second "O" during BOGO at Payless, though, so that wouldn't be a total wash.
I wore these earrings because they match and I like them but also because Mr. Man likes to see me wear them. He knows, however, that they are very heavy, so I can't keep them on for long. We compromise.
Mass, however, sought to challenge my attempt to wear these earrings just long enough for church. We were instructed to stand at the end of the pre-Mass announcements, as usual, and then we had to wait for at least sixty seconds. Silent. Books open, as ready to sing as we were going to be, waiting for our excellent organist to give us the intro. It felt very long, but I resisted the urge to look at my watch. The organist and cantor were waiting, too, very obviously, so I knew they were waiting for something as opposed to just forgetting when and how Mass usually starts.
Suddenly, our musicians sprung into action, we sang, and all went as usual. Fr. Pastor apologized for making us wait, "but," he said, "that is part of Advent." I'm still not sure whether he planned it that way, but it was funny. And it unexpectedly gave the latecomers time to get in.
In his homily, Fr. Pastor noted that the Jews knew the Messiah was coming when Isaiah made his prophecy, but they had to wait seven centuries for the prophecy's fulfillment. How many times have we prayed fervently for something only to be frustrated when God's response seems to be a long time coming?
December 25
Blouse, sweater, and skirt: Old Navy
Belt and tights: Target
Boots that you can't actually see in any of these photos: Lauren Conrad
Cause for smiling (besides Jesus): Mr. Man!
His tie: JC Penney; he chose this tie "specifically because I knew you liked patterns"
His shirt: probably also from JC Penney, "with no buttons on the collar (because those are the worst)"
His pants: khakis ("because they're the best"), from "probably Kohl's"
His shoes: he doesn't know where they're from, but they're black (yes, with khakis and a red shirt; yes, I have been trying to work on that)
I didn't ask what color his belt was. If it was black, then it matched the shoes, which is ideal. But the shoes don't match the rest of the outfit, so I'm not sure which of those battlefronts I should be starting on. I do like the tie.
I usually prefer to dress for liturgical Christmas versus cultural Christmas, i.e. in white and gold instead of red or green. I'm running out of Christmastime neutrals, though, so I aimed for the middle here.
As you can see, Mr. Man joined me for Christmas! Our matching is completely coincidental. It was the most amazing gift to not only be not-alone at Christmas Mass but also to have him beside me. My usual twinge of sadness was replaced with the most delightful burst of joy.
My family had an early surprise birthday party for my brother on Christmas Eve, so we went to Mass on Christmas Day. Fr. Home Pastor always gives great homilies, even when it is not Christmas. If you've ever been to Mass on Christmas Day, you'll know that the gospel reading is from the beginning of John. Based on the lack of shepherds and newborns and such in that opening, Fr. Pastor surmised that St. John would probably prefer that we celebrate the Incarnation of Christ at the Annunciation rather than at Christmas. He was just as much Word-made-flesh in the womb, after all.
He also shared a Christian fact I'd known: in the Bible translation produced by the Jehovah's Witnesses, John's gospel proclaims that the Word was "a god" versus just "God." That's not a typo, and it's not the same thing.
We Catholics (and basically all other Christians) believe that Jesus was the fullness of God. As St. Paul writes to the Philippians, "Jesus did not deem equality with God something to be grasped." It was part of the gift he received from the Father: to be both God and man. Even an angel could not have brought the fullness of God to Earth.
The Incarnation of Christ is a beautiful thing. Mass was especially incarnational for me this year having Mr. Man there. I hope your Christmas brought you just as much joy.
---
For more Mass fashion and commentary, visit Rosie at A Blog for My Mom for My Sunday Best.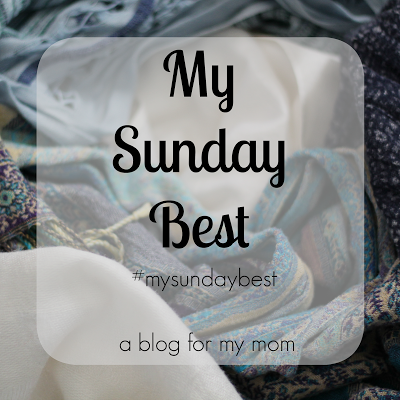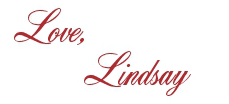 I bet you'll love these posts, too!