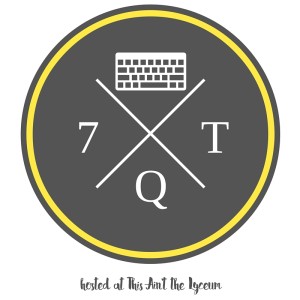 Heeeeeeeey there, 7QT! It's been a long time. I have kept up with Sunday Style and Currently, but this happy little link-up was tossed by the wayside. I have far more than seven things to share, but I will keep it to seven anyway. You're welcome.
One of my life's ambitions is to compete on Jeopardy! I auditioned last April and am still in the contestant pool. Here's hoping!
My hopes aside, the show was recently in the news for a unique contestant story: Cindy Stowell, an Austin resident like me, died of colon cancer just a few days before she appeared on Jeopardy!
She won six games. If she were still alive, she would be a contender for the Tournament of Champions.
She took the test in the same round that I did, and if I had not gone back to DC to audition (because my parents live in the area, so I could stay with them for free), I would have auditioned in the same city that she did. She even played trivia at the same place I do; her boyfriend Jason has a regular team that always plays well.
Cindy's Jeopardy! story shows the compassion that can still be found in what is ultimately the entertainment business. It also brings a new level of challenge to the armchair champion. If she could play like that while dying from cancer, what's stopping you from fighting for your dreams?
This is kind of an intermediate tech tip. If you don't know what two-factor authentication is, just go ahead and skip this take—but look into it! This Google landing page is a simple intro, and this TFA site will show you which popular sites you can enable it on.
If you are using TFA, and you use an Apple device of any kind, you might have been asked by your device if you wanted to turn on "two-factor authentication." This is not the same thing as normal TFA. Owen Williams at The Next Web explains the situation in detail, but the short version is that you want to have "two-step verification" enabled for your Apple ID, not "two-factor authentication."
I am smarter than your average bear when it comes to computers and technology (and specific terms, for that matter), but I was confused by that one. I managed to fix it, but it was a close call. I hope this tip helps someone the way my Sitemeter hijacking story does.
Those were some pretty intense takes. Here's some tweets to lighten the mood. This one won the National Grammar Day haiku contest just a few weeks ago:
With a pregnant pause
I calculate periods
Here come contractions #Haiku #GrammarDay #GrammarGirl

— Lills (@LillaryBlinton) March 2, 2017
Also in Twitter news, a bishop is following me! This seems like a role reversal if there ever was one: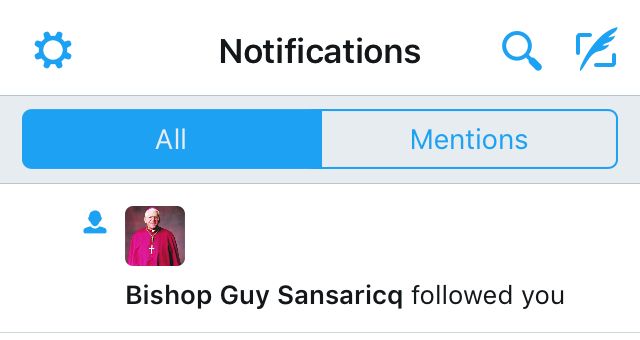 He's retired from the Diocese of Brooklyn. Can we take a moment to think about how awesome retirement must be if it means you just get to play on Twitter all day?
I recently finished the Bible study I started back in September, on salvation history. When we got to the period when David became king of Israel, I finally, finally understood why it's so important that David is the son of Jesse.
Jesse was no one important. He wasn't the previous king; he was just a shepherd.
In that time (and in some professions like teaching or law enforcement today), a son had the same job as his father. The king's son became the next king; the shepherd's son became a shepherd.
But the king before David was Saul. None of Saul's sons became king. David was the son of Jesse. David became the king.
It's important that David is the son of Jesse because David is not the son of Saul. God chose the king he wanted, not the king anyone was expecting. He chose David, and later he chose Jesus.
And that's why we have Jesse trees, not David trees, and why it's so important that Jesus is "the son of David." My mind was blown.
Mr. Man teases me for declaring that more than one song is my jam. I like to jam! So I guess one of my jams is this super-catchy song (and awesome video) from a Target commercial: "Diggy," by Spencer Ludwig.
Finally, to round out the randomness, one of my favorite Shakespearean webcomics posted a brilliant take on the "wherefore" problem. (And yes, I do have another favorite.)
---
For more Quick Takes, visit This Ain't the Lyceum.