I did it. After many happy years using Wunderlist as my task management tool with the Getting Things Done (GTD) system, I have switched from Wunderlist to Todoist.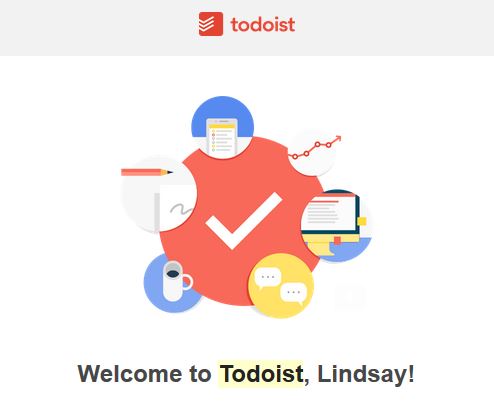 I blame Microsoft. As I've already lamented here, Microsoft keeps snapping up the independent apps I love, taking their features, and shutting them down. I moved on from Sunrise because I didn't want to use Outlook, so I've moved on from Wunderlist because I don't want to use Microsoft To-Do. (Yes, that's its real name.)
This is the first time I've ever switched task managers. In some of my GTD reading and podcast listening, I've discovered that switching GTD apps is not uncommon. It just sounds so messy. I spend enough time refining my system already; I really just need to get to the "doing" part!
Todoist made importing my tasks very easy. Everything came through the way it was in Wunderlist folders and lists, ready to reorganize Todoist-style. My due dates were there, although I had to reset everything that was recurring. The main import problem was that I needed to fix all my tags. The main usage problem was not having the features available to a Todoist Premium account. (But keep reading; there's a surprise!)
How I Used Tags in Wunderlist
I started out not using tags at all. I have never been into contexts (a statement which is GTD blasphemy). I use way more due dates than by-the-book GTD allows. However, when I started applying GTD's concepts of Projects and Next Actions in more detail, I found a use for tags in Wunderlist.
I kept a Wunderlist list for each Project, with a minimum of two items per list: the Next Action and the desired outcome. The name of the list was an abbreviated version of the desired outcome, since the sidebar is only so wide. I marked each Project's Next Action with "#NA" at the end of the task title, and I marked each outcome with "#outcomes". The tags were clickable, giving me a very easy workflow for my weekly review. No matter where that item appeared (in my Completed list, in a search, etc.), I could tell it was a Next Action (or outcome) and for which Project.
I wish Wunderlist had offered an automatic list of all the tags you'd created. It was awesome that tags would auto-complete as soon as you typed the hashtag symbol! That showed the data was stored somewhere specific in the program. However, there was literally nowhere else you could view all your tags except in that drop-down. I solved my wish for a task index by creating a list called "Tags." I used the auto-complete drop-down to create one item for each tag. It took less than a minute.
I had to fix things when I switched to Todoist, but my homegrown tag index came in handy for remembering what tags I'd used.
My Solution for Free Labels in Todoist
Todoist uses labels to provide the functionality that Wunderlist called "tags." I think "tags" is the more universal term for that function, largely thanks to Twitter and Evernote, but Gmail calls the same function "labels," so maybe that battle over nomenclature will never end.
However, in Todoist, labels are a Premium feature. Bummer. New users and those willing to hack the system a bit can do without, but I had a different vision in mind for a tool that could handle sub-projects. I wanted my own solution, and I didn't want to pay for it. (Again, keep reading.)
My most-used tags in Wunderlist were:
#NA for GTD Next Actions
#outcomes for GTD Project outcomes
#MrManAgenda (with my boyfriend's actual name) for agenda items
#waitingfor for Project items that I'm waiting for (non-Project waiting-fors went on a dedicated Waiting list)
My free solutions are, respectively:
Apply the Priority 1″ flag
Apply the Priority 2 flag
Make this a sub-project
Begin each task with the text "waitingfor" (all one word)
Converting my old tags to for-free labels seemed like a huge undertaking—until I realized that Todoist allowed me to view all of the items from all my Project plans lists in one long screen, because I kept them in a single folder in Wunderlist. I simply scrolled down the screen, looking for NA's and outcomes in each project, deleted the plain-text-starting-with-a-hashtag-symbol, and used the inline language parsing feature to specify "p1" or "p2." Once I'd finished, I appreciated the way Todoist changes each task's checkbox (which is actually a circle, not a box) to the color of its priority. The red and orange really stand out!
The only missing part of my solution is how to handle a Project that has worked its way down to one task: something you're waiting for that is the last remaining action (and therefore also the Next Action and the desired outcome). I'd suggest using just the Priority 1 flag since the fact that you're waiting for it is the main reason it's not done yet.
For a Next Action that is also the desired outcome but for which you are not waiting for something, I would still use just the Priority 1 flag. If you're looking at your system for Next Actions, you don't want to miss one that's doable just because it looks like an outcome.
Finally, for other tags, I would recommend using a unique text string (something that's not already a word) so that you can add it to the name of the task and search for it when you need it. The hashtag symbols from imported items will still be there in plain text, but you won't be able to add any text starting with a hashtag in Todoist because it will try to assign your task to a project. (I guess if you used Wunderlist tags for projects, you're still in business!)
So, since my Wunderlist tag for items to do or discuss with Mr. Man was "#MrManAgenda," I would write "MrManAgenda" in any new agenda items, and I would remove the plain-text hashtag from imported agenda items. Then, when I sat down with Mr. Man, I would search Todoist for "MrManAgenda" and be all set.
A Big Surprise
Converting to Todoist made me realize that Wunderlist's free tier was probably too feature-rich for zero dollars. I got used to having power-user features for free. Todoist doesn't give you those for free. I started missing Wunderlist very quickly. As I described above, though, I was well on my way to making Todoist free work for me.
Just like when I started using GTD, I did some Googling for how to best use Todoist… and if there was any way to get free Premium time beyond the 30-day trial.
Astute readers might have already figured out what happened: I got four free months! I had spotted a few posts with promo codes for free Premium, but they were old enough that I thought the promotions had surely expired. Nope!
To get free Todoist Premium, go to todoist.com/redeem and enter the codes 1MillionTasks (for 1 month) and skillshare (for 3 months). They are stackable, adding up to four months total, and they worked for me as of April 30, 2017.
I was very surprised, but also very happy!
Initial Thoughts on Importing from Wunderlist to Todoist
In the import, subtasks came over seamlessly. I don't generally use subtasks, but the few I had were just fine. My Wunderlist notes became Todoist comments. (Different term; same functionality. See the "tags vs. labels" discussion above.) I couldn't add comments without Premium, but I could edit any comment that already existed. (Presumably, I could delete the random empty comments that were imported with some tasks that hadn't had any notes in Wunderlist, but I wasn't about to try it and lose a free comment!)
Todoist's smart due dates are very useful. It is so nice to type "every month on the second Wednesday" and have all my computer cleaning tasks schedule themselves just right!
My checklists (for computer cleaning, house cleaning, blog posts, etc.) had all been preceded with numbers to allow easy sorting in Wunderlist. Those came over to Todoist, but not quite seamlessly.
As a completed task, the items still show numbers on mobile, but not the right numbers: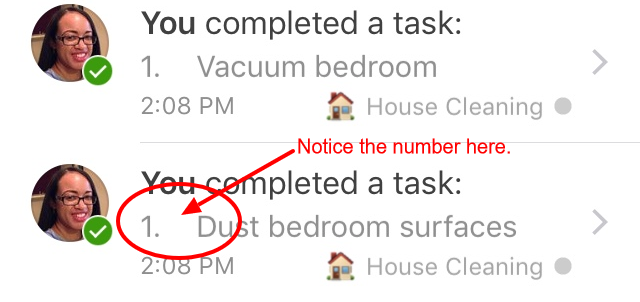 But for some reason, the numbers don't show up in the not-yet-completed task: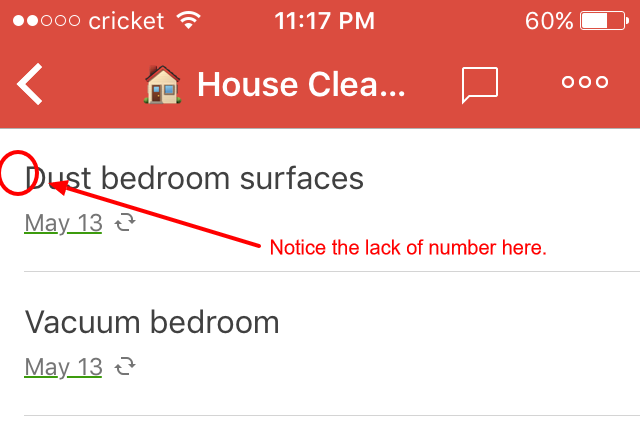 This is a known bug. I just took the numbers out, so they don't show up anywhere now. The recurring tasks seem to stay in the correct order when I complete them out of order, though, so that's okay so far.
Completed tasks can't really be deleted from Todoist, which would have been terrible for my personalized Weekly Review if I hadn't found another solution almost instantly. I use an IFTTT (pronounced like "gift") recipe that adds a line to a Google Sheet every time I complete a task. I review that sheet each week, add a line so I know where to start reviewing next time, and skip the step from my old procedure where I deleted everything. It's working well.
Finally, in the aforementioned Googling, I found and marathoned Carl Pullein's excellent step-by-step, bite-size tutorials about using Todoist. The best episodes are:
I miss Wunderlist, but I'm excited about the possibilities that Todoist is offering me. It took several hours to get up and running, and of course I'm still tinkering with my system, but I am still getting things done.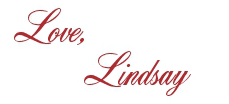 I bet you'll love these posts, too!