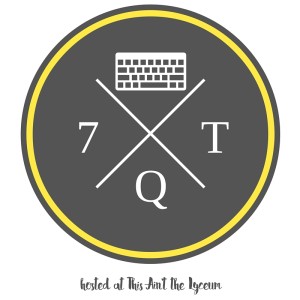 My emotions these days are a bit of a throwback: I'm eager for school to start as well as anxious. I've been out of the classroom for a long time, but I'm glad to be getting back into it. I'm glad to have a career again, but I'll miss the aspects of my life that I felt like I could only have because I had just a job. It'll be an interesting ride.
As of June 27 (these takes have been a long time coming), I have been using GTD for three years. It's been amazing, and I can't stop recommending aspects of the method to everyone. It has changed my life in so many ways, and I am so thankful.
I don't generally get involved in politics, but I read a feature-length political article by Anthony Walton in an old issue of Notre Dame Magazine. It spoke to me in particular in its discussion of the Black Lives Matter movement and the legacy (positive and negative, real and perceived) of President Obama. Here's my favorite part:
There is an irony, both tragic and celebratory, at the heart of our society: young people of color grow up hearing about the Declaration of Independence and the U.S. Constitution, and they believe it. They want to hold the nation to its promises, they want to belong and be Americans, free and equal, as they understand those terms. And every generation understands the promises of our founding documents a little more intensely and insists a little more on the full implementation of those promises.

This is, I think, what lies behind Black Lives Matter and many of the other protests enacted around the nation. In another country, one which has not made such promises, there would not necessarily be such a sense of failure. Black Lives Matter protestors are expressing a belief in the system; framed this way, the question becomes: Can the system live up to that belief?

This is why looking at Obama as an individual, whatever one might think of him as a politician (and setting aside, for the moment, the irrationally partisan and race-driven attacks upon him, there are dissatisfactions a reasonable person may have with his performance), is worth our while. In my view, in many ways Obama is the most important black man in history, beyond Martin Luther King, beyond Nelson Mandela. This is not because of his celebrity, accomplishments or lack of them while in office, but rather because of the way he matter-of-factly mastered and rose through the tests and trials of U.S. society. To put it simply, he won the highest political prize of our nation through playing by the rules. He battled and prevailed in many different arenas: academia, law, publishing, politics. He learned how things worked, how achievement is accomplished in the secular world — an important point because so much previous outsize black accomplishment had been based in religious institutions. He showed a path.

Obama's life and career is a model for blacks and people of color on how to progress to the highest reaches of our society: work hard, get educated, get qualified, learn how to contest the career and workplace circumstances you find yourself in and, with a little timing, a little luck, who knows what might happen? He mastered the politics of Harvard Law School, the politics of Chicago, the politics of the Democratic Party and the politics of national elections by learning the traditions and rules of each context. His was, for want of a better term, a "secular" triumph, the next step in African-American progress in society, following on black athletes and business executives, stating his case to the electorate and receiving their endorsement.

One would think that whites, whether they agreed with his politics or not, would see his career and achievement as something to be celebrated, something to be pointed at, not because of any "Kumbaya" racial fellow feeling but because it encouraged millions of young blacks and other folks of color to believe they had a chance in our society. That the way for them to advance their hopes and dreams was in the library and at the ballot box, not in the streets.
Duolingo understands religious life!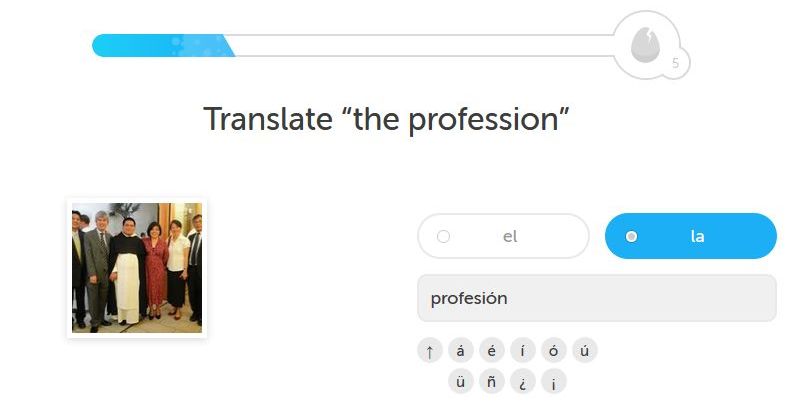 That picture is not helpful if you are (a) trying to learn Spanish just using Duolingo and (b) not familiar with Catholicism, but it made me laugh.
In other strange things spotted online, pizza scissors are apparently a thing. I know cutting a pizza at home can be tricky, but it should be done by grown-ups, and grown-ups ought to know how to use a cutting board and a knife.
Being a Marylander living outside her state for years now, I've gotten good at spotting Maryland license plates on cars. I saw one a few weeks ago with a totally new standard design, and it's so pretty!
I never liked the lame War of 1812 plate, and the original (from my lifetime) was very plain. The new one is perfect.
I liked a lot of the items in a recent Verily post about dating in your thirties. Happily, I don't relate to all of them, but some ring very true. (I also note with amusement the reader comment from someone who complains about how irrelevant Verily is to her. She's reading it, isn't she?)
---
For more Quick Takes, visit This Ain't the Lyceum.