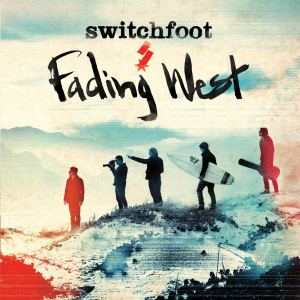 Sometimes being patient and poor has its perks.
Switchfoot is my favorite band. I fell in love with them in high school, when I saw A Walk to Remember (mostly for Mandy Moore) and discovered the band. They had a prominent role in the soundtrack. I was hooked. It seems fitting to be writing this reflection today, after I've now watched a film I was drawn to by my love for the band. It's a complete circle.
Just a couple of years ago, Switchfoot announced their plan to write a new album and simultaneously film a documentary while on a surfing world tour. It was ambitious, and the results are incredible. I've been listening to the album, Fading West, since its release. It has the lighthearted, hopeful surfer vibe that gets to the heart of the band, which is a deep breath in after the intense and piercing scream out of Vice Verses. Don't get me wrong; I liked Vice Verses a lot. I was just rocking out to it in my car a few weeks ago. It was heavy, though. Fading West may be a reference to the sunset, but it is full of light.
I had the film on my Movies to Watch list since it premiered. I wasn't able to make it out for the Fading West tour, during which the movie was shown before a live concert. It would be hard to top my previous concert experiences, but I think they could have done it! I don't have much money these days, though, so I held tight for a nice iTunes giftcard, room in my budget for Netflix, or another lucky break. I got it today!
When I was scrolling away through my Facebook news feed a few days ago, I caught this delightful post:
So I tossed that sucker on my to-do list, and I found myself sitting here this evening, enjoying dinner over 90 minutes of awesomeness.
I had seen the film described as a cross between a tour documentary and Endless Summer, the classic world tour surfing movie. That is exactly what was portrayed. I was pleasantly surprised, though, by how real everything felt. These men are thirty-something surfers from San Diego who are in a rock band. They're dads and husbands, and they get to share their musical talents and inspiration with us through song. And, as it turns out, they both are and know some great surfers. From the obvious heartbreak as Jon suddenly rushed home to be with his family to the sheer joy of visiting new countries and trying new waves, the events of the film made me feel like I was along for the ride with five guys who know how to have a good time and to never lose hope.
The film itself was beautiful. I like soundtracks in general, but it's something special to listen to a soundtrack that is not only (a) composed and performed by the film stars and (b) inspired by the events of the film as they happened but also (c) composed specifically for this cinematic experience. "Immersive" barely even begins to cover it.
I could not have picked a better favorite band, they could not have made a better film, and I am so glad to be along for the ride.