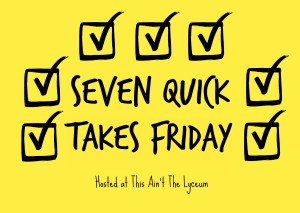 Well, hello there, friends! I missed writing these quick takes last week, which made me feel sad and unaccomplished. I try to keep those feelings separated a little bit when I can. Here is a summary of all the things I was doing besides blogging:
going to Pinthouse Pizza for the first time
Theology on Tap
taking two weekly dance classes
going to a baptism
working behind the scenes at the Pure Fashion Show
attending our quarterly company meeting
taking the Jeopardy! test (again)
going to Hopdoddy for the first time
Here is a summary of my thoughts of the aforementioned activities:
yummy pizza, although I need to remember that I don't like cooked spinach (raw is good)
slow service, pretty good speaker, couple of new people
the tiny new Christian is my former roommate's baby!
so tiring, but so worth it
I was on time, and it ended on time #winning
someday
great fries, okay burger, and not at all worth standing in line that long
All that social time has me craving some hunkering down at home, but instead I have a leadership meeting, a birthday dinner, more dancing, and a wedding coming at me. I realized Sunday I wanted to make an appointment that will have to wait until May. Yikes.
Moving on. Lent is finally over, and it felt really good this year. I realized last week that one of the reasons for that is that I didn't let Lent slip away. I was on top of every day and every week. I can attribute that to three factors: grace, the daily Gospel readings from Evangelio del Dia (DailyGospel.org in English), and using the GTD methodology. When you have to review, preview, and plan for every day, you stay on top of things. Maybe I'll run a "Lent with GTD" series next year.
I get the Goodreads newsletter, and I am a big fan of the Love Languages. This month's poetry contest winner sounds like the perfect portrayal of Acts of Service. Do you agree?
I haven't been following Auntie Seraphic's new blog as closely as I did when she was mainly blogging about the single life, but since she still advises us single ladies occasionally at her new home, I'm still reading. I also just really enjoy her style and tone.
She is one of the few people I actually know (as much as anyone can "actually know" a blogger) who is married but has also been previously married, divorced, and annulled before even meeting her (current) husband. Therefore, I take her opinions about that whole process very seriously. I was so glad to read her post about whether divorced people should date. She's been there. As it turns out, we share the same opinion.
That post also gets the award for Best Ever Admonishment to Not Settle:
Do not settle. I do not care how old you are, or how plain-Jane, or how much you want children. Unless you are so in love with this guy that you will do anything for him except commit mortal sins, and he would do anything for you, don't think about marriage.
Also regarding love and poetry, I have been reading the Grammarly blog (which is not nearly as funny as the Facebook page I hope you are already following), and I thus encountered a delightful love poem to grammar. Yes, grammar love goes above and beyond. It's a parallel poem: it can be read from top to bottom or from bottom to top with slightly different meanings. It's not as drastic a meaning shift as that atheist/believer poem, but it's still neat.
Just before Easter, I found basically the clearest and funniest guide to the Mass ever. It has just the right amount of humor to make it enjoyable to read, yet it is totally authentic and accurate. See? Catholicism can be fun!
---
That's all for my quickest Quick Takes ever (I think)! For more Quick Takes, visit This Ain't the Lyceum.