Daily Mass once moved me to tears.
I used to work in campus ministry, so I went to Mass every day. It was not unusual to have the diocesan vocations director visit us. While I was working at the University Catholic Center, the vocations director was Fr. Brian McMaster, so we had him for Mass often. On one unremarkable weekday, he announced that he'd be offering one of the Masses for Various Needs and Occasions (of which there are many), and that he'd chosen the Mass for Persecuted Christians.
It cut me to the core. This was years before the Islamic State (a.k.a. ISIS) was making daily headlines, putting the persecution of Christians into full focus. Fr. Brian's reverence and heartfelt preaching created such an intense experience of the Mass that when I knelt to pray in thanksgiving after the dismissal, I just cried.
These days, of course, the persecution of Christians is at the forefront of our minds. It doesn't stop on days when the news doesn't report it. More Christians died for their faith in the 20th century than in every other century in history combined. When you hear "martyr," you probably think of first-century Christians who were thrown before wild beasts. But do you also think of the Christians who are dying right now fleeing Syria and Iraq?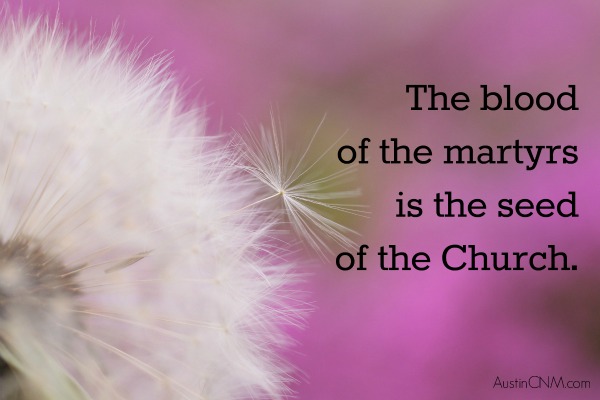 I jumped at the opportunity to read about the historical and contemporary reality of Christian martyrdom in a new book by my former bishop, Cardinal Donald Wuerl of the Archdiocese of Washington, D.C. In To The Martyrs: A Reflection on the Supreme Christian Witness, the faith and courage of those who gave the ultimate sacrifice for the Truth is honored, retold, and illuminated. They died for what they believed in. Could you?